A proven design
A recent PSU review on HEXUS concluded that there was little to separate a raft of high-quality power supplies; all tend to have excellent efficiency ratings, solid regulation and little in the way of ripple. Considering the trickle-down effect of technology and taking the power-efficient nature of modern PC components into account, for most users it makes sense to consider a mainstream supply - 500W-750W - that sits in the middle of the manufacturer's catalogue. You'll likely lose a few per cent in pure performance terms, but that'll be offset by significantly lower pricing.
Take Corsair's current crop of PSUs as an example. Split into six families that are targeted at different customers with an array of specific features, the overlapping pricing and wattages make comparison complicated. The premium HX 650 has a $140 (£100) recommended price, while the budget CX600M comes in at just $85 (£60). Appreciating that value for money is a key concern when building inexpensive PCs we were keen to see how a regular PSU would perform.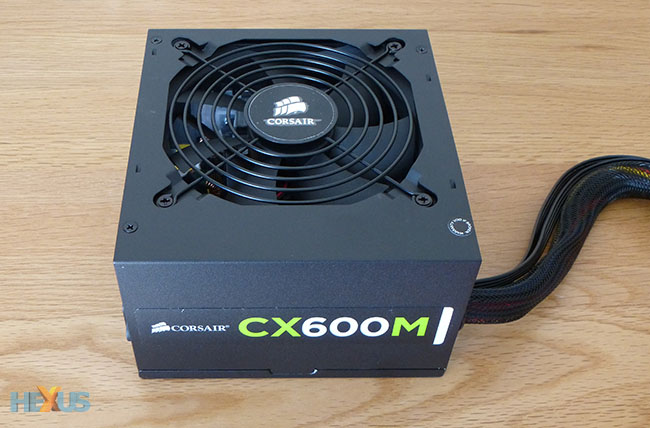 Corsair has fleshed out its budget CX range by now having standard and semi-modular supplies at every capacity - 430W, 500W, 600W, and 750W. If you don't know already, semi-modular means that, if needed, some of the peripheral and graphics-card cables attach to ports on the supply, whereas they're all hardwired on standard supplies.
The CX600M is a functional-looking unit off which three wires snake away. Corsair pre-attaches the fully-sleeved 24-pin power connector (600mm) and a further two cables combine to form the 4+4-pin EPS (680mm).
Cheaper supplies tend to guarantee their maximum continuous power at lower temperatures than premium PSUs, and the CX600M is able to run flat-out at 30°C, compared to 50°C for the aforementioned HX series. Another hallmark of mainstream supplies is a lower AC-to-DC efficiency rating, which is 80 PLUS Bronze for this model. Cooling the internal components is taken care of by a 120mm sleeve-bearing fan from Yate Loon.
Corsair's busy qualifying its range of PSUs for the very low power states on upcoming Intel Haswell CPUs. These chips feature S6 and S7 states that require miniscule power to be fed from the PSU. This is known as the 12V2 0A minimum load, and while this particular supply is yet to be certified, the 750W variant, which is very similar, already gets the green light.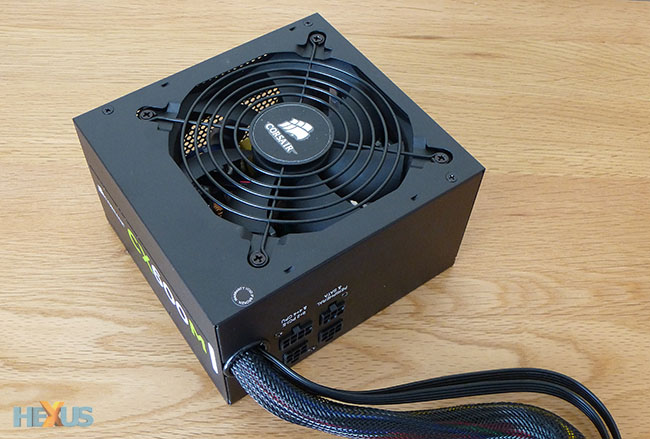 Coming back to the present, the nature of the attached cabling means you'll still need to add further wires for a standard PC build. Corsair provides four additional runs that, between them, include two 6+2-pin PCIe (up to 750mm), six SATA (up to 745mm) and four Molex (up to 745mm) along with the obligatory single floppy-drive header.
Though Corsair is acutely aware of the need for product differentiation, we believe it misses an obvious trick in only providing a couple of PCIe connectors. Our high-end graphics testing has shown that, evaluated as a system, even NVIDIA's GeForce TITAN consumes comfortably less than 300W when gaming, so it's eminently feasible to run, say, two lower-power cards - requiring up to four connectors - from this 600W PSU. Enabling tidier builds, we like that the modular cables are nice and flat.
The CX600M shunts its entire allocation of 12V power down a single rail, which can deliver up to 46A (552W), or 92 per cent of total continuous capacity. And if you do have a number of peripherals chewing through the minor rails, the supply can summon up to 130W here.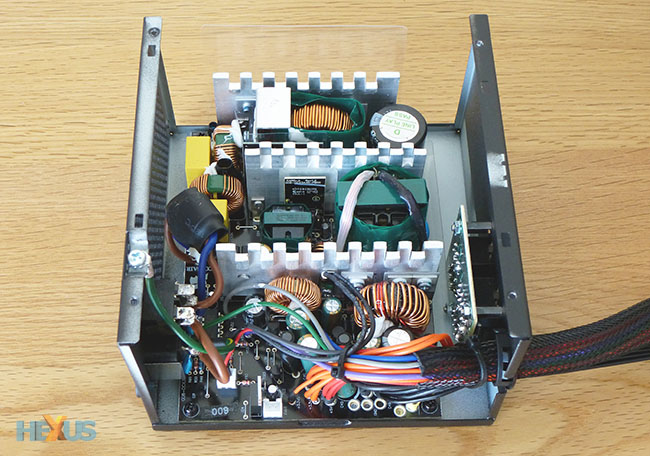 Corsair continues to adopt the Channel Well Technologies DSAII platform for the CX semi-modular supplies. It's a popular choice at the budget end of the market - the regular CX (non-modular) also uses this platform - but Corsair says that the CXM doesn't use an off-the-shelf design. Rather, the company employs a non-standard layout that is reckoned to improve airflow through the unit; adds in a different PWM controller for increased standby efficiency; doubles the number of FETs, used for 12V regulation; and uses higher-quality capacitors than CWT's base design.
It's difficult to know the exact benefits without comparing the CX600M to a standard CWT DSAII model, but looking inside, we can see the Panasonic Japan bulk capacitor (top-right), a tiny PCB for the upgraded PWM controller (top-left) and an extra board for the four-port modular connectors (middle-right). Soldering is good and the PCB fits easily into the 140mm-deep chassis.
Backed by a three-year warranty and sharing the same internal design as the non-modular versions of the same CX supply, the CX600M, priced at £60, costs only a few pounds more than the captive-cable version.