The supply
Corsair made quite the impression when it launched a range of Professional HX-series power supplies over three years ago. We reviewed the 850W model shortly after launch and found it to be a competent, classy performer. Corsair was perhaps a little conservative in its efficiency rating, describing it as 80 PLUS Silver, though the 80 PLUS organisation later certified it as meeting the 'Gold' standard.
The original modular-cabled HX850 remains a decent power supply to this day but has since been superseded in the pecking order by the firm's AX-series supplies. Newer PSU platforms, ushering in a raft of features that the three-year-old supply does without, have also emerged while the HX-series has been in service, so now's an opportune time to refresh this enthusiast-targeted workhorse.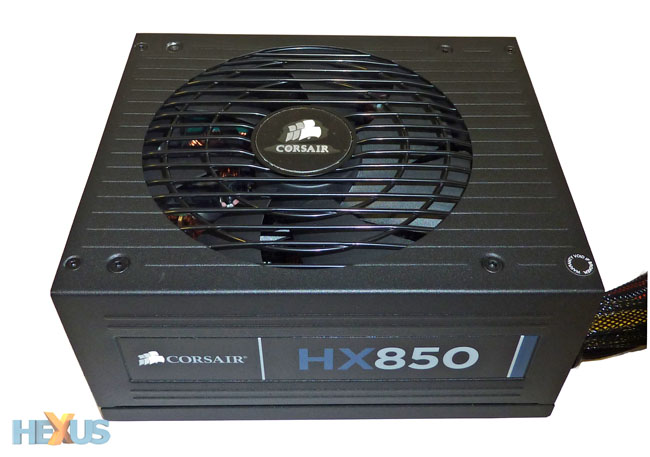 Launching today, the new Corsair HX850 power supply, known as HX850 V2, provides incremental improvements over the established design. Let's first discuss what's the same by revisiting some of the goodies present on both models of the same-wattage supply. Trotting out the list, HX 850s - both versions - ship with a seven-year warranty; specify a slow-spinning 14cm fan; use a single-rail topology for the 12V line; use a DC-to-DC architecture; are rated to perform to specification at an ambient 50°C; pass the 80 PLUS Gold efficiency certification; and have a wide range of modular cables.
So if there's so much commonality between the two, what's the need for an updated version, you may ask? Corsair uses a Channel Well Technology (CWT) platform for the original HX850, and this has been upgraded to a newer CWT platform for the V2 version of the same supply.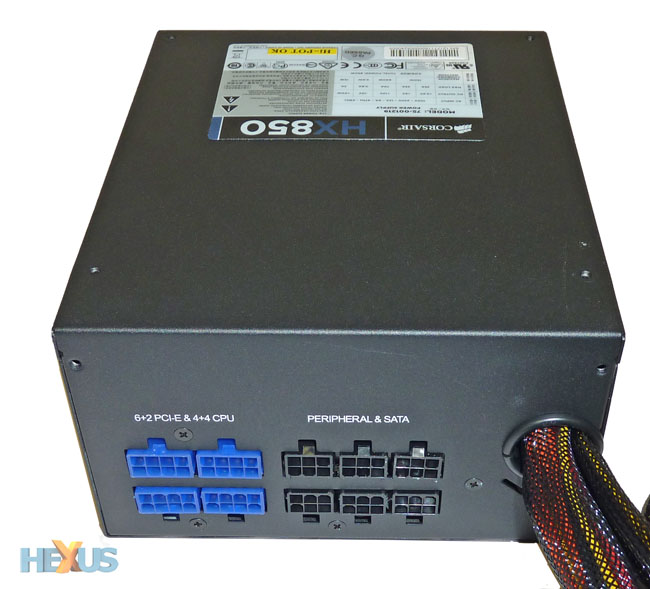 Before we get into the technical nitty-gritty, the casing remains exactly the same size, measuring 180mm long, 150mm wide and 86mm high. Corsair, however, has also taken the opportunity of reorganising the peripheral and SATA connectors so that they now fit along the same row as the four PCIe and CPU ones. The outputs remain identical, mind, and the supply is semi-modular insofar as a bunch of cables are hardwired into the chassis.
Bunched up together are the main 24-pin ATX, eight-pin CPU, and two 6+2-pin PCIe, while everything else is made available by flat modular cabling supplied in a tidy bag.