Shiny lights
Power-supply units (PSUs) often tend to be the overlooked component when enthusiasts are specifying a new build. A quality PSU will outlast that shiny CPU or cutting-edge graphics card. Spending, say, £100 on a unit may seem expensive at first glance, but ammortise that amount over five years and it's an acceptable outlay for a vital part of the PC. Choose wisely with respect to connectors and power ratings and there's little reason why a PSU cannot be transferred to the PC of 2018.
But PSUs aren't sexy, right? They're usually black, have a single large fan and a gaggle of connectors. Their inherent blandness is conspicuous when set against the colour-coordinated memory, graphics cards and motherboards of late. Corsair realises there's a market for PSUs with aesthetic pizazz and has launched a three-PSU line dubbed the Gaming Series. The 80 PLUS Bronze trio are rated at 600W, 700W and 800W and share the same underlying technology. The styling, build and multi-colour LEDs marks these out from regular supplies.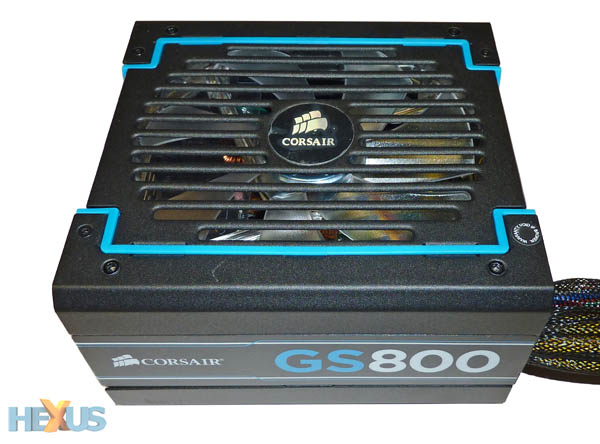 The GS800 ships with a blue accent that can be removed, and a 140mm seven-blade fan dominates the top of the unit's 160mm x 150mm x 86mm (LxWxH) frame. Build quality is good when evaluated against the £80 price tag. Looking better in the flesh than on the above picture, the 'Intel Blue' supply fits in well with the blue theme common on gamer- and enthusiast-orientated products.
GS800's party trick is in equipping the fan with multi-colour LEDs. Power it up and the default colour is blue. A switch on the back then toggles between white - yup, it really is white, not the kind-of-blue on the central picture - red and off. You're out of luck if the PC colour scheme is an NVIDIA green, however, and there's no means by which the brightness can be altered. The LED effect is entirely dependent on how your chassis holds the supply. We found it works best with a top-mounted PSU with the fan's LEDs beaming into the case. Stating the obvious, users will need a windowed side panel to get the most out of the GS800's looks.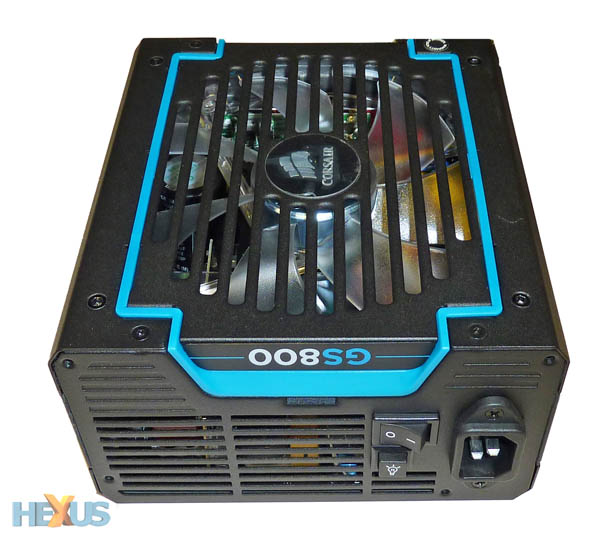 And here's the switch we alluded to above. The chassis is well-ventilated on both sides and this enables Corsair to keep the fan switched off until load hits 20 per cent. There's a distinct whooshing sound as the supply is first powered, giving way to silence with loads below 160W. Bear in mind that a modern Intel Ivy Bridge system idles at comfortably below 100W.
In order to keep a reasonably competitive street price, Corsair uses non-modular cables. The entire gaggle is pre-attached to the case, sleeved all the way into the supply, and there are a generous number of plugs.
| | |
| --- | --- |
| Cables | Cables, type, length, plugs on cable |
| Main | 20+4-pin (56cm) |
| PCIe 2 | 6+2 (58cm) |
| PCIe 3 | 6+2 (58cm) |
| PCIe 4 | 6+2 (58cm) |
| Peripheral 1 | x4 SATA (38-68cm) |
| Peripheral 2 | x4 SATA (38-68cm) |
| Peripheral 3 | x4 Molex and x1 FDD (42-80cm) |
| Peripheral 4 | x4 Molex and x1 FDD (42-80cm) |
Four 6+2-pin PCIe power cables is a must for a gamer PSU, and the supply has enough clout to run two high-end cards - usually meaning four 6/8-pin connectors - and a meaty CPU. Eight SATA, eight Molex and two FDD plugs will keep most users happy, we feel, but the lack of modular cabling - where you choose which cables to attach to the PSU - means that plenty of unused cabling will need to be stowed away in some part of the chassis.
Amps/watts and voltage

3.3V

5V

12V1

-12V

-5VSB

Rail amps

25A

25A

66A

0.8A

3A

Maximum rating

120W

792W

9.6W

15W

Maximum rating continuous

800W
Zooming into the power-delivery specifications shows Corsair using a single 12V rail to power those wattage-hungry devices. Practically all of the continuous power can be shunted to the 12V line, used for CPU and graphics, and there's every reason why the GS800 can be loaded with a couple of GeForce GTX 680s or Radeon HD 7970s.
Pop the hood and the PSU-dominating fan comes into view. Manufactured by Ong Hua and also present on the Corsair TX range, albeit modified with LEDs this time, the 14cm fan is a good workhorse. Go up a notch in the Corsair pricing spectrum and the AX series uses the superior Sanyo-Denki fans.
More similarities emerge when looking at the guts of the supply, pictured right. Corsair's mainstream supplies tend to be manufactured by Channel Well Technology (CWT) and the GS800 is no exception. An examination shows the transient filtering is good, comprising of two Y and X caps. The active PFC is filtered by a Panasonic (electrolytic) cap rated at 105°C. Moving around, the 3.3V, 5V and 12V lines' output, once the AC supply has been rectified, is filtered by a gaggle of smaller Teapo and Nippon caps, also rated to 105°C.
There's nothing revolutionary about the GS800 internals, but there doesn't need to be, frankly. Backed by a three-year warranty, underpinned by a solid PSU architecture from CWT and specified to run with a silent fan at up to 20 per cent load, let's now give it hell with our PSU-buckling Chroma test equipment.