Straight to the Power
Power-supply manufacturers need to have a rethink right now. Bigger was most certainly better a few years' ago. A real man's PSU was at least 1,000W, and the craziest enthusiast often used two in tandem. But AMD (graphics), NVIDIA and Intel have made concerted efforts to push power efficiency to the fore. Today it is cool, literally, to have a low-power, high-performance PC. Underscoring this observation is the knowledge that an Intel Sandy Bridge system with a range-topping Radeon HD 7970 consumes 'just' 252W from the mains.
We're going to go out on a limb and say there's little need to look past a high-quality 500W PSU for most present-day systems, though the benefits of using a larger model and running it at, say, 50 per cent efficiency are manifest. Taking these two factors into account, we reckon that a PSU sweetspot - that is, suitable for most people - falls between 500W and 750W.
German manufacturer be quiet! understands this and is looking to provide solid offerings at these mainstream wattages through six series of desktop PSUs. Sitting in the middle of the stack is the Straight Power series comprising of no less than 12 PSUs. And bang in the middle of that range is the E9-CM-680W, priced at a smidge under £100.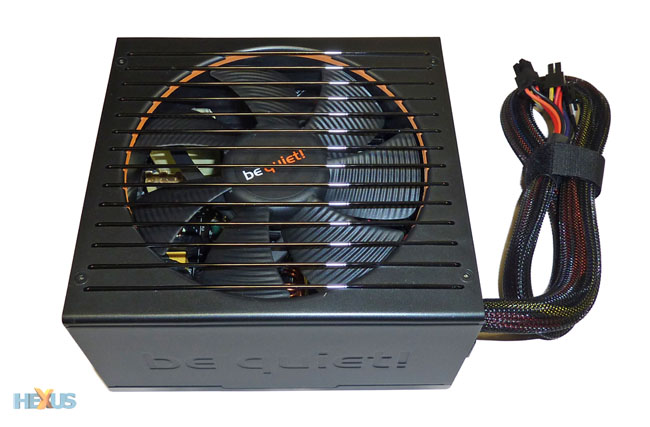 A continuous power output of 680W and peak rating of 750W plays nicely against the commentary above. Furnished with a 135mm temperature-controlled, fluid dynamic bearing fan from the SilentWings E9 series and looking rather spiffy for a PSU, the unit, measuring 150mm x 160mm x 86mm (WxDxH), is very well-built.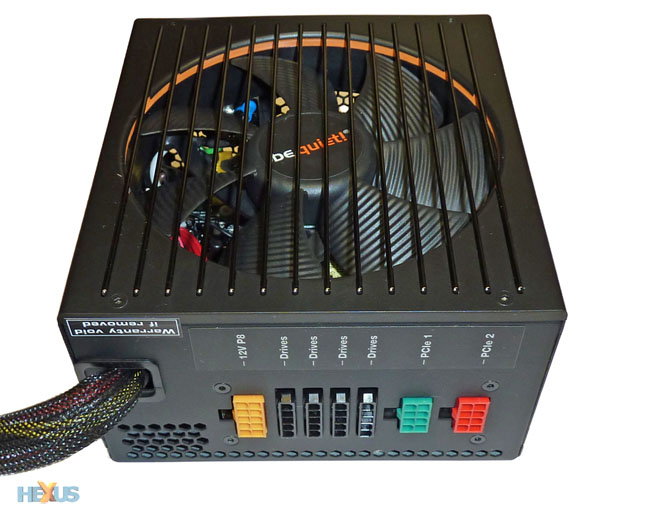 The CM in the naming scheme refers to Cable Management. The main 24-pin (20+4-pin) motherboard power connector is hard-wired to the chassis, while the remainder is modular. Nicely colour coded so that you can see exactly what goes where, be quiet! provides the following cabling:
Cables
Cables, type, length, plugs on cable
Main
x1 20+4-pin (55cm)
ATX/EPS
x1 4+4 (55cm) - yellow
PCIe
x2 6+2 (55cm) - green and red
SATA
x9 (55cm-100cm) - black
Molex
x5 (55cm-100cm) - black
Floppy
x1 (with Molex and SATA) - black
Too often it be unclear as to which plugs go where, exacerbated by the fact that, depending on your build process, it may be necessary to peer into the gloomy recesses of the PSU section to connect the wires. The colour-coded plugs work a treat, and the pliable cables are long enough for most chassis.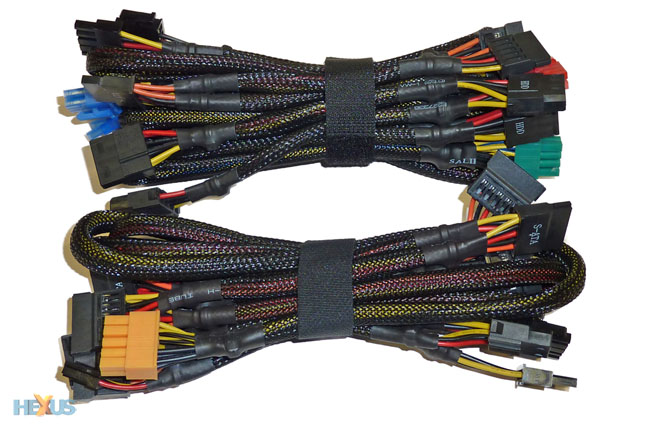 Having four 8-pin PCIe graphics-card connectors 'limits' the PSU to two high-end boards from AMD and NVIDIA. We don't view this as a problem for the mainstream systems this PSU is aimed at; you should really be looking at a 1kW-plus supply if installing three or four juice-sucking GeForce 580s or Radeon HD 7970s. And, of course, the supply can provide the necessary juice for both SLI and CrossFire configurations.
The PCIe cables are nicely split over the rails, meaning the three colour-coded inputs - 12V P8, PCIe1, and PCIe2 - all have their own line, as does the main 24-pin connector. This also means that, say, you run a super-high-wattage GeForce GTX 590, it's sensible to power it off both the green and red PCIe cables.
The nine SATA and five Molex connectors are overkill, in the nicest possible sense, and be quiet!'s cabling is well-thought-out for a mid-market supply. Aesthetics and ease of use matter little if the PSU cannot deliver clean wattages and smooth output under maximum load. be quiet's E9 680W CM is kitted out thus:
Amps/watts and voltage
3.3V
5V
12V1
12V2
12V3
12V4
-12V
-5VSB
Rail amps
24A
28A
18A
18A
22A
22A
0.5A
3A
Maximum rating
160W

660W

6W
15W
Maximum rating continuous

680W
Surprisingly stout on the 3.3V and 5V lines and based on a four-rail 12V topology, as detailed above, it's all very sensible from a power-delivery point of view. A combined 44A on two 12V rails indicates that the E9 CM should have no problems with powering any single graphics card.
Opening it up, we've seen this kind of setup before; just take a look at the Antec Platinum. It seems as if companies have realised the potential of FSP's Aurum CM and tweaked it accordingly, to hit a certain specification - efficiency, ripple, etc. be quiet! opts for the 80 PLUS Gold certification, rather than the Platinum on the Antec.
Specifically, the base platform uses decent filtering comprising of three Y caps, two X caps, and three ferrite coils. There's no metal-oxide varistor present here, however, but there's really no need when using a full-range PSU. And just like the Antec, coming further down the PCB, the power-factor-controller (PFC) is governed by two Infineon MOSFETs (IPB60R125P), which in turn are filtered by the huge capacitor you see in the background. For what it's worth, the capacitor is a Chinese-made CapXon, rated at 85°C, not the preferred Japanese 105°C-rated Rubycon we often see on premium supplies.
All in all, we have no complaints about how be quiet! has gone about releasing a quality PSU; we don't really care who actually makes the innards - they just need to perform well. Let's crank up the Chroma PSU-testing rig and get some numbers. Our testing procedures can be found at this link.