Introduction
Corsair has revamped its popular RM line of PSUs for 2019 with a view of making them appeal to a broader section of enthusiasts. Chief amongst the differences/improvements is Windows Modern Standby certification, increased warranty that now lasts 10 years, and removal of Corsair Link compatibility.
The new 80 PLUS Gold-rated RMs, which we'll call the 2019 editions, are available in 650W (£80), 750W (£90), and 850W (£100) capacities, and we have the largest-capacity model in for evaluation today.
A peek at the design shows Corsair cleans the aesthetic from gold/black to all-black, and it is the better off for it. Depth is not an issue at 160mm, though hitting £100 for this type of supply means the odd premium cut here and there. The first of those is the use of a 135mm rifle-bearing fan instead of the 140mm fluid-dynamic-bearing of the older, dearer RMi line.
That said, the zero-fan mode will be active at most times, as the fan only switches on at 340W (355W in our testing), and then spins up to a maximum 1,100rpm at full chat. There's no fancy RGB or, for that matter, anything superfluous on this model, and we like that.
A reworking of the RM line affords Corsair the opportunity to tinker with the fully-modular ports. 2019's RM does very well here, as there are 12 connections instead of nine on the last gen. The cleaner aesthetic is due to that aforementioned removal of Link compatibility. It's not something we miss on a mid-range supply.
Common amongst the new RMs is dual 4+4-pin connectors for premium motherboards. The breadth of inputs means you can attach a trio of dual 8-pin PCIe connectors (not that you would need them in 99 per cent of cases), and no fewer 12 Sata connectors and the usual four Molex. Lengths are all decent - the shortest is the ATX at 610mm - and the flat, flexible nature enables easy manipulation for a tidy build.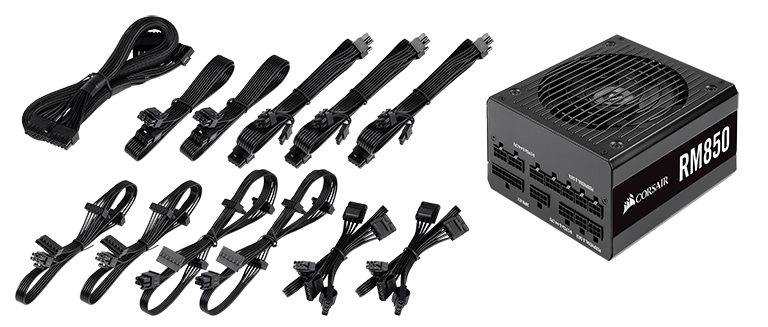 Inside, soldering is clean and neat, much like the external appearance, and it's clear that OEM manufacturer CWT, a long-time collaborator with Corsair, has excellent density that's a key aim this time around. Speaking to budget, Corsair forgoes the usual all-Japanese capacitors for a mix of Taiwanese (Kuan Kun, if you are interested) and Japanese. To be fair to Corsair, it does mention the mix on its product page - no-one is pulling a fast one here - and we enthusiasts take comfort in the safety of that 10-year warranty.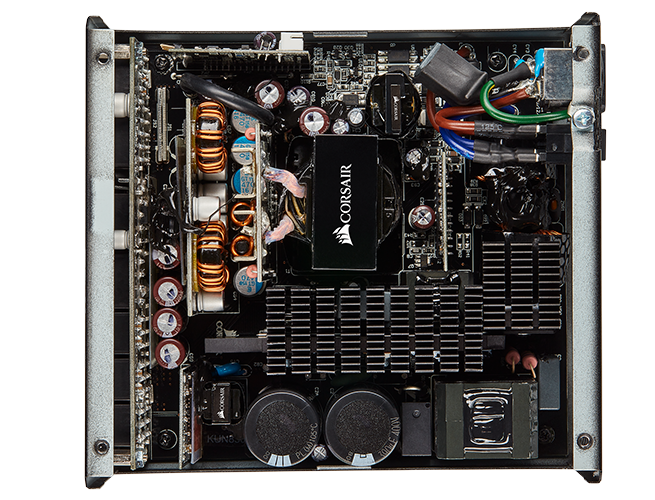 RM 2019 is outfitted with a single rail into which you can shunt the entire capacity. That's usual for Corsair, and there's a raft of overprotection to ensure the unit doesn't go bang. A hallmark of decent engineering is availability of full power at 50°C, which is present here.
Amps/watts and voltage

3.3V

5V

12V1

-12V

+5VSB

Rail amps

20A

20A

62.5A

0.3A

3.0A

Maximum rating

130W

849.6W

3.6W

15W

Maximum continuous rating

850W @ 50°C ambient
A word or two on Windows Modern Standby (WMS). It resembles how a phone works, where it's doing stuff in the background whilst appearing switched off. For a PC, that means being able to wake from deep sleep very quickly, so whilst this PSU can, you need to ensure that all other devices in your desktop can correctly participate in system power management. In effect, WMS just wakes from sleep roughly twice as fast as the standard S3 state.
Priced at £100, Corsair has taken moves to invigorate its mainstream PSU platform. Let's now see how it performs.