Software and Summary
The good news for gamers who prefer to stay away from additional software utilities is that the Clutch G1 will function just fine as a plug-and-play solution. Out of the box, the three built-in profiles are configured to CPI sensitivity settings of 400, 600 and 800, and you'll only need to install the optional utility if you want to tweak things further.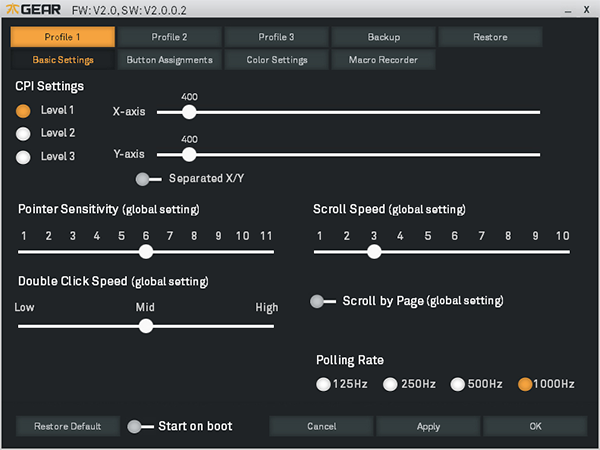 Should you choose to give it a go, you'll find that Fnatic's software covers the basics without pushing the boat out. The utility, currently at v2.0.0.2, doesn't scale particularly well on our 4K screen, but the various settings are laid out logically.
The first screen, Basic Settings, provides options for CPI, pointer and scroll sensitivity, with the former allowing for individual settings on the X and Y axis. A choice of three CPI settings are also available per profile, and if you're unlikely to use multiple profiles, the default profile up/down buttons can be remapped to CPI up/down.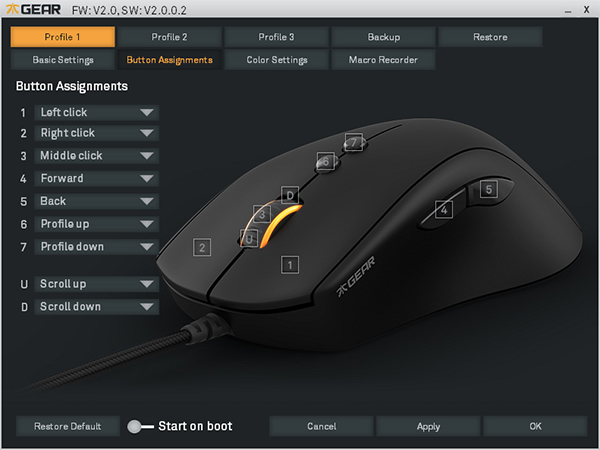 Button remapping is a strong point. Not only can every button be re-assigned with ease, Fnatic also includes shortcuts to common functions such as macros, show desktop, close window, play/pause, skip track and volume up/down, as well as all the usual office shortcuts - copy, paste, save, etc.
The final two tabs - Color Settings and Macro Recorder - are self explanatory, yet while each available feature works as expected, it's what's missing that keeps the Clutch G1 from being as versatile as rival solutions. There's no surface calibration, no option to create more than three profiles (though you can back and restore), and profiles can't be triggered to activate automatically with the launch of certain apps or games.
Conclusion
...feels comfortable from the get-go, and as a right-handed user with large hands and slender fingers, the form factor is satisfyingly close to perfect.

Gaming peripherals are very much a personal preference, and while manufacturers are understandably keen to push specifications and unique features, there's only one way to get a true feel for a product and that's by going hands-on.

So how does the Clutch G1 feel during real-world use? In a word, excellent. This is the first gaming mouse in a while that I haven't had to get used to. It feels comfortable from the get-go, and as a right-handed user with large hands and slender fingers, the form factor is satisfyingly close to perfect.

It's rare for one mouse to cover all bases as I prefer a palm grip during everyday use and a claw grip when gaming, yet the Clutch G1 is well suited to both and button placement is spot on. The only potential sticking point is the scroll wheel, which exhibits a touch of unwanted left-and-right movement and may be deemed a tad too stiff.

Bottom line: there's room for improvement on the software side of things, but if you're in the market for a gaming mouse that's sleek, comfortable and well designed, the Fnatic Clutch G1 should be on your shortlist.

The Good

The Bad

Very comfortable form factor
Favoured Pixart 3310 sensor
Soft-touch finish feels great
Seven well-placed buttons
Useful CPI indicators

Software could be better
No left-handed version




Fnatic Gear Clutch G1




HEXUS.where2buy*

The Clutch G1gaming mouse is available to purchase from the Fnatic Shop.

HEXUS.right2reply

At HEXUS, we invite the companies whose products we test to comment on our articles. If any company representatives for the products reviewed choose to respond, we'll publish their commentary here verbatim.