Record macros directly on the keyboard
Underneath these keys are the twelve standard function buttons, and underneath those you'll find a standard QWERTY keyboard layout, which includes the Windows key nestled in amongst the 'Ctrl' and 'Alt' key which can be disabled in the software during gaming so you don't accidentally hit it. It's a customary feature in most keyboards now, but it's also good to see that some of the more commonly used keys, like the 'Right Shift' Button and 'Enter' are also slightly bigger than the rest. The most obvious difference to normal QWERTY keyboards, however, is the 'Space Bar,' which is split into two because of the interchangeable keyset feature. It's well designed though, because the way your hand naturally sits on the keyboard ensures that your thumbs sit either side of the cut - so it doesn't feel awkward to press.

To the immediate right of the QWERTY keys, you'll find the 'Prt Scr,' 'Scroll Lock,' and 'Pause/Break,' keys which are usually situated next to the function keys. These have been lowered on the Shift to make way for three new keys that give the keyboard more functionality. The three keys to the right of the F12 key are now 'Bar Lock' and 'Pad Lock' which add a layer of secondary functions to the F keys and the Num Pad of the Shift. When you do record Macros on the fly, you can program them into these keys, as well as the eight hot keys across the top of the board. Nestled in between these new buttons is a SteelSeries logo, which you can handily press at any time to access the software so that you can customise your keyboard. The standard Numpad, on the right of the keyboard, completes the set-up.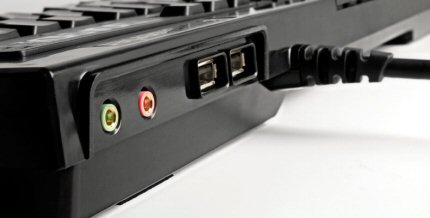 In the same way that you can change the keyset on SteelSeries ZBoard keyboards (those keysets are also compatible with the Shift), you can unclip the keyboard with little effort by placing your hand in the indentation on the right hand side of the Shift. It unclips and folds up easily and snaps firmly into place with little effort. On the back of the keyboard, are two USB 2.0 ports, one of which is powered. The high quality 2.5 metre cable protrudes from the back of the keyboard slightly off-centre to the right, and then splits into four wires: 2 x USB 2.0 and 2 x 3.5mm audio. Finally, on the base of the keyboard are the non-slip rubber legs, which keeps the keyboard nice and steady on your desk. You can also adjust the legs to three different heights.

Continued overleaf...