You shift. Your game.
With competitive and pro gamers continuing to demand high-quality keyboards that pander to their extensive gaming habits, Steelseries seems to have all bases covered with its new gaming keyboard, the SteelSeries Shift. Weighing in at a beefy 4lbs, the Shift supports interchangeable keysets - just like the company's ZBoard series – while offering extensive key customisation via its software and on-board record function. The price tag, approximately £75, seems rather high at first glance, but alongside many of the features that you'd expect from a standard gaming keyboard, the Shift does seems to go a little bit further than most to cater for those who take their gaming very seriously.

Boxed in a sturdy cardboard package, complete with typical black, white, red and orange SteelSeries styling, the Shift keyboard is an impressive-looking piece of kit on first inspection. The high-quality matte-black plastic keyboard measures 19.3 x 7.5 inches and has a defined rectangular shape with sharp edges and a slight indentation on the right hand side where you can unclip the keyset. On our desktop, the Shift has a dominant presence. Though it's not back-lit - a feature that we've become accustomed to with our Logitech G110 - the light-up SteelSeries logo that runs across the upper right of the keyboard and the bold white 'SHIFT' logo in capital letters that sits underneath it, stands out stylishly against the contrasting colour of black that adorns the rest of the keyboard. First impressions are good: the Shift looks very well-built and appears to be designed for durability and lots of use.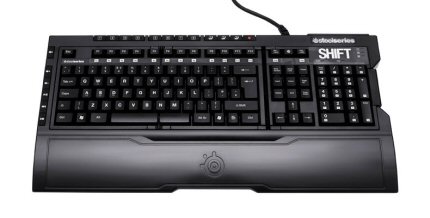 Included in the box you get a slightly cheaper looking 9.5 inch wrist-rest, a user guide and some pamphlets, one of which includes details on how to download the driver and install the software you'll need to program your keyboard. Running vertically down the left hand side of the Shift are six multimedia keys. Though we're generally used to seeing these keys across the top of our board, with pinky stretched out a little to the left, they can be quickly and comfortable accessed. Running across the top of the keyboard are eight programmable hotkeys, three profiles keys that you can switch in-between, and a record button that allows you to record macros on the fly.

Continued overleaf...