Contents and overview
The adaptor is presented in a fairly simple box, which thankfully doesn't contain any clamshell packaging, and is easily opened without the need for a toolbox.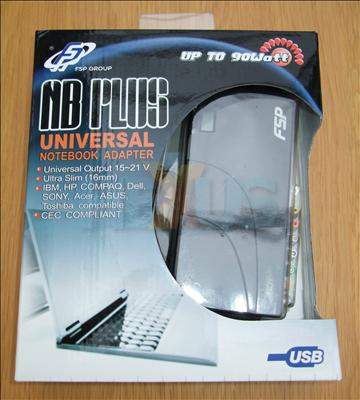 Once opened, you'll find the various components; the main unit itself, a mains input lead, several notebook "tips", an all-black carry case and the instruction manual.
The carry case is a nice addition, though, the material used on its innards makes it rustle as if filled with plastic bags. A very minor point, and we still welcome the carry case nonetheless.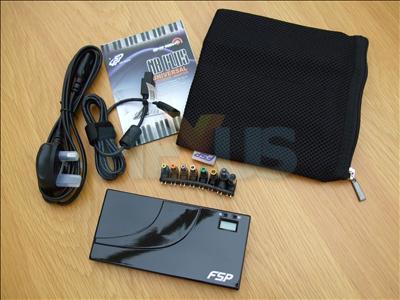 The adaptor itself is a very sleek affair. The glossy-black casing gives it a stylish appearance, but, it's highly prone to finger prints and within minutes our adaptor lost its sex appeal.
It's certainly thin, though, measuring just 16mm thick - that's nearly half the thickness of a Dell Inspiron adaptor. That loss in bulk however is compensated elsewhere, the FSP NB PLUS is larger than most notebook adaptors, measuring 155mm in length and 75mm in width.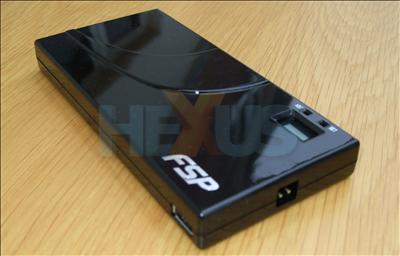 To put those dimensions into perspective, here it is alongside a Dell Inspiron 1520 adaptor (left) and a tiny MSI Wind adaptor (right). With FSP marketing the device as having a "small, light design", we were expecting it to be, well, considerably smaller.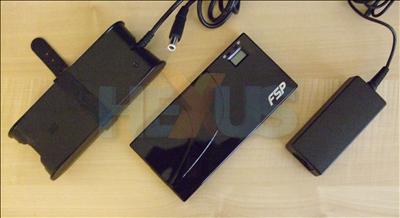 Looking at the trio from the side, it's clear to see just how much thinner the NB PLUS is. Despite being longer and wider, its slimline design makes it ideal to slip inside most notebook carry cases - it fits perfectly into our Belkin messenger bag.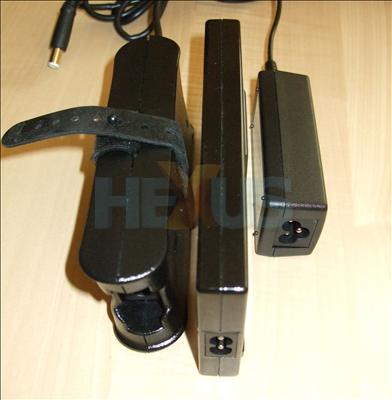 The design clearly has pros and cons. Some might like the glossy-black design, others might not. Some might appreciate the slim size, others won't be keen on its length. However, it's a notebook adaptor, does it really need to look jaw-dropping? It's by no means as cute as a MacBook adaptor, but we'd favour its looks over our comparison adaptor from Dell, and that's more than good enough for its purpose.
Onto the refuelling...