Introduction
Creative Labs' mission to improve audio has most recently been manifested with in-house-developed Super X-Fi (SXFI) technology which, according to the company, 'captures the listening experience of a high-end multi-speaker system in a professional studio, and recreates the same expansive experience in your headphones using complex algorithms and computationally intensive techniques to custom fit audio, for every individual, through a sophisticated head and ear-mapping process.'
That's some claim, and Creative has the technology baked into an external amp, a pair of over-ear headphones, in-ear headphones, and, most recently, a high-res 7.1-channel external DAC (digital-to-analogue convertor) and amp for PCs and consoles that goes by the name of Sound Blaster X3.
Speaking about the DAC element first, Creative does not say which it uses on the X3. Rather, I know it's not the ESS Sabre-class reference model on the dearer AE9, and is more likely to be similar to the one found on the portable BlasterX G6. What is known is the 115dB signal-to-noise ratio (also known as dynamic range) and total harmonic distortion-plus-noise figure of 0.0004 per cent.
Going by pure specs alone, which include playback of high-res audio at up to 192kHz with 32-bits of data, the X3 uses a mid-range DAC, which is sensible given its £110 price point. I'd argue there's no meaningful benefit of going beyond 24-bits of accuracy in a PC environment, because there's already enough bit-depth to encode 144dB of dynamic range, which is way beyond the scope of this DAC and, more importantly, the human ear. Run on the PC, X3 also offers Dolby Digital Live encoding, though it's limited to 48kHz/16-bit by specification. It would have been nice to see full-on Dolby TrueHD (192kHz/32-bit) present.
The DAC-and-amplifier combo is compatible with PC, Mac, Sony PlayStation 4 and Nintendo Switch via USB-C, mobile devices through a 3.5mm line-in, and outputs to an A/V receiver via optical-out.
X3 is presented as a rectangular box measuring 129mm by 129mm by 40mm and weighing 330g. The size is ideal for placing on top of a chassis. Build quality robust, and it stays planted via four feet. An LED-ringed knob controls volume for playback, microphone level and audio balance, with different colours for each. The X3 supports Bluetooth for device control only, not for streaming, which is real shame.
The front is also home to three buttons: audio balance, mode, and SXFI. The first toggles the balance between microphone and background noise, the second cycles through three EQ modes - music, movies, footsteps - or a specific SXFI mode, and the final button toggles the SXFI mode on or off. The same features are available in the Sound Blaster Command software.

3.5mm microphone and headphone jacks are on the front. The rear, meanwhile, houses a USB-C port for drawing operational power from the connected device - with a nice, long cable provided - the aforementioned optical-out, line-in, and four ports for connecting a speaker system.
Getting past the myriad numbers, the purpose of the X3 is to deliver improved sound to either headphones or external speaker system. Creative already does that with a number of USB-based DACs on the market, most notably the BlasterX G6, so the primary reason to consider this model is the baked-in SXFI support.
SXFI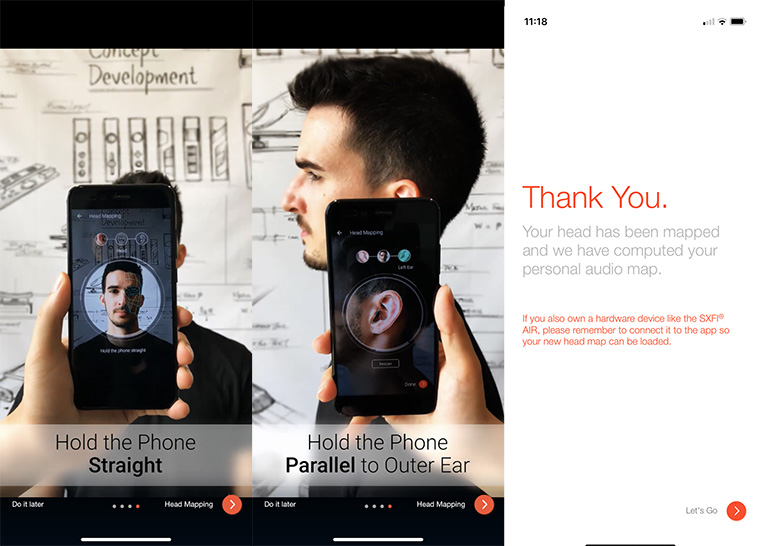 Running SXFI requires downloading the relevant app from the Play or App store, registering, and then going through a guided head- and ear-mapping process by taking pictures of your noggin and left/right ears via the phone's camera. Because it takes pictures from the rear-facing camera, you really need a second person to use take accurate snaps, though the app automatically snaps if you have the orientation just right. Even so, it takes but a minute to setup, and the configuration is then downloaded to the PC app.
SXFI has been tuned for around 50 headphones so far, including 12 models from Creative, though the technology still works at a generic level on any headphone. It is designed to create a large soundstage that more closely resembles a concert hall. The premise is to give all types of audio greater perceived depth and heft through application of algorithms.