Introduction
Corsair is delivering on its promise to make available a gaming mouse for every conceivable playing style. 2019 has already seen the release of the plus-sized Ironclaw RGB Wireless and ambidextrous M55 RGB Pro, but there's no let up just yet as the new Nightsword RGB recently landed at our door.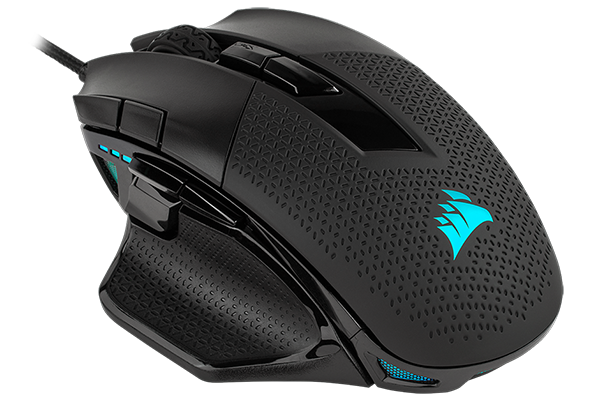 It's almost as if Corsair is trying to satisfy my own personal requirement, as while I'm a fan of the aforementioned Ironclaw - so much so that it now serves as my daily driver - I did describe the 130g weight as "rather hefty." Nightsword RGB should snuff out any such complaints as it is large, feature-packed and weight adjustable between 199g and 141g. It also happens to be priced identically to the Ironclaw RGB Wireless at £70, so has it done enough to convince me to swap over?
Well, not quite, as while there's plenty the Nightsword RGB gets right, it also has a few minor niggles that keep me returning to my faithful Ironclaw. There's a superficial drawback, firstly, in that I'm not entirely in love with the way the Nightsword looks. The initial appeal of the sci-fi-like design soon wears off, and though the mesh-covered RGB segments are nicely done, the overall aesthetic is a bit too busy for my personal tastes. Then again, I drive a Honda, and you can't expect me to have a mouse that's flashier than my car.

Are they any functional gripes? Well, the textured rubberised palm rest isn't going to be to everyone's tastes. I don't mind it, but others in the office definitely prefer a smooth back; turns out too much grip can be a bad thing. Then we have the two buttons lining the tip of the left clicker. Both are well placed and reasonably easy to access with my long fingers, but the rearward button has a spongy feel about it and isn't as clicky as the one in front.
The third gripe, for me the most bothersome, is that the right side of the mouse slopes inward at the bottom, leaving nowhere for the little finger to rest. A real shame, as while the thumb sits like a king on the opposite side, the pinky is literally dragged along. Those few quibbles are enough to make me prefer the Ironclaw, but for those craving an adjustable weight mechanism, Nightsword still has a lot going for it.

The tapered left and right clickers are shaped perfectly, the textured thumb rest is a good size, and though there are 10 programmable buttons in total, every one is surprisingly reachable. Odd shapes make the buttons easy to identify, and during use we've rarely registered an accidental press. Do be aware that the notches on the scroll wheel are relatively pronounced, which while good for accuracy, is a bit of an acquired taste.
At 129mm x 86mm x 43.8mm in size, Nightsword is better suited to large-handed gamers who prefer a contoured body. The mouse feels most comfortable with a palm-style grip, and all of the usual niceties you expect from a Corsair mouse in 2019 are present and accounted for. These include Omron switches rated for 50 million clicks, four-zone customisable RGB lighting, enough onboard storage for three local profiles, and a custom version of PixArt's PMW3391 optical sensor.
The same sensor features in many of Corsair's latest high-end mice, and with good reason. It supports DPI adjustment from 100 to 18,000 in single DPI increments, can track the cursor at speeds of up to 400 inches per second and offers acceleration of up to 50g. Such headline numbers don't mean a lot to most gamers, so here's what you need to know: the sensor is amazingly precise and the three default DPI presets are configured to 800, 1,500, and 3,000 by default. These are easily customised through software, and if you happen to change DPI quite regularly, you'll like the fact that the notification LEDs are easily visible.
Of course, neither the shape nor sensor are Nightsword's key talking point. That honour belongs to the tunable weight system located on the underside of the mouse, between five PTFE pads and circling the central optical sensor. Half-a-dozen weights are included in the bundle - in their own little carrying case, no less - and the selection is comprised of three 2.8g weights and a trio of 4.5g weights. The full compliment allow the user to add up to 21.9g to the mouse, but what's clever is the way in which the accompanying iCue software utility recognises the additions to display in real-time the current total mass and centre of gravity.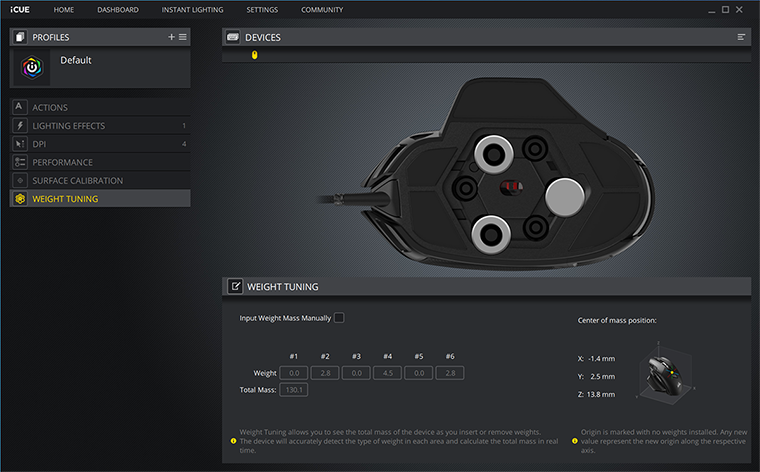 Corsair's patent-pending system is all about giving enthusiasts that extra bit of data, but it isn't perfect, or at least not yet. We found the software would occasionally mix-up the 2.8g and 4.5g weights, and though reinserting the weights would typically rectify any case of misidentification, the option to manually input weight mass suggests that Corsair itself doesn't yet fully trust the automated system. Still, iCue is maturing nicely - macros, lighting and surface calibration are all easily accessible - and for those who are picky about the exact weight of their mouse, Nightsword RGB arrives on the market as a very interesting proposition.