Draytek Vigor2800VG
If you've never heard of Draytek, you can be forgiven. It's not exactly a name in consumer computing products. However, its routers work just as well in a home as they do a small office, as many people have found, and word of mouth has proven good for the company too; it's spoken highly of in the HEXUS.community, for example.
So what does the Vigor2800VG deliver? Extracting the juicy bits from its spec, here's what you get:
ADSL, ADSL2 and ADSL2+ support
4 port 10/100 switch
802.11g 54Mbps (and Super-G 108Mbps) wireless
QoS assurance
USB printer port (print server)
VPN support
Firewall (stateful or stateless)
UPnP support
2x VoIP ports (use VoIP with a regular phone)
Virtual LAN
Syslog & SNMP
Content filtering
There's more, but instead of subjecting you to a page of specs, you can if you so wish visit the Draytek website for more info.
In the Vigor2800 range, the V stands for VoIP and the G means super-G wireless. There is one model in the Vigor2800 range that does more than the 2800VG and that's the 2800VGi. With that you get an ISDN interface too, something no home user's likely to have coexisting with ADSL unless you have both a POTS and ISDN line running into the property. Regardless, it does everything your regular wireless router would do, and then a bit (or is that a lot?) more. We'll see when we peruse the web interface in a little while.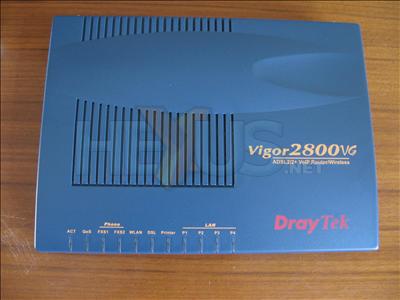 There she is. Not the prettiest piece of kit. Just as it's reassuringly expensive, it's reassuringly large, about 2.5 times the size of the Safecom router and with three times the flashing lights... always a good sign.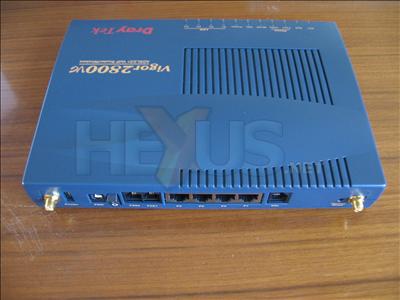 To the rear are the two wireless antenna connections. Then, from left to right we have the USB printer port, DC-in and power switch, two RJ-11 sockets for using VoIP with regular telephones, four RJ-45 ports, another RJ-11 for the ADSL line and finally a hardware reset button.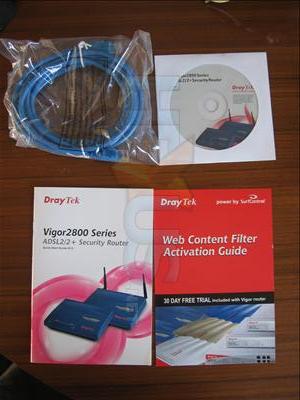 Blue is the router, so blue too is the bundled CAT 5 cable. There's also a utilities disc, plus a quick-start guide and a guide to trial version of SurfControl with is part of the router's software.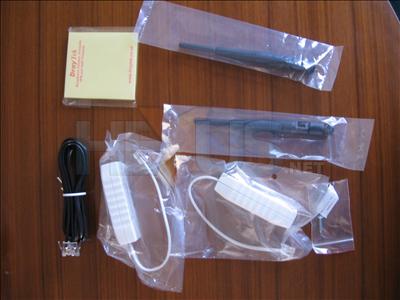 Here we have the two antennae, some post-it notes (OMG!), a cable for the ADSL line and two adapters to connect BT-style phone connectors up to the RJ-11s on the router. Why the hell does this thing ship with post-it notes? Who cares, we all love them. Oh, there's a power adapter too. It's a bundle that ensures all of the product's features can be made use of.
Now the moment you've all been waiting for... a look inside.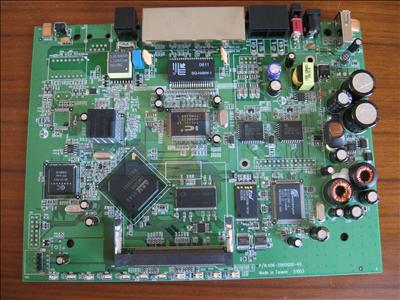 As you'd expect from the size of the casing, it's busier on the inside than our Safecom. Starting on the right, towards the middle of the board are two AMD chips, one for each phone socket, though a quick bit of Googling didn't reveal exactly what they do. Below them is a Voicepump VP101 VoIP chipset. To the left of that is an EON EN29LV320B, a 4MiB flash memory part. Moving left onto the next chip and it's 16MiB of Winbond SDRAM that'll run at 166MHz. Upwards takes us towards the IC+ 5-port network switch chip. Skipping past the big diamond chip for a moment and moving to the left of that is a Conexant ADSL chipset.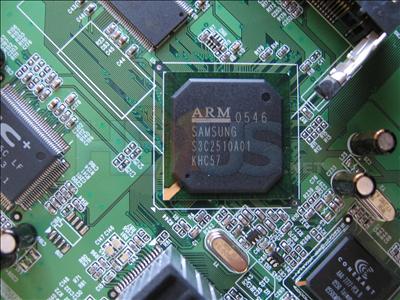 The big daddy chip in all this is a Samsung S3C2510. Inside the packaging is an ARM940T at 166MHz, just like in the Safecom router (save an apparent 2MHz core clock difference). However, this chip is a little more generalised than the Conexant CX82310. The presence of the separate Conexant ADSL chipset hints at this. Still, there remains a lot on this puppy, including two 10/100Mbps ethernet controllers, a PCI/PC Card controller, a two port USB 1.1 root hub, along with caches and buses that leave the Computer Systems Engineer in me salivating.
This chip can support over five PCI cards if need be, or a PC Card. In this case it's got an interface you'll find on laptops - miniPCI - for one of these: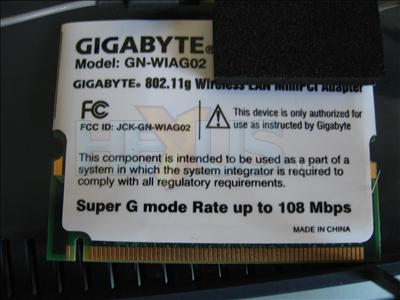 It's a miniPCI Wi-Fi card. More specifically, it's a Gigabyte product, designed purely for System Integrators. It'll run 802.11b/g networks and supports 108Mbit Super-G wireless networking too.
So we've got more discrete components, ADSL signal processing handled by a separate chip and more connectivity than the CX82310 can support (the extras being VoIP and USB printers, although couple the CX82310 with a CXP9168 or a CXP9468 voice processor and you could in fact get VoIP). Yet, the very same ARM940T architecture is doing the processing.
It's about time we set this thing up to see what it can do.