Performance
A high-end specification and a user-friendly admin panel isn't going to count for a lot if real-world performance isn't up to scratch. To put the Asus routers through their paces, the wireless capability of the RT-AC56U and RT-AC68U was tested using both available bands; 2.4GHz 802.11n and 5GHz 802.11ac. Throughput is measured between a wired Gigabit Ethernet desktop and a wireless desktop equipped with the Asus PCE-AC68 dual-band adaptor. We tested at two distances - 10ft and 40ft - with the first providing a direct line of sight between clients, and the latter encompassing floor separation and two dividing walls.
It's important to remember that wireless signal quality and strength is hugely dependent on the surrounding conditions, hence readers should note that our results may not mirror what's possible in their own home/office environment.
Wireless Performance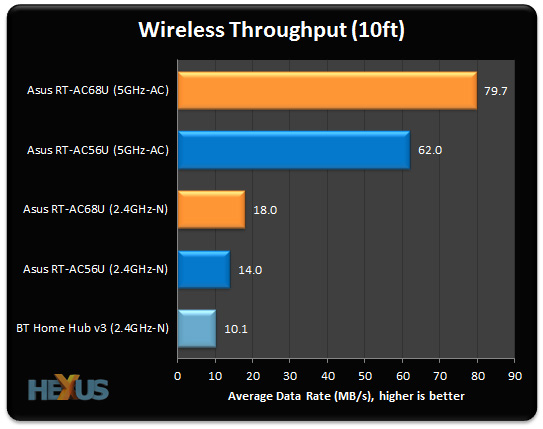 We've included performance results from a third-generation BT Home Hub to provide a real-world comparison for users considering upgrading from an ISP-supplied solution. If you're wondering what all the fuss is about when it comes to the 802.11ac standard, this should make things a little clearer.
At close range, we found that both Asus routers offered a speed improvement on the 2.4GHz band, but it's on the forward-looking 5GHz band that both devices stretch their legs. The RT-AC56U achieved an impressive 62MB/s (496Mbps) but it's the RT-AC68U that stands out, with an average data rate of 79.7MB/s (640Mbps). We've never before seen this level of wireless throughput.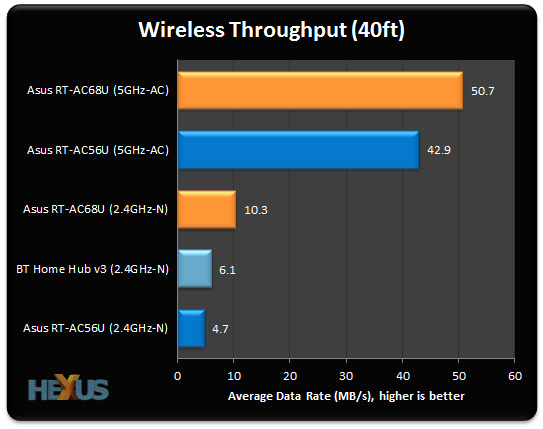 Increasing the distance by moving our clients roughly 40ft away, with a couple of walls providing obstruction, examines how well the routers cope with range. Interestingly, the RT-AC56U begins to struggle on the 2.4GHz band, which suggests that the 2x2 antenna array isn't quite as wide-reaching as one would hope.
There's no problem on the 5GHz band, but once again, and as expected, it's the RT-AC68U that really shines by maintaining data rates in excess of 50MB/s.
Network Storage
To determine the capabilities of each router's upgraded USB 3.0 port, we attached a Patriot Supersonic Magnum USB 3.0 pen drive and measured file transfer speed - in both directions - from a wired Gigabit Ethernet desktop.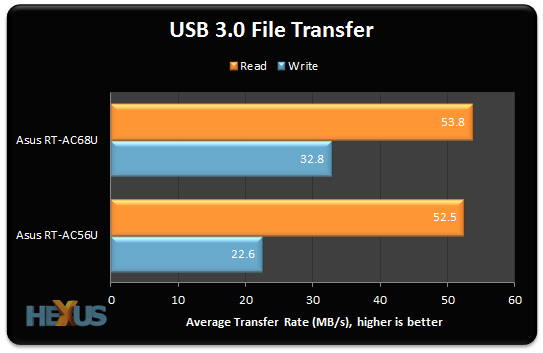 Read speeds of just over 50MB/s are the best we've ever seen from a router, and there's certainly scope for the RT-AC56U and RT-AC68U to act as a centralised server for a couple of clients. There's room for improvement when it comes to write performance, though, and it's interesting to note that while both routers are equipped with a dual-core ARM Cortex processor and 256MB of RAM, we experienced slightly better speeds from the premium RT-AC68U.