Testing
A monitor review based on descriptive visual analysis will always have the underlying problem of subjectivity; assessments of panel quality will vary from user to user depending on their normative expectations. To get around this we're deploying Datacolor's Spyder 4 Elite professional monitor analyser to return a quantitative assessment of display quality.
We also make use of the Leo Bodnar video signal input lag tester which allows us to test the combined input latency of a specific monitor at the 1080p resolution with 60Hz operation only (a limitation of the testing equipment).
These numerical results, we feel, add extra utility to our reviews allowing us to more accurately benchmark the following display characteristics:
Colour gamut relative to sRGB and AdobeRGB industry standards
Brightness levels and contrast ratios
Colour uniformity
Luminance uniformity
Colour accuracy (Delta-E)
Input latency
Gamut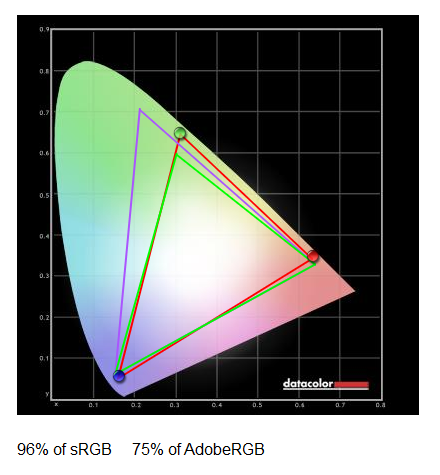 We expect any reasonable monitor to saturate the sRGB space and a good chunk of the Adobe RGB. The latter has more green hues which are outside of the remit of this iiyama, and you can actually tell this by the way the monitor, once calibrated, produces greens, because they're ever-so-slightly off compared to a top-specification screen. Most of the sRGB is good enough for this price point, though.
Colour accuracy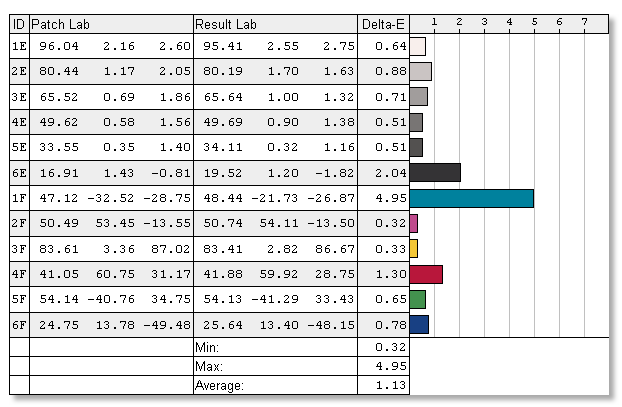 The Delta-E figure corresponds to how close the displayed colours match up with real life. A lower Delta-E is better, meaning closer reproduction, and any figure below 2 is considered very good.
The outlier case is the cyan, which is a reasonable way away from what we'd like to see. That said, the excellent reproduction of other colours means that the overall Delta-E is a very impressive 1.13.
Empirically speaking, Black Hawk's colours look natural and feel right in a well-lit room.
Colour uniformity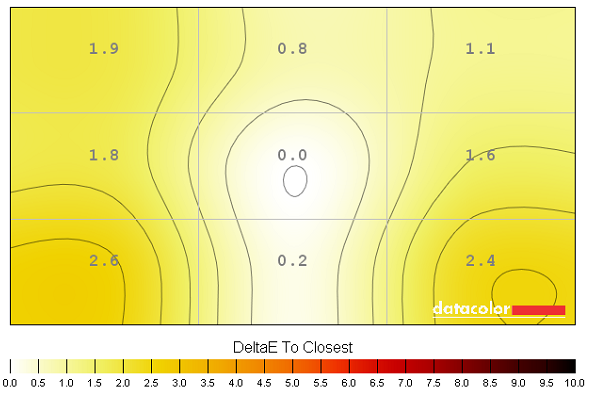 TN panels are infamous for only producing the best colours when looking at the screen head-on. That's pretty much the case here, too, as the colours become washed out much past 60°. What we can say, with some certainty, is that the colour uniformity is excellent from all corners. We took a while to view and evaluate how well the monitor displayed blocks of colours, and at the price point we have no concerns.
Luminance uniformity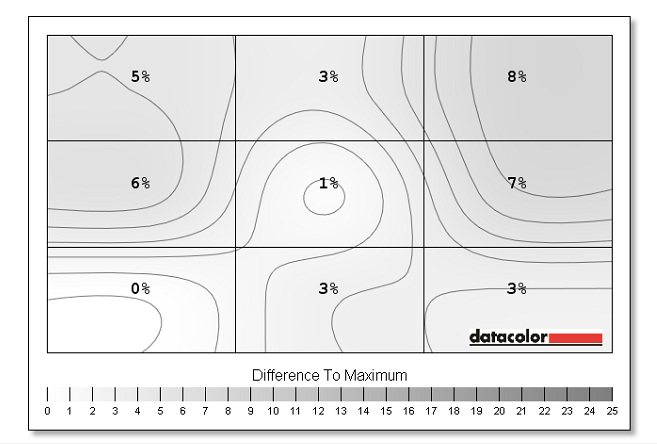 Luminosity is also very good, particularly from a budget screen.
Brightness and white point

The screen does suffer from having a below average real-world contrast to some degree. The numbers above paint it in a poor light, if you forgive the pun, though actually looking at the screen, populated by black and white, shows that it's not that lacking in the punch you often see on IPS-based panels. It's fine for everyday work and you'd have to spend a little more to get better contrast. We actually believe there's an error with the test equipment as the contrast ratio feels like 500:1 to our eye. As such, even though it's better than suggested, the screen is not great for watching films - the black borders don't contrast very well with lighter scenes.
Input lag and power consumption
Running at 1080p, which is the limit of the input-lag tester, we recorded a figure of 11.2ms, or above average for a screen of this ilk. There was no lag in fast-paced games and the monitor features an overdrive function that reduces it further if you are able to harness higher FPS.
Once calibrated, the screen uses 19W on a black background and 22W on a pure white, which is again about average.
Gaming and general usage
Playing a roster of games on the screen at its native 1080p resolution shows it to be a competent performer in most respects. Viewing angles work best when staring directly at the screen, as befits a TN panel, though do be aware that using FreeSync requires going into the on-screen menu and manually selecting it - should you not, compatible AMD drivers and GPUs simply don't see the functionality. iiyama, we feel, should really mention this feature in the regular manual.
Once activated and powered by a Sapphire Radeon RX 460 4GB card, which is a good fit for the screen's resolution and refresh rate, gaming is predictably smooth and tear-free, and certainly better than with it off.