Introduction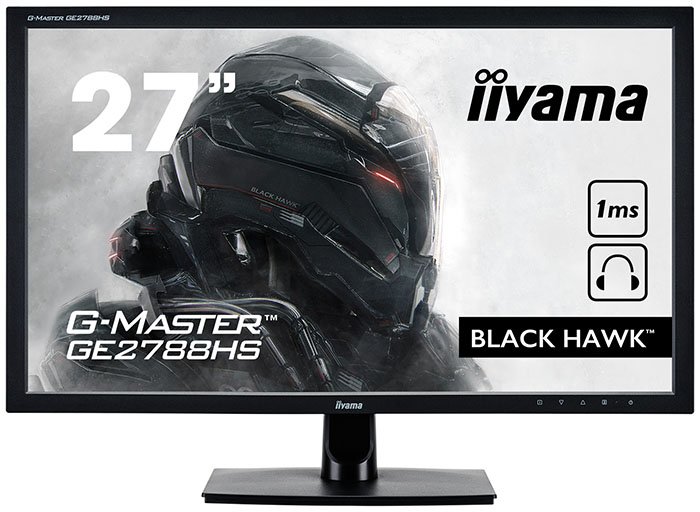 The quality of any hardware is directly related to price. Take monitors for example. Those wanting super-high-refresh screens with ultra resolutions and some form of adaptive pacing technology have to pay a healthy premium. It's inevitable there's a paucity of impressive screens for the entry-level market, but that doesn't mean that significant value can't still be had.
Dubbed the Black Hawk, long-standing monitor firm iiyama has gaming-optimised screens that don't break the bank. The GE2788HS is a case in point, touting a 27in form factor, TN panel, 75Hz refresh rate and a quoted 1ms response time via overdrive. Keeping costs in check is a full-HD screen (1,920x1,080), rather than a lusher resolution, and you get all this from around £160.
Interestingly, our sample came with an AMD FreeSync sticker and logo attached to the box and panel. There are in fact two models of the GE2788HS screen, designated as -B1 and -B2, with the latter having limited FreeSync support baked in. AMD would like you to think there's no extra cost involved for the adaptive-framerate technology, though retailers are charging an extra tenner for the review -B2.
Design and Connectivity
The ProLite GE2788HS has a rather plain design; an all-black plastic enclosure with moderately sized bezels of 14mm. The stand simply clips into the screen though it offers no vertical adjustment or lateral movement without resorting to rotating the base. What you do get is a solid amount of forward tilt.
And getting it just where you want is important insofar as the panel is a TN. This means average viewing angles, though the compromise is reasonable as TN is a good choice for gaming over and above all-round usage and productivity.
Five touch-sensitive buttons provide access to the on-screen OSD that's basic but readily usable. A larger gap exists between the two right-most buttons, filled by a bright operation LED, and it can be distracting if you're not used to having it in your eye line.
Like most displays, the actual panel is recessed from the bezel; this time around it's set further back than usual. Build quality is decent, and the plastics used by iiyama have a good fit and finish. The panel itself has a matte coating that does a good job of minimising reflections.
A bulbous back is an instant giveaway that the power-supply unit is housed inside the chassis. A standard, 100mmx100mm Vesa mount is clear to see, while a couple of 2.5W speakers offer perfunctory audio.

Meeting the needs of the market, HDMI, DVI and VGA are the standard outputs. The screen eschews DisplayPort though we don't see this is as a problem due to the need to service only a full-HD resolution.