Introduction
Asus has carved out a reputation for itself as a provider of gaming-focussed monitors. Most enthusiasts are abundantly familiar with the Republic of Gamers range, currently headlined by the impressive PG348Q, yet there is a significant number of options lower down the financial scale.
Catering for the gamer that understands the importance of frame-refresh synchronisation between graphics card and monitor for super-smooth action, Asus launched a trio of compatible displays just the other week. Augmenting its ever-burgeoning catalogue of displays for the gamers amongst you who also want really high refresh rates as well as adaptive sync, there's the MG248Q that, handily, is in for review today.
The premise behind this screen is to offer superlative gaming performance across a wide refresh-rate range. The MG248Q is able to run at up to 144Hz, which is considered the gold standard when referencing current-generation monitors, yet, and it's an important one, is also able to run adaptive-sync technology, in this case from AMD, at a wide 40-144Hz range on a 1,920x1,080 resolution.
In essence you have a screen that, on paper, is the best of both worlds. Sky-high refresh rates that match the visceral ability of today's premium cards at the common 1080p resolution. Sure, the same technology at 1440p and 2160p would be nicer, but we're unlikely to see those until the next iteration of graphics cards with beefed-up connectivity and lots more horsepower.
Asus uses a TN type of panel to generate the high refresh rate while the frame synchronisation occurs over DisplayPort. There's a little more to this screen than just these two gamer-specific features, and we'll get on to the 'DisplayWidget' in due course, though let's first take a look at the screen.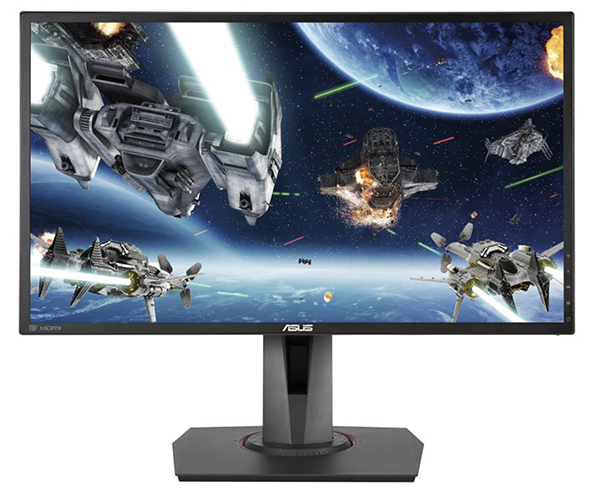 The look and feel of this monitor belies the £270 price tag. Styling is reminiscent of a bevy of Republic of Gamers screens although this one doesn't belong to that group. We like manufacturers to pay good attention to screen size and resolution, so the 24in panel and 1080p output is a sensible choice, giving a 0.276mm pixel pitch. One could argue that it's low for productivity reasons, but this is a gaming monitor first and foremost.
Adjustments include +33°to -5° tilt, +90°to -90° swivel, +90°to -90° pivot, and up to 130mm of height adjustment. Attaching the stand is, in usual Asus fashion, very easy, while a 7.2kg weight means that it stays put on your desk. There's a nice action when moving the screen from one position to another, too.
The panel has a matte coating that does well to remove stray reflections in a well-lit room, and helping matters the screen sits slightly recessed from the bezel.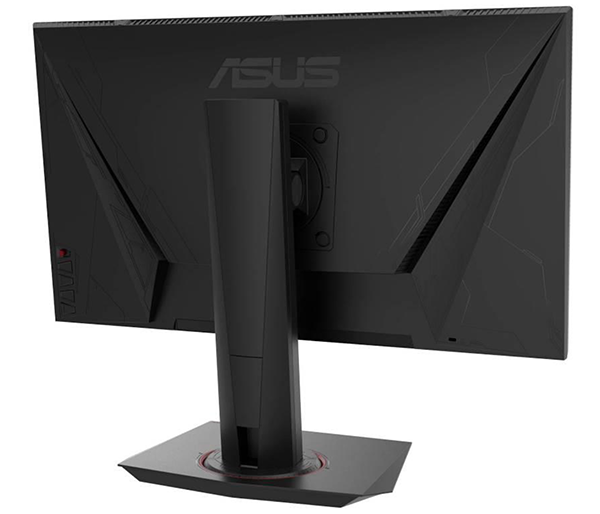 A 100mm by 100mm VESA mount is useful if you don't fancy keeping it on a desk and the smallish base is handy if you don't have a large workspace area. There's venting at the top but we didn't notice the rear side of the MG248Q becoming warm after prolonged use. You may think the writing on the right-hand side of the front section is where Asus locates the on-screen display (OSD) buttons. This isn't the case; the MG248Q, like many Asus panels, uses the excellent five-way joystick situated at the back. The four function graphics on the front merely explain what the rear-mounted buttons do.
Access the functions by using the five buttons and select them with the joystick up top. We've seen a number of different OSD controls from various manufacturers and still believe that Asus does it the best and most intuitive way. It doesn't take long to master how to delve in and out of the OSD quickly, but adding a twist this time around, the MG248Q's controls can also be accessed through a Windows-based program called DisplayWidget.
Those familiar with the OSD of gamer-focussed Asus monitors will immediately recognise most of the features. DisplayWidget works by using the Data Display Channel Command Interface over both DisplayPort and HDMI, and is present on the trio of new MG-series screens. Changes are immediate and there's an option to have a particular calibration on a per-application basis. We usually set the OSD once and then leave it alone, but for the tinkerers out there, DisplayWidget may offer some value. Perhaps more importantly, the RGB settings can be set individually, and there's a blue-light filter for longer-term viewing.
FreeSync technology is turned off by default, reported as not supported, and therefore must be enabled in the Radeon settings, so do be aware of this fact if the adaptive frame-rate technology isn't working from the get go.

There's more than enough bandwidth for current-generation interface standards to drive the 1080p display at 144Hz. DisplayPort 1.2, HDMI 1.4 and dual-link DVI are obvious input choices. A couple of 2W speakers offer rudimentary sound quality.
The MG248Q isn't particularly thin yet Asus uses an external power supply rather than a built-in unit. Cabling length is decent enough, however, and it's largely unobtrusive.