Observations
A monitor review based on descriptive visual analysis will always have the underlying problem of subjectivity; assessments of panel quality will vary from user to user depending on their normative expectations. To get around this we're deploying Datacolor's Spyder 4 Elite professional monitor analyser to return a quantitative assessment of display quality.
We also make use of the Leo Bodnar video signal input lag tester which allows us to test the combined input latency of a specific monitor at the 1080p resolution with 60Hz operation only (a limitation of the testing equipment).
These numerical results, we feel, add extra utility to our reviews allowing us to more accurately benchmark the following display characteristics:
Colour gamut relative to sRGB and AdobeRGB industry standards
Brightness levels and contrast ratios
Colour uniformity
Luminance uniformity
Colour accuracy (Delta-E)
Input latency
Gamut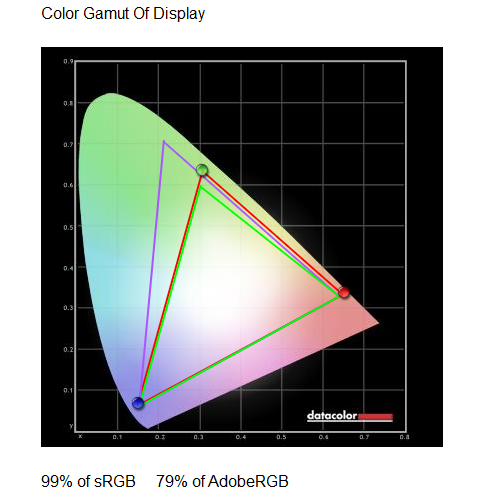 The PG348Q does a decent enough job with respect to colour gamut. This is not a professional monitor where an expanded gamut is a must, so 99 per cent of the regular sRGB and 79 per cent of AdobeRGB is exactly what we'd expect. The range of colours feels adequate enough when looking at pictures or gaming.
Colour accuracy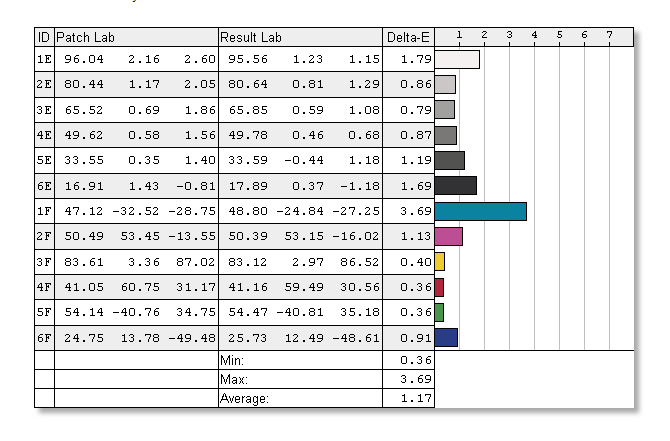 The Delta-E figure corresponds to how close the displayed colours match up with real life. A lower Delta-E is better, meaning closer reproduction, and any figure below 2 is considered good. The Asus produces excellent results that are consistent with the best we've seen from a calibrated display, professional or otherwise. This shouldn't come as much of a surprise, however, as the base panel has previously exhibited fantastic accuracy on other screens. From a pure eyeball point of view, colours are rich and do appear to be accurate.
Colour uniformity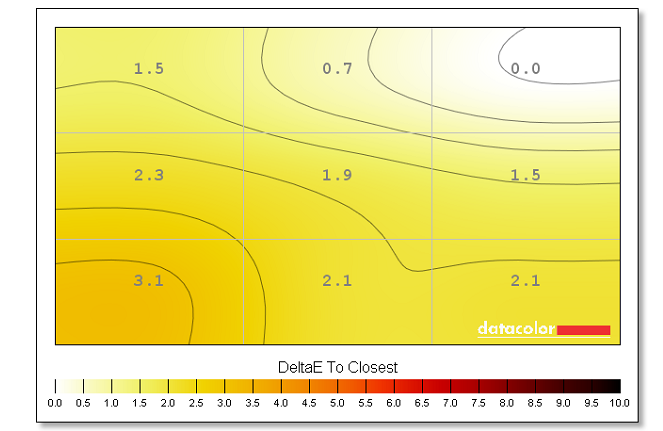 Having great colours is only one part of the equation; uniformity across the screen is also important. We're glad to see there isn't a a lot of variation from nine different measurement points. The bottom-left corner is furthest out though we can't tell by looking at a screen full of a single block of colour. The monitor feels consistent from every viewpoint.
Luminance uniformity
What about luminance? Some screens tend to be overly bright in one area and somewhat dark in another. Here is where the PG348Q isn't stellar. The upper section of the display is very slightly off to the naked eye, reinforced by the readings from the Datacolor hardware.
Brightness and white point
The preferred white point for monitors is D65, or 6500K, which gives off a minor blue-ish hue due to the natural brightness in the colour temperature. We decided for a warmer white point of D61 because it looks better on the screen than the cooler D65. The contrast ratio is average as is the brightness when set to 100 per cent.
Input lag and power consumption
Input lag, at 1080p, was 10.4ms, which is very close to the results obtained by the similar Predator. We'll cover gaming in more detail just below, but input lag is not a concern on this screen. We measured the consumption at the mains at 26W when displaying a black screen and 30W for a white screen with 50 per cent brightness and calibrated settings. These are in line with other 34in, super-widescreen monitors, so very little to complain about on this front.
General browsing
In concert with the results above, an eyeball examination showed there to be minimal backlight bleed and IPS-related glow that often afflicts budget monitors, The luminance deviation is more obvious, yet this isn't the deal-breaker that the +15 per cent readings may lead you to assume; it's only noticeable if you're really looking for it.
The wide-aspect ratio is fantastic for office productivity, particularly for image-editing software. Asus doesn't pitch this as a colour-accurate monitor per se, but given the excellent delta-E results, gamers who like to play around with photographs are unlikely to be disappointed. From a personal point of view, the UQHD is a better fit than standard 4K for productivity.
Gaming
This is where the proof of the pudding is, so to speak. The benefits of G-Sync technology have been detailed ad nauseam. In a nutshell, the monitor's refresh rate matches that of the graphics card. The advantage is that it yields a smooth gaming experience that is largely free of stutter and tearing. The PG348Q, set to the default 60Hz mode, delivers a fantastic, immersive experience helped by the super-widescreen viewpoint. Something along the lines of a GeForce GTX 970/980 offers enough horsepower to deliver the appropriate framerate at a UQHD resolution native to this screen.
But upping the refresh rate to 100Hz, the maximum supported here, requires investment in additional hardware. We used an overclocked GeForce GTX 980 Ti in our gaming evaluation. It has just enough chutzpah to make the most out of the screen's enhanced rate. Running at a higher refresh rate does provide an extra modicum of smoothness - which is difficult to portray without actually seeing it in action - though the difference isn't huge compared to 60Hz, so we'd best describe it as incremental gains. But that, we believe, is the point of the PG348Q, to offer the best gaming experience in a widescreen environment.
The absolute ideal would be this type of display equipped with a 144Hz refresh rate and HDR technology thrown in for good measure; perhaps that's Asus' aim for later on this year, to tie in with the next generation of graphics from Nvidia and AMD. Right now, if you want a super-widescreen gaming monitor, this is as good as it gets.