Introduction
PC gaming monitors can typically be split into three distinct camps. The first, usually the most inexpensive, use high refresh rates to increase the fluidity of motion when gaming with a high-end video card. There's not much that can rival a quality display with a 144Hz refresh rate. The next camp grabs some variable refresh technology, again trying to offer smooth motion by matching the screen's update rate to the graphics card. This approach works particularly well in the crucial 40-60fps range. Last but certainly not least and shipping at the very high end, these two technologies come together for the best-in-class screens.
The BenQ XL and RL monitor lines encompass the company's ambition in this space. Take the £330 XL2720Z as an example. Outfitted with a 144Hz refresh rate and based on a TN panel, the 27in full-HD screen augments the super-high refresh rate with motion-blur reduction technology but does so without any of Nvidia or AMD's frame-matching tech.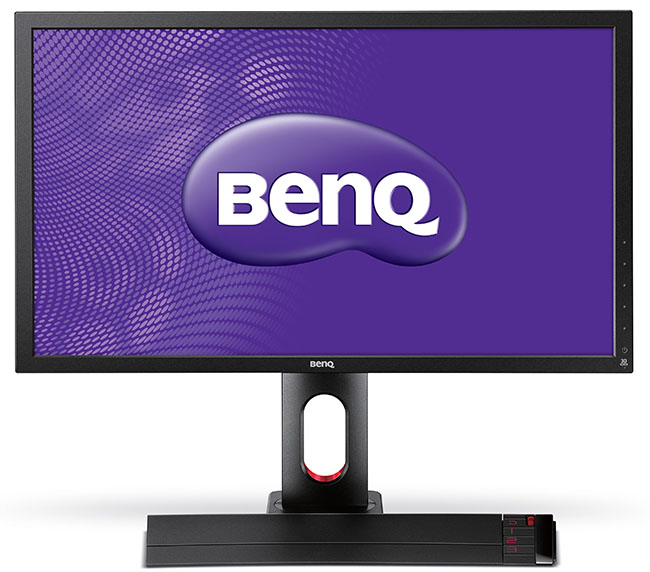 Styling is simple and effective on this monitor that has been around for a while now. The 2cm bezel is a little thicker than we'd like, compared to the very latest screens, yet the XL2720Z is far from being an ugly brute. The stand is super-easy to attach and looks somewhat different to the norm, with an extended S-switch control shown on the right. Its job is to quickly select various gaming modes, replicating the OSD, and being magnetised, attaches on to either end.
Five touch-sensitive buttons are found on the bottom-right corner. Simply hovering a finger in their vicinity illuminates them while a gentle press brings up the relevant menus. The power button is underneath. Configuration of the screen is, again, simple and intuitive, with a large, bright on-screen display popping up right next to the buttons.
BenQ has also thought about adjustment. The accented base has 140mm of vertical adjustment (it gets within 25mm of the base), a total 25° of tilt and a full 90° swivel in a clockwise direction. The screen needs to be completely vertically extended before it can be put into portrait mode. The action is fairly smooth, too.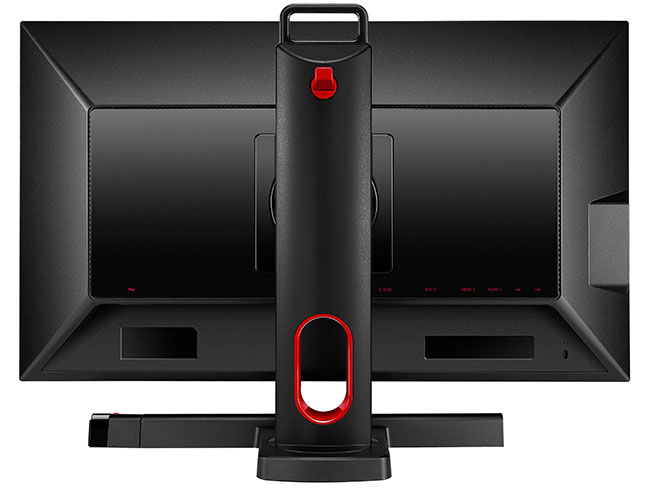 Easy to carry due to the handle at the back and touting a simple yet effective headphone hook, BenQ's monitor is well put together. There are no speakers on this model, which makes sense due to its gaming sensibilities, but the XL2720Z is well-stocked in terms of inputs. There's dual-link DVI, two HDMI, DisplayPort 1.2 and, for legacy reasons, D-Sub.
Like most of its class, the power supply is built into the chassis; you simply connect a regular kettle cable. Adding some more functionality, BenQ also includes a three-port USB 2.0 hub down one side.
Inside, AU Optronics is the panel manufacturer and M270HTN01.0 W-LED is the model. BenQ says the panel has 72 per cent of the NTSC colour gamut and, by intimation, 100 per cent of the sRGB. A nice anti-glare coating gives the screen a matte finish and there are few stray reflections that hamper visuals in a well-lit room. TN panels are known for high refresh rates but do have a downside of relatively poor viewing angles. Looking at this screen from anything other than head-on results in a washed-out image.
So we have a 27in monitor primed for gaming and touting a 1,920x1,080 resolution. Let's see how it does in the basic calibration tests, and then follow that up with some gaming.