Gaming on 4K
Screen resolution is a hot topic in certain parts of the tech industry. Mobile phones and tablets lead the way, packing ever-more pixels into tiny screens. The latest iPad ships with a 2,048x1,536-pixel display that measures just 9.7in across, leading to a 264 pixels per inch (PPI). A Samsung Galaxy S4 smartphone, meanwhile, crams in a full-HD, 1,920x1,080 resolution into a 5in screen, thus providing 441 PPI. Such high pixel densities offer incredible detail that's often considered necessary due to how close the device is held to the viewer.
PC monitors haven't followed this trend of ever-escalating PPIs to anywhere near the same degree. It's common for gamers to run 24in panels with a full-HD resolution (92 PPI) and even high-resolution 27in panels, shipping with a lovely 2,560x1,440 screens, only raise the PPI to 109.
As computer monitors become larger and begin to adopt TV-like proportions, full-HD simply won't cut it for the enthusiast. Today's high-end graphics cards, such as the GeForce GTX 780 or Radeon HD 7970, twiddle their transistors at handling such a benign resolution. Answering the call for more detail in gaming and greater screen real estate for the professional user, 4K, or Ultra HD, is primed to be the next high-resolution standard.
CES 2013 was awash with 4K TVs from all the major players, with Samsung making 55in and 65in models available in the UK this month. Widespread content isn't too far behind, either, with some 4K programming already available in the Far East. It is rumoured that the 2014 World Cup is to be broadcast in 4K to Japanese viewers.
4K has different resolution interpretations depending upon the format in question, though all tend to agree that 4K denotes, roughly speaking, the number of horizontal lines on display, rather than vertical, as used in commonly available 1080p. TVs and computer monitors tend to regard 4K, or Ultra HD, as a screen possessing a 3,840x2,160-pixel resolution - or exactly 4x the available pixels on a full-HD display.
4K on the desktop - Asus PQ321Q
The second half of 2013 will see a number of 4K TVs arrive at the market, commonly ranging from 55-84in across. The higher resolution makes more sense as the screen size is increased, with the extra pixels - 4x as many, remember - providing bags more detail. Computer monitors, on the other hand, tend to be smaller in size, but the fact they're viewed much closer continues to make a 4K resolution relevant.
Component giant Asus is one of the very first to put its name behind 4K computer monitors. Touted as the 'world's first consumer 4K monitor' and initially available as a 31.5in unit with a 39in model to follow, the PQ321Q was officially released earlier this month. It just so happens that we have one in the labs, and being the ardent gaming folk that we are, decided that the PQ321Q's resolution posed a serious challenge to the pixel-pushing prowess of the latest high-end graphics cards.
We'll be formally reviewing the $3,500 (£3,000) panel in due course, but it would be remiss of us not to take a quick peek at it before benchmarking.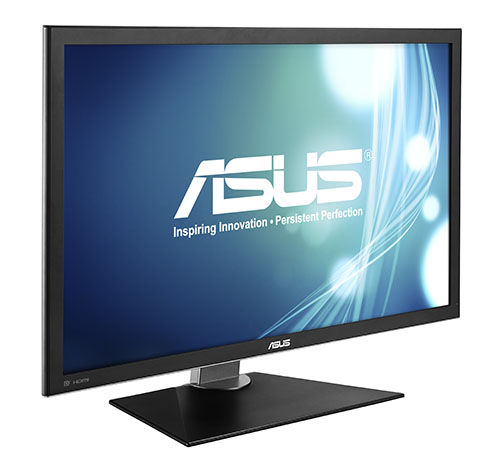 The 31.5in screen is built using Sharp's anti-glare, LED-backlit IGZO panel technology. The use of Indium Gallium Zinc Oxide (IGZO) in the LCD panel enables the PQ321Q to be quite thin, measuring only 35mm at its thickest point, and the technology helps reduce energy consumption, which is less than 93W when in use. As well as the vast number of pixels on show, the monitor uses 'deep' 10-bit RGB (over a billion colours).
This 31.5in, 16:9 monitor offers viewers a pixel density of 140 PPI (a >50 per cent uptick than for most full-HD panels), 176-degree-wide viewing angles, 350cd/m² brightness rating and 8ms grey-to-grey response time. Looking at the inputs on offer the PQ321Q features DisplayPort 1.2 and dual HDMI ports along with Picture-in-Picture (PiP) support. There are versions without HDMI, and our review monitor is one of them. Additionally Asus has fitted this monitor with 2W stereo speakers, though don't expect them to rival proper desktop speakers. The monitor offers full height, swivel and tilt adjustments with the supplied stand, or it can be wall-mounted using the standard VESA mount.
Contrary to the cheap, cheerful and alarmingly light monitors we've come across recently, the PQ321Q is a substantial beast in most respects. Weighing in excess of 13kg and built like the proverbial tank, it'll take a knock or two. If you think this monitor looks mighty similar to something already out in the wild, it's based on the professional-grade Sharp PN-K321.
Monitor setup - driver shenanigans and Windows Blue
The Sharp screen is one of the better-specified panels available. Known as a 4K60 screen, meaning it can drive an Ultra HD resolution at 60Hz, potential purchasers would do well to establish the maximum refresh rate before parting with enough money to buy a second-hand car; some 4K monitors are limited to a headache-inducing 30Hz.
Asus' preferred connectivity method is over DisplayPort 1.2. The monitor ships with native settings of DisplayPort SST (single-stream transport) but needs to be put to MST (multi-stream transport) when opting for the advisable 4K60 setting. Running under Windows 7, Nvidia's latest drivers limit the refresh rate to 30Hz - the company is aware of the issue - though AMD doesn't have this problem.
The vagaries of the resolution and requirement of running multiple streams means graphics cards set the required 3,840x2,160-pixel resolution and 60Hz refresh rate by internally creating a 2x1-monitor setup and then showing it as one single large surface. AMD's Eyefinity doesn't have a problem rendering this, but Nvidia does - it can do 3x1, but not 2x1: MST, and therefore 4K60, doesn't work correctly under Windows 7.
A workaround, if you will, is to use Windows 8/8.1 and the latest 326.01 drivers. Doing so enables the full 4K60 setting on Nvidia cards, as shown by the screengrab above. AMD, too, has no problem in displaying the Asus in its full high-resolution glory.
Performance on high-end cards
Now with the setup just right for benchmarking, we decided to pit the resolution against an Nvidia GTX Titan and a pre-overclocked GTX 780 from Asus. The two cards are neck-and-neck when running modern games at 1,920x1,080 and 2,560x1,600 resolutions. One question we hope to answer is whether the Titan's double-sized framebuffer, at a wholesome 6GB, plays a key role in delivering smoother performance at 3,840x2,160. We've also added in a Radeon HD 7970 GHz card for good measure.
The next question is how to test said cards at such an esoteric resolution. We can simply replicate the high-end settings from previous reviews and be done with it, but doing so reduces the average framerates to a crawl and, more importantly, isn't a real-world reflection on how gamers would choose to configure gaming on a 4K monitor. You see, the resolution is so vast that there really isn't any need for antialiasing at all. Lines appear smooth because whole pixels - albeit very tiny ones - take the place of blending colours to smooth edges. We therefore want to investigate whether these three expensive cards have the mustard to run ultra-quality settings without antialiasing on a 4K monitor.
So the tested configuration can be found on this page, though you'll have to strip out the quoted antialiasing settings if comparing like-for-like. We've also run a subset of numbers with varying levels of AA utilised and have noted the maximum framebuffer usage during the benchmarks.