Software
Motherboards from different vendors tend to offer a similar feature set in terms of hardware, yet the supporting BIOS can be significantly different and consumers will often choose a particular brand based on software experience alone.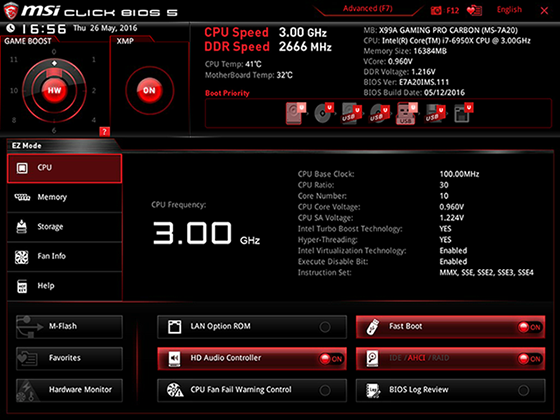 MSI's latest iteration, dubbed Click BIOS 5 and running at version E7A20IMS.111 on our review board, offers a modern take on UEFI with crisp graphics and tidy presentation. In keeping with most competing boards, the interface is available in a choice of EZ or Advanced modes.
The former, pictured above, provides at-a-glance status information as well as quick access to commonly used functions. Having the ability to turn on XMP with a single large button is useful for novices, and we like the fact that the Game Boost graphic updates in real time. Rotate the dial on the board and the overclock appears instantly on screen.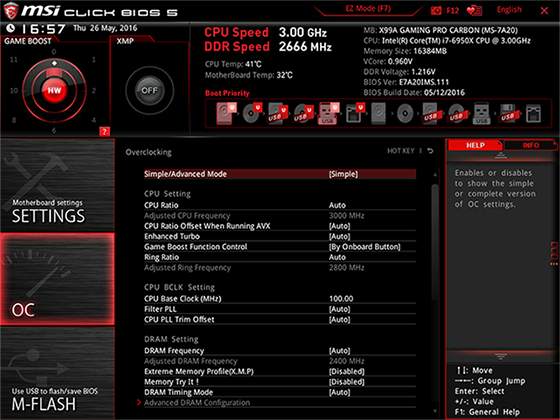 Choose to do things manually and you'll want to hit F7 to go Advanced. This mode makes available a plethora of settings and overclocking options, most of which are well explained in the tooltip box on the right. The menus are quick to navigate and text is reasonably sharp, though we don't feel MSI is making the best use of the available screen real estate.
The main options are centred in the middle and do at times feel cramped due to the static row at the top and the columns either side. Being able to hide the top row of status information when in Advanced mode would be helpful in minimising the amount of scrolling required, but these are minor niggles in an interface that is, for the most part, simple to get around.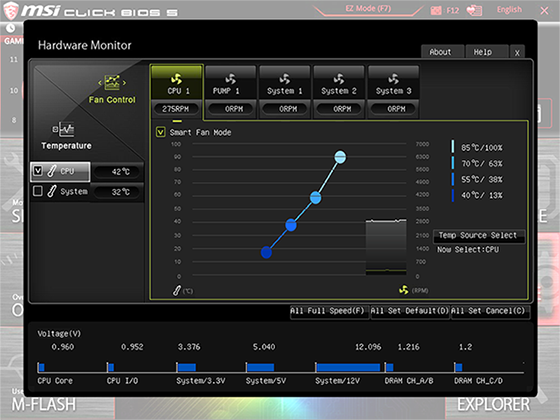 The overclocking sub-menu is, as you would imagine, very comprehensive, and can itself be toggled between simple and advanced modes. The latter opens up further opportunities such as per-core ratios and the ability to disable EIST, and the only notable omission from a features standpoint is the BIOS update mechanism. MSI still relies on a USB stick via its M-Flash utility and we'd like to see an online update option to bring feature parity with rival boards.
Fan control plays an important role in today's super-quiet builds, and Click BIOS 5's dedicated Hardware Monitor is tasked with controlling speeds based on temperature. The mechanism is popular with fans of MSI boards, as the drag-and-drop curve provides a good level of customisation, yet the interface may not be entirely intuitive to newcomers. The speed curve works, but it wouldn't be a bad idea to have an alternative method where users could manually enter fan speeds as a percentage of the maximum.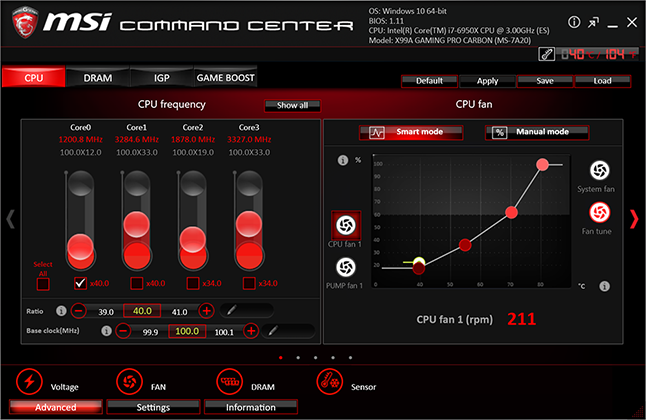 Then again, perhaps we're just getting old fashioned, and we often wonder, do today's kids even bother frantically tapping delete during the blink-and-you-miss-it boot sequence? Perhaps not, as most firmware options are now made available from within the OS via a modern software utility.
MSI's variant, known as Command Center, is well presented, responsive and able to carry out the vast majority of common tweaks while relaying real-time status information such as voltages or fan speeds. It's a nifty tool, and our only criticism is that MSI has a few too many seperate software utilities available. In addition to Command Center, the bundled CD includes Dragon Eye, Eco Center, Gaming App, Smart Utilities, Live Update, and that's just the tip of the iceberg. There's surely scope for some of these to be rolled into one.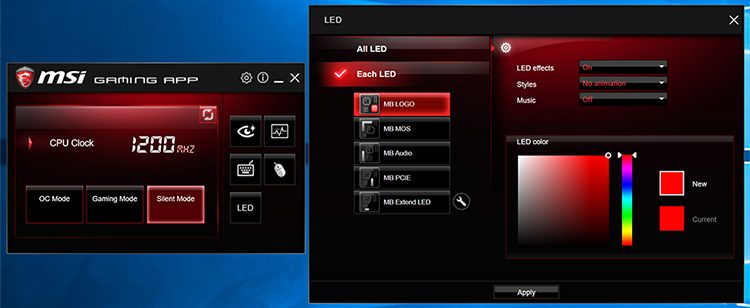 Having so many apps available can make it confusing to know which ones are needed for which specific purpose. Take, for example, the X99A Gaming Pro Carbon's onboard LEDs. There's no option to configure the colours from within the BIOS, and you won't find any settings in Command Center, either. For this you'll need the Gaming App (or the Mystic Light smartphone app) in which the LED component doesn't feel as polished as MSI's other software solutions.
Users can toggle the lights on or off in five zones, as well as independently change colour or animation. White isn't particularly convincing - there's a noticeable blue tint - and there aren't yet enough smart customisation options. Having the lights change colour based on CPU temperature is a nice touch, but there's scope to go further. It would be nice to have an option for the lights to come on when CPU temperature reaches a certain point, and there's plenty of potential for the lights to serve as more than mere decoration. In this day and age, shouldn't they blink when the you receive an email? Can't they turn blue when it rains outside? Or how about flash red when your sports team scores? Something for the future, perhaps.