Introduction
Intel has unleashed a new 10-core, 20-thread performance champ in the form of the Core i7-6950X, and the lavish chip's arrival makes this an opportune moment for motherboard manufacturers to spruce-up their wares.
All the big names are expected to launch refreshed 'X99 II' models that are chock-full of modern features, and if you're swayed by appearances first and foremost, MSI's X99A Gaming Pro Carbon is the one that stands out from the crowd.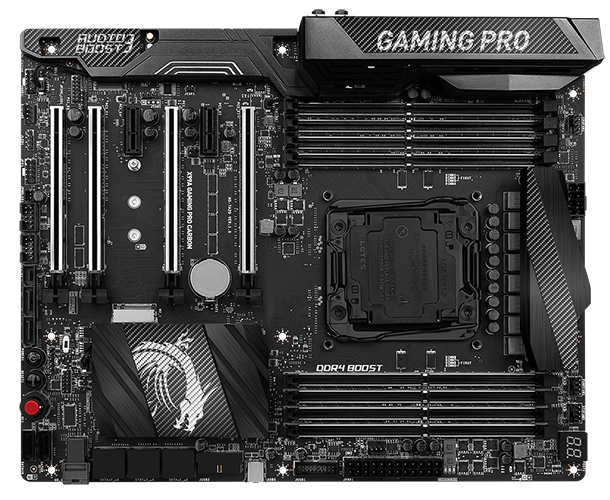 Hitting stores with a £270 price tag, this is an ATX solution that looks the part and targets high-end enthusiasts with an eye for tidy builds. We're of an age where we'd argue that board aesthetics aren't particularly relevant in the grand scheme of things, yet having seen the X99A Gaming Pro Carbon in the flesh, we must admit, this is one sleek-looking piece of kit.
Despite having a vast array of functions, MSI has managed to keep large sections of the PCB free of clutter, creating a sea of black that contrasts beautifully with the silver trim. The new-look heatsinks blend-in perfectly while providing a carbon-fibre appearance, and the only misstep from an aesthetics point of view is the red Game Boost button - we'd rather it came in black, silver, or even white.
Then again, if you're hoping to introduce other colours into the mix, you're going to like MSI's 'Mystic Light' LEDs. Scattered throughout the board to illuminate the I/O shield, audio cover, chokes, southbridge and PCIe hinges, they provide millions of colour choices and more than a dozen effects across the various zones. Components that light-up aren't usually our cup of tea (unless it's Christmas), yet certain colour choices do contrast well with the black surround.
As is the case with competing boards, MSI also implements a four-pin header that can be used to attach a 5050 LED strip for chassis decoration. There's no strip included as part of the bundle, sadly, though MSI has developed an app for iPhone and Android devices that lets you control the Mystic Lights from your phone. We're not sure why you'd want to do that, but hey, the option is there.
A board at this price points need to bring a heavy arsenal of features, but rather than throw-in everything and the kitchen sink, MSI chooses to focus on the areas it believes matters most to the target gaming audience. There's consequently no WiFi, which arguably isn't a big miss for gamers, and SATA Express, which suddenly appeared on high-end boards without mainstream drive support, has been downgraded to just a single connector.
Good calls, in our estimation, and there are plenty of ticks in other boxes. The large, full-pin-enabled LGA2011 v3 socket is flanked by four DDR4 DIMM slots either side, supporting up to 128GB of quad-channel memory, and the low-profile heatsinks ensure plenty of room for a large CPU cooler. We had no trouble mounting a highly capable Noctua NH-D15.
Providing a familiar X99 expansion slot arrangement, MSI offers three-way CrossFire or SLI support via the top three PCIe 3.0 x16 channels in an x16, x8, x8 configuration with a 40-lane CPU. The bottom PCIe 3.0 x16 slot shares bandwidth with the U.2 and M.2 storage ports, and there are a pair of PCIe 2.0 x1 slots sandwiched into the gaps.
What's nice is that all four PCIe 3.0 x16 slots are reinforced as standard. MSI's implementation, dubbed 'Steel Armor,' touts a greater number of solder points to create a stronger slot, and similar reinforcement is applied to all eight DDR4 DIMM slots. More than just marketing? It's hard to verify MSI's claims of a 4x improvement in strength, however the slots do feel more robust to the touch and show no outward sign of flex.

Keeping things up to date, the rear I/O panel is home to four USB 2.0 ports, four USB 3.0, as well as USB 3.1 Type-A and USB 3.1 Type-C. Why are the USB 3.0 ports coloured red and not blue? It's hard work keeping track of recent USB developments, but it turns out USB 3.0 has been reclassified as USB 3.1 Gen 1, and MSI prefers to keep things looking more modern. The problem with this approach is that it's not easy to distinguish between the USB 3.1 Gen 1 and USB 3.1 Gen 2. In case you're wondering, the faster duo (Type-A and Type-C) are near the audio jacks. Got all that?
Speaking of audio, MSI's Audio Boost 3, powered by Nahimic Sound Technology, promises some of the best acoustics in the business, while Gigabit Ethernet comes courtesy of an Intel I218-V controller. Storage options, meanwhile, are plentiful, with the X99A Gaming Pro Carbon providing a total of 10 SATA 6Gbps ports (two coming from the SATAe), in addition to U.2 and M.2. Note that the latter two share bandwidth, meaning the M.2 will operate at PCIe 2.0 x2 when a U.2 drive is installed.
A total of five four-pin fan headers are well spread around the board and include a trio for system fans, one for CPU fan and a dedicated header for a water pump. Onboard power and reset buttons are also available for convenience, as is a well-positioned debug LED, and we like the fact that MSI includes a front USB 3.1 Type-C connector for forward-looking chassis. Last but not least, the Game Boost dial does a good job of simplifying overclocking. Configured with eight incremental profiles, it lets users enable XMP and increase the CPU multiplier at manufacturer-suggested voltages with nothing more than a quick twist.