Bearlake P35


First off, Bearlake is the codename for a number of Intel three-series chipsets, encompassing the G31, G33, G35 (all featuring integrated graphics), Q33, Q35 (business-oriented models featuring enhanced vPro), P35, and X38; the upcoming replacement for the now-venerable i975X. We'll be concentrating our discussion on the P35.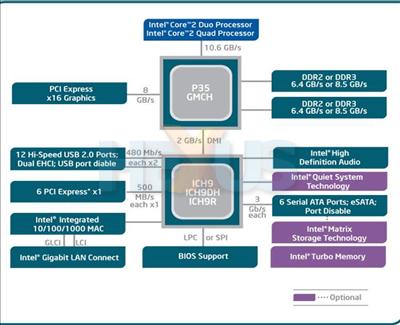 1333MHz FSB CPU support - although most Intel P965 chipsets run way past 1333MHz FSB if you indulge in a little overclocking, P35 brings with it official support for all the multifarious Intel Core 2 Duo/Quad processors that will feature the faster FSB. We expect to see 65nm variations ship first, with 45nm Wolfdale/Yorkfield coming a short while after. P35, then, will support every LGA775 CPU available now or in the near future.

NVIDIA has been toting 1333MHz FSB support on its entire 600-series line, we note.

45nm CPU support - directly leading on from the above, the P35 chipset will support all LGA775-based 45nm Intel CPUs, whose operation requires modification to current P965/i975X boards' voltage regulation modules - to function correctly.

DDR3 support - kind of putting the cart before the horse, Intel is equipping P35 with a hybrid DDR2/DDR3 controller in the MCH. Motherboard manufacturers will have the choice of releasing either variety, and, we presume, will offer bundling deals with the ever-so-scarce DDR3 modules.

DDR2 support is left at an official (keep-JEDEC-happy) 800MHz. DDR3 is slated to run at 1066MHz FSB. Of course, manufacturers will push these limits and offer faster-than-rated memory ratios in their performance P35 boards. Some board may feature both DDR2 and DDR3 slots, but you won't be able to run them concurrently; it's one or the other.

ICH9/DH/R southbridge with optional Intel Turbo Memory support - ICH9 and the /R ship with 4 and 6 SATAII ports, respectively. eSATA support (including port multiplying), if implemented - with the requisite port located usually on the I/O section or extended via a fly bracket - will limit the number of usable onboard ports.

Turbo memory support will operate by sandwiching an onboard NAND (memory) device between southbridge and hard drive, providing an additional go-to configurable caching buffer for frequently-used data. Better than USB-based ReadyBoost, we reckon - there's less routing distance to go and board-level integration will, most likely, run off a PCIe x1 interface.

PATA is still firmly cast aside so diligent manufacturers will include a separate controller to bring back this much-needed connectivity, usually from JMicron.

CrossFire support - P35 will continue where P965 left off. The block diagram highlights a potential 6 PCIe lanes running of the ICH9 variants, and manufacturers will be able to leverage these to create an electrical x4 PCIe interface within a mechanical x16 slot. Full-bandwidth (16 lanes per slot) CrossFire will be available with the X38, no doubt.

Other gubbins - An additional 2 USB ports, bringing the total up to 12.


Brief summary
P35 is the natural evolution for P965, but decent retail examples of the latter can do pretty much everything P35 can, sans DDR3 support and Turbo Memory.

Let's move on over to the Foxconn P35A's specs. now.