Introduction
Gigabyte motherboards can generally be classified in three unique categories: Ultra Durable (UD), Super Overclocking (SOC) and Gaming (G1). HEXUS is well accustomed to the UD Series - the Z87X-UD3H has been a mainstay of our high-end graphics test platform and the Z97X-UD5H recently went under the review spotlight - but Gigabyte's focus for the new Z97 chipset appears to have shifted over to the G1 Series.
Gaming boards are big business at the high-end of Intel's desktop market and practically all manufacturers are now offering gamer-orientated designs at competitive prices. Gigabyte has historically arrived on the scene with vivid boards based around a green-on-black colour scheme and, on ultra-high-end models, lavish heatsinks shaped like ammunition.
The sometimes eye-catching, sometimes gaudy designs had a tendency to divide the crowd, so the Taiwanese outfit has decided to take a step back for Z97 and revert to the colour scheme that never fails: good ol' red and black.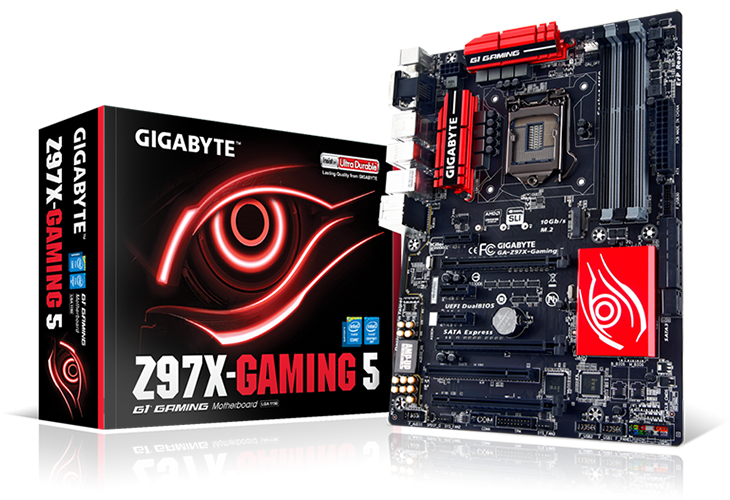 This is the styling that is present on all of Gigabyte's Z97 Gaming motherboards, and sure, it looks good, but there's a part of us that misses the green highlights: they gave the G1 Series a unique identity and offered consumers something different. Still, red-and-black is proven and it puts Gigabyte's boards right in line with most of the competition from an aesthetics point of view.
The G1 board on the test bench today is the Z97X-Gaming 5, a mid-range offering that touts gamer-grade functionality at a competitive £110 price point. This, then, is a direct rival to MSI's equivalent, which also goes by the name of Z97 Gaming 5.
Both are attractive boards, though MSI arguably does have the edge in the looks department thanks to an uncluttered, almost-entirely black PCB. Gigabyte's grey DIMM slots detract from the overall aesthetic, and there's another potential drawback that isn't immediately obvious: the Z97X-Gaming 5 PCB measures 305mm x 225mm, making it almost an inch narrower than standard ATX (305mm x 244mm). This isn't detrimental to functionality - there's still plenty of space - and it's common on budget boards, but it can complicate installation. The Z97X-Gaming 5 doesn't cover the tray cutouts on our Corsair 600T chassis, and though it's a small matter, it doesn't fit quite as nicely as a full-ATX model would.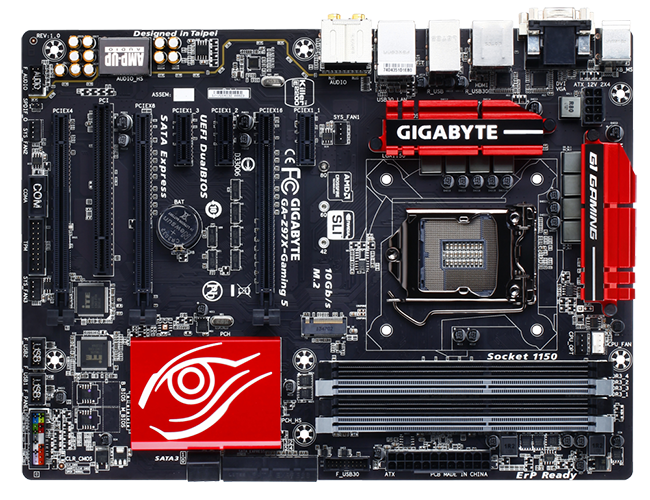 A slimmer profile doesn't mean less functionality, though. With a gaming audience in mind, Gigabyte has a trio of well-spaced, full-length PCIe slots offering support for up to three-way AMD CrossFire or two-way Nvidia SLI. Knowing that bandwidth is of utmost importance in the first two slots, they conform to the PCIe 3.0 specification and share 16 lanes from the CPU, allowing a single card to run at x16 or dual configurations at x8, x8. The third PCIe x16 slot is of the 2.0 variety, runs at x4 and, when in use, will render all three PCIe x1 slots unavailable. Finally, a single PCIc slot is also thrown into the mix, though its usefulness on an up-to-date build is limited.
Continuing the gamer focus, we have Gigabyte Amp-Up Audio Technology, which places a Realtek ALC1150 codec and Nichicon audio capacitors on an isolated area of the PCB to protect against interference. As is now the case with most gaming boards, this PCB separation is highlighted by a red LED trace path that, and a built-in amplifier is also included to the benefit of those with high-end headsets.
Elsewhere, the Z97X-Gaming 5 eschews the default Intel LAN solution in favour of an online-gaming-optimised Killer E2200 from Qualcomm. The Killer NIC is a handy tool for gamers to have, though in our experience driver support has been patchy at times, and we'd prefer to still have the default Intel option as a backup. Gigabyte's own Z97X-UD5H has both in a dual Gigabit configuration, but is a costlier proposition at around the £140 mark.
Storage, of course, is the key talking point for Z97, and the Gaming 5 board has all bases covered. Half-a-dozen SATA 6Gbps ports line the edge of the board and two of these can be combined to power a single SATA Express drive. As expected, an M.2 slot offering speeds of up to 10Gbps is also present just beneath the LGA1150 CPU socket, but do be aware of the Z97 proviso that applies: chipset limitations are such that SATA Express and M.2 can't be used concurrently.
A total of five fan headers are dotted around the board - three for system fans, two for CPU coolers - however it's worth noting that Gigabyte hasn't included enthusiast-class features such as debug LEDs or voltage-monitoring points. Competitors have managed to squeeze in such features at similar price points.

On the I/O front, Gigabyte serves up eight USB ports (half of which are of the SuperSpeed variety), the aforementioned Killer Gigabit Ethernet, PS/2 keyboard and mice connectors, VGA, DVI and HDMI display outputs (with the latter supporting 4K over a 1.4a interface), optical S/PDIF out and five gold-plated audio jacks. There's no love for DisplayPort, which we feel is an oversight on a modern-day board.
BIOS and Warranty
Gigabyte has refreshed its UEFI BIOS for the Z97 launch, though unsurprisingly, there isn't much differentiation between the software featured on the Ultra Durable and G1 Gaming product lines. We were quietly hoping for a black-and-red colour scheme to match the board, but that isn't the case: the BIOS on the Z97X-Gaming 5 looks the same as the Z97X-UD5H.
Whereas other vendors are aiming for a single interface, Gigabyte mixes it up with a choice of viewing modes, with Startup Guide providing quick access to common features, Smart Tweak Mode offering a snazzy graphical interface, and Classic Mode maintaining familiarity for old-school users. We're particularly fond of the latter and find ourselves reverting to this mode at all times.
For enthusiast users, it's worth noting that the overclock limits are identical to the Z97X-UD5H. Though this board costs a good deal less, it still supports a maximum base clock of 266.66MHz and a highly-improbable CPU clock ratio of 80x. Similarly, CPU and DRAM voltage tops out at 1.80V and 2.10V, respectively.
Overall, Gigabyte's BIOS is easy to get around, and though the Smart Tweak Mode is superfluous to our personal needs, we like the fact that users have a choice of classic or modern interfaces. BIOS aside, it isn't easy for board manufacturers to stand out in a crowded market, and hardware and software alone isn't always enough to entice new customers. We've already seen competitors launch limited-time promotional deals in an effort to enhance their boards' appeal, and Gigabyte UK has a similar ace up its sleeve in the form of a free four-year extended warranty. Details on how to apply are available here.