Introduction
Word on the grapevine is that Intel will roll out its Haswell Refresh processors at the start of June 2014, putting the chips in full view at the annual Computex trade show in Taiwan. The new parts, codenamed Devil's Canyon, will be clocked slightly higher than their current-generation equivalents, but the key ingredient for overclockers is the promise of an improved thermal interface material that should help eke out every last drop of performance.
Intel claims the chips are "re-engineered for enhanced performance and overclocking," but while we await the Haswell Refresh goodness, we have a new chipset to whet our appetite in the interim . It's dubbed Z97, and takes the place of outgoing Z87 as the go-to solution for enthusiasts building a high-performance Intel PC.
We've already spoken about some of the available enhancements - namely M.2 and SATA Express - now let's see how well MSI can put it all together in one of the company's launch-day boards, the Z97 Gaming 5.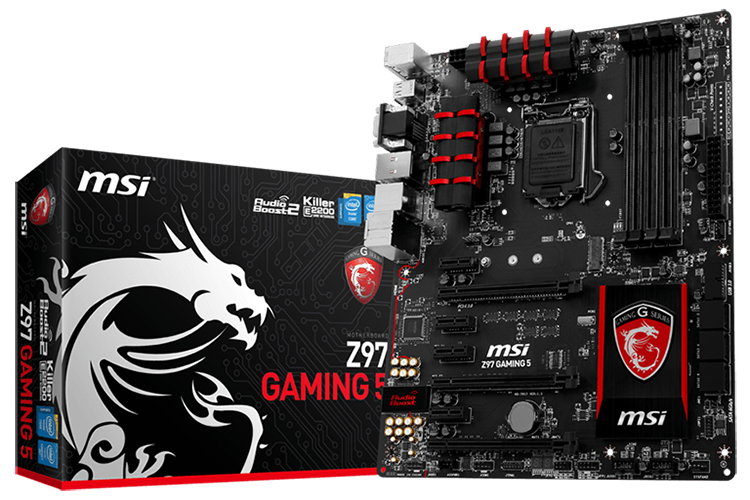 We'll be the first to admit that we have high hopes. Our last outing with a Gaming-series motherboard left us suitably impressed, as the Z87-G45 Gaming managed to combine a healthy set of features and a well-stocked BIOS for an agreeable street price of £115.
The Z97 Gaming 5 looks to pick up right where its predecessor left off. MSI's MSRP is once again set at £115 and a quick glance at the specification sheet suggests that pricing is keen for a board that's chock-full of gamer-specific features.
And, just as importantly for those of you who like to show off your rigs, this is a seriously good-looking board. Finished almost entirely in black, the board is made to look very clean and precise, with little clutter and only a few red highlights. Even the DIMM slots and SATA ports have been given the all-black treatment, and the overall aesthetic is certainly an improvement over the brown-ish PCB featured on the company's previous generation.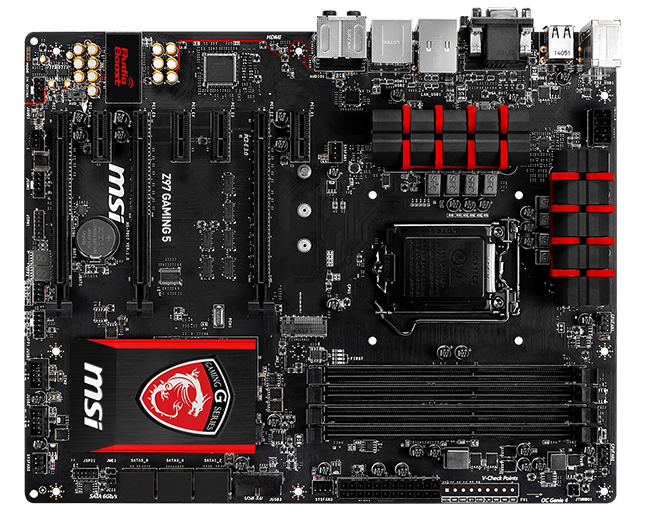 MSI's board is, in our estimation, one of the best-looking Z97 designs we've come across thus far in an ATX form factor. It looks the business in our Corsair 600T chassis, and of course there are plenty of other red-and-black components to help dress-up your build.
Of course, appearance will be of little importance if MSI doesn't deliver a feature-set to match. Fortunately, things are looking up. The Z97 Gaming 5 has a lot in common with its Z87 predecessor, and straight away we see that a near-identical layout has been employed.
An eight-phase power design continues to support the LGA1150 socket, and for overclockers there are familiar value-adds. These include a clear CMOS jumper, voltage-monitoring points, five four-pin fan headers and a two-digit debug LED. We particularly like the fact that the latter reports CPU temperature after boot, though it's a shame MSI has once again refrained from adding physical on/off buttons.
As you'd expect from a gamer-orientated board, three-way CrossFire and two-way SLI support is included, with the three PCIe 3.0 x16 slots allowing a choice of x16, x8/x8, or x8/x4/x4 modes. A quartet of PCIe 2.0 x1 slots make up the rest of the PCIe configuration, and MSI rightly looks ahead by eschewing Conventional PCI on a board of this ilk.
What's new and of interest here is the M.2 slot positioned just below the CPU socket. This takes the place of mSATA on earlier MSI boards and touts storage transfer speeds of up to 10Gb/s. As with most M.2-enabled boards, a choice of type 2242, 2260 and 2280 form factors are supported, though do be sure to install your drive prior to a large heatsink. Getting access to the slot with a giant cooler in place will be tricky.
Elsewhere, we were fully expecting to see SATA Express, but unlike many of its competitors, MSI has opted not to include support right out of the box. The company will instead offer optional PCIe/M.2-to-SATA Express adapter modules. A strange decision? Perhaps, yet you could argue that SATA Express is something of a stopgap, and it's a specification that may not achieve widespread adoption. Rather than take that gamble, MSI maintains six SATA 6Gbps ports, all of which are side-mounted on the right side of the board. Worth noting, also, that the Z97 Gaming 5 consequently doesn't run into PCIe lane limitations - users can utilise the M.2 port and all available SATA without complication.

Just about everything you'd expect to find on the I/O panel is present and accounted for, with DisplayPort being the only noteworthy exception. We have a PS/2 combination jack, four USB 2.0 ports, a further four USB 3.0 ports, Gigabit Ethernet, VGA, DVI and HDMI outputs (with the latter supporting 4K resolutions) and six audio jacks.
MSI's colour-coded ports hint at various underlying enhancements, all of which are designed with gamers in mind. On the audio front, the Z97 Gaming 5 makes use of a Realtek ALC1150 Codec on an isolated PCB that's separated by an eye-catching red LED path. EMI shielding is used to further reduce the possibility of interference, and a dedicated power input promises stable power delivery for USB audio devices. The whole package is branded Audio Boost 2 and includes a pair of headphone amplifiers, with the red audio jack indicating amplified output for high-end headsets.
Finally, the board's Gigabit Ethernet is powered by a Killer E2200 NIC that's designed to prioritise gaming traffic, though, strangely, it's not as good as the company's E2100 NIC. MSI also bundles in a six-month license for XSplit Gamecaster, through which users can broadcast live gameplay.
There's a lot on offer for £115, yet the deal is sweetened further by a launch promotion. For a limited time, MSI will be offering 20 per cent cashback on the Z97 Gaming 5 via select partners such as Scan Computers. Get in early and this board could be yours for less than £100.