Layout and BIOS
AMD's release of the Kaveri-based Accelerated Processing Units (APUs) has given motherboard manufacturers license to promote a range of FM2+ boards. This new socket, which remains backwards compatible with FM2, is the ideal, and only, candidate for the new slew of APUs using Steamroller cores and GCN graphics. Got a 7-series APU? You'll need an FM2+ board.
Headlining the FM2+ socket is the A88X chipset, and MSI takes it on with eight motherboards that, between them, use full-ATX, micro-ATX and mini-ITX form factors. The best of the bunch is the A88X-G45 Gaming board that's due in retail in a few days priced at £95. The UK market will receive the special edition bundle that includes Assassin's Creed Liberation HD, which is worth up to £15 on its own.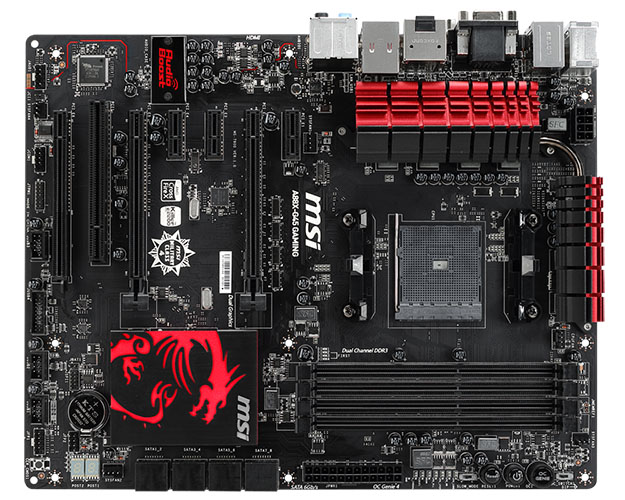 MSI has taken deliberate measures to improve the look and feel of its Gaming boards. The PCB has fewer markings than normal and is presented in a good-looking black-and-red colour scheme. Whereas others are content on using cheap(er) heatsinks, MSI connects the VRM-covering duo via a chunky heatpipe and, if you look closely, sculpts them into a dragon profile. We've historically seen (or felt) the VRM section becoming very warm when 100W-rated APUs have been used; MSI appears to share the same opinion on cooling.
There's more going on than initially meets the eye. The G45 Gaming includes three on-board buttons (power, reset and OC Genie), an OC dipswitch and voltage-measurement points on the bottom-right, augmented with the useful debug LED and clear CMOS buttons on the bottom-left. There's generous room around the socket, and the four DIMM slots are capable of running DDR3 memory at a supported 2,400MHz. Our slight concern is that they're not colour-coded, to show dual-channel operation, though that's a small price to pay for the swish all-black aesthetic.
MSI uses a full complement of eight SATA 6Gbps ports that are neatly rotated to one side, making installation of cables easier if you have extra-long graphics cards in situ. Cooling is provided via five fan headers - a trio of 4-pin and a couple 3-pin - and all are sensibly dotted around the board. The use of a full-ATX board means that the G45 Gaming looks uncluttered.
Upgraded audio and networking
So why the gaming name? MSI is a firm believer in Killer Network's Ethernet and installs the E2205 Gigabit controller here, though it's liberally used in higher-end Intel-based mainboards, as well. Its raison d'être is in enabling gaming packets to be prioritised over regular Internet traffic. That said, writing subjectively, we've yet to feel the gaming benefits of a Killer NIC when compared against, say, an Intel Gigabit, though we're rarely, if ever, engaged in heavy downloading whilst playing online, which is part of the Killer's forte.
There are also upgrades for the audio department. Driven by the popular Realtek ALC1150 codec, MSI uses what it terms as Audio Boost technology to improve sound by partially isolating the circuitry from the rest of the board - this is the red line running across the top-left - while Creative's Sound Blaster Cinema software sits on top. The audio has a baked-in amplifier that boosts Ohms to enable high-impedance, powerful headphones to be used without issue.
Somewhat going against the grain of APUs, MSI has a trio of PCIe x16 slots. The upper duo run at PCIe 3.0 speeds with an FM2+ chip and the ensemble supports Dual Graphics or up to three discrete cards in CrossFire (x8, x4, x4). A further three PCIe x1 makes this one of the most expansive AMD boards available, though do understand that lane allocation means that PCIe (x1) slots 3 and 4 share bandwidth - both cannot be used together.

Three of the four display outputs can be used concurrently. Six USB 3.0 populate the back, with the remaining duo available via an on-board header. We've spoken about audio earlier, but it's nice to see optical S/PDIF-out available. MSI's layout and features are well above average and, really, there's not too much more we'd want to see on an AMD board.
BIOS
Jump straight in and a six-panel configuration surrounds the logo. Clicking on each opens up a vast subset of options. We like that the red band at the top shows at-a-glance, live information. An OC Genie button, on the top-left, enables one-click overclocking.
We'd prefer MSI to use easily-navigable sub-pages rather than one long list, as is the case here (central image); looking at over 30 options can quickly become confusing for the novice user.
MSI's also beefed-up the hardware monitoring side of things. You are able to set each fan's speed individually by pulling and pushing the points on the graph window. It's intuitive, works well in practise, and is one of the better fan-control systems out there.