Swanky BIOS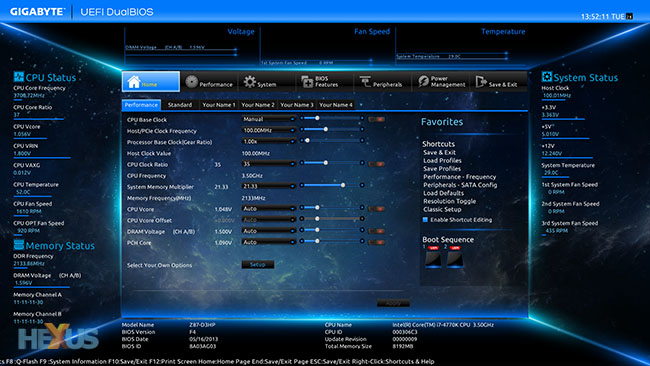 Gigabyte implements dual UEFI BIOSes on all Z87 boards. The initial splash screen is navigable by mouse and keyboard though, for us, the mouse sensitivity is way too high - it's often a little difficult to select a submenu with consistent accuracy.
The look and feel are unlike any Gigabyte BIOS we've seen before... with good reason, as it's a grounds-up design, and not merely an overhaul of the versions found on Z77 chipset-based boards.
There are options for almost every facet of performance, and if we didn't know better, it seems like a BIOS designed for an enthusiast board, rather than a mainstream offering. Gigabyte does make it simple to move to various parameters by enabling user-defined keyboard shortcuts and screens where a whole host of favourite options can be grouped together. Taken as a whole, the BIOS represents the most impressive collection of settings we've seen from Gigabyte to date.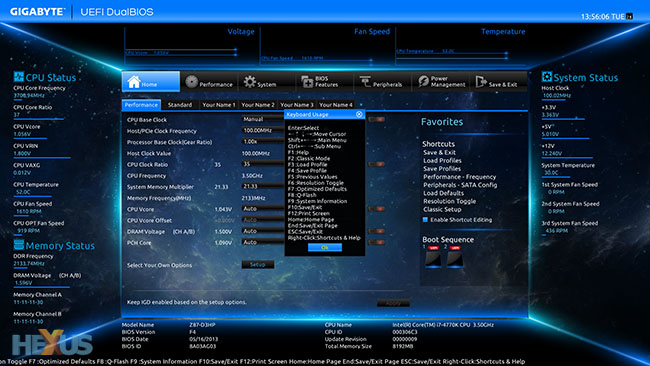 The current (live) options are shown on the left- and right-hand side of the window in the fully-fledged view, though a reduced-information version is also available. Gigabyte has a robust fan-control system available through a Windows GUI, complete with impressively-granular fan-speed profiles, but the pre-OS BIOS version is more basic. For example, fan-speed can only be set to what's known as a slope (percentage) of maximum. The second and third fan headers share the same settings and cannot be set individually, at least not here.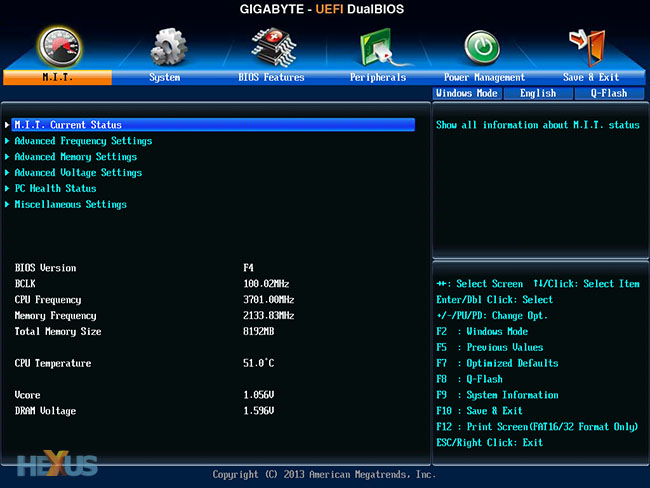 Those who are more familiar with traditional-looking BIOSes simply need to press F2. This brings up the settings in clearer fashion (for the dyed-in-the-wool enthusiast). Voltage regulation is excellent, especially for a mid-range board, and we have no real hang-ups with how Gigabyte has implemented it here.
The BIOS further conforms with Windows Fast Boost and enabling it allows us to load Windows 8, from a cold start and with an SSD, in under 10 seconds; nice!