Micro-ATX Motherboard
We envisage the desktop PC market shaping up in two distinct ways this year. There will always be a demand for high-end hardware that sates the need of the enthusiast, and Intel has this market sewn-up with a range of Core i7 chips. On the other hand, there's certainly scope for expanding market share in the budget market, where complete PCs can be built for well under £500.
Championing the value argument is AMD, whose second-generation Trinity APUs, productised as the A4, A6, A8, and A10 series, offer class-leading graphics performance alongside adequate CPU oomph. Making the overall proposition that much sweeter, compatible FM2 motherboards start at under £50, meaning you can have a decent chip, board and 8GB of memory for under £150.
The best of the FM2 chipsets is arguably the A85X, as it includes eight SATA 6Gbps ports, four USB 3.0, and multi-GPU support for two AMD graphics cards. Gigabyte runs with this chipset and places it on a micro-ATX motherboard called the GA-F2A85XM-D3H - it just rolls off the tongue, doesn't it?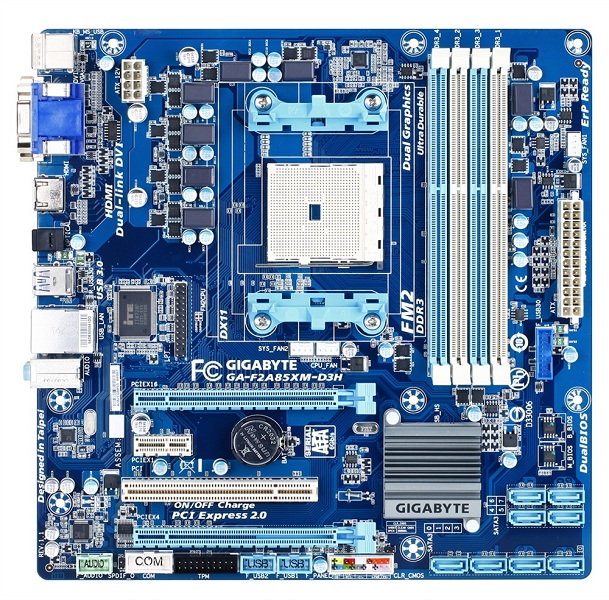 Currently shipping at £55 from well-known retailers, Gigabyte's layout is clean and sensible. Processor and memory support is identical to the popular, £100 F2A85X-UP4, though this pint-sized board loses out on DisplayPort output and features a lower-spec. audio CODEC - ALC887 vs. ALC892 - and, due to its size, ships with two full-length x16 PCIe slots, instead of three. Understanding that both boards have eight SATA and 4 USB 3.0 ports, the 'losses' are more than acceptable.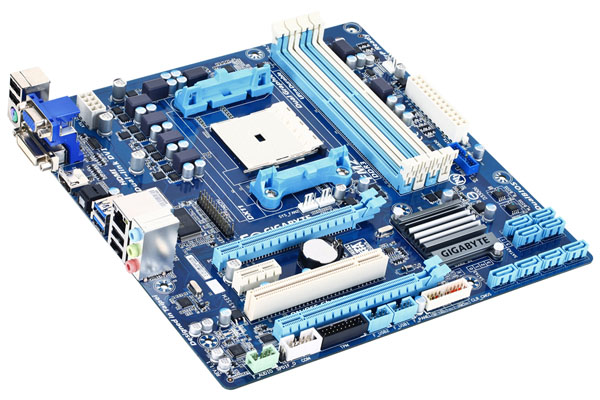 Component positioning takes on added importance on a small motherboard. There are no fancy heatsinks to block-off room around the CPU socket, which cleans up that area, and two fan headers (out of three) are located just underneath. Place a graphics card into the primary x16 PCIe slot and it makes removing system memory, should you need to, bit of a chore; the low-side DIMM holders sit very close to the back of the card.
A tiny A85 chipset heatsink is positioned such that it doesn't interfere with any installed card. Gigabyte looks for the widest-possible component coverage by also included a single PCIc and 1x slot PCIe between the two mechanical x16. The chipset enables two AMD graphics cards to be run at x8 each, but Gigabyte's approach is a little different. The topmost graphics slot is linked to the CPU and, as such, has a full 16 electrical lanes allocated to it. The lower blue-coloured slot hangs of the supporting chipset and runs with four electrical lanes, not eight. Understanding that all PCIe slots operate with the PCIe 2.0 standard, multi-GPU setups may be disadvantaged to some degree. That said, Dual Graphics remains available, where the user mates the chip's on-board graphics with an equivalent discrete card.
It's good to see all eight SATA ports grouped together; cable installation is absolutely clear on the four upper ports, arranged as a square, even if a long card is in situ in the bottommost PCIe slot. Said card will block-off the four lower ports, but Gigabyte does think ahead by bundling a sole right-angled SATA cable. Look closer to the DIMM slots and the now-usual USB 3.0 motherboard-to-chassis connector and Gigabyte's Dual BIOS are both handy features.
We're staunch fans of having colour-coded motherboard case pins, which Gigabyte provides, but right next to them is the clear CMOS jumper; it's pretty hard to get to and should really be located closer to the middle of the board, in open area. A throwback to yesteryear, the firm also includes plenty of board real estate for a parallel port (LPT) header.
Keeping costs down, the board doesn't feature any method of identifying booting problems during the POST process; there are no debug LEDs LCDs to help guide the novice user.

Three video outputs - HDMI, dual-link DVI and D-sub - can all be teamed to run a three-screen Eyefinity monitor setup. Optical S/PDIF-out is handy on a £55 board and two USB 3.0 ports are connected to the chipset. The rest is standard fare, comprising of four USB 2.0, Gigabit Ethernet and analogue audio ports.
We've always believed that AMD's budget APUs should reside on cost-conscious mini-ITX or micro-ATX motherboards. The Gigabyte GA-F2A85XM-D3H has a few layout quirks but is pretty solid in the main.