Board and BIOS Examination
Matters look up on the expansion-slot front. Three full-length PCIe Gen 3.0 slots are all 'driven' off the PCIe lanes present in the host CPU. This is important to appreciate because the lane allocation differs if using a Sandy or Ivy Bridge chip. Use the former, perhaps when transitioning from an older build, and a single card can be run at a full x16. Add a second, only in the middle slot, and the duo run at x8/x8. There's no possibility of adding a third for multi-GPU usage, be it SLI or CrossFireX.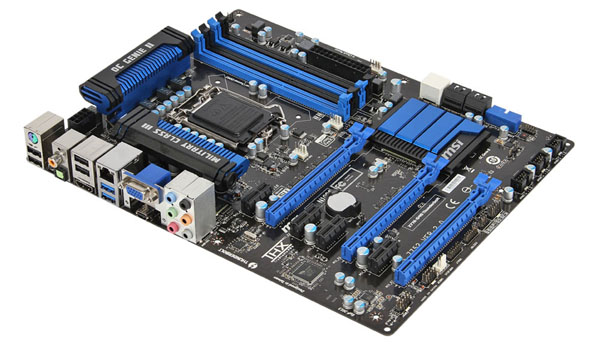 Slip an Ivy Bridge into the socket and the x16 and x8/x8 topology continues, though a third card can be added for x8/x4/x4 lane distribution. Sure, the chances of needing to run three gaming cards in a mid-priced Z77 board are remote, but it's worth knowing this restriction before you transition over to the platform. Four PCIe x1 slots round off this area that's bereft of old-school PCIc. Good design translates to a two-slot space between the primary and secondary x16 slots.

Two remaining USB 3.0 ports are plumbed out of the back - MSI doesn't add any extra through third-party controllers - and a further four USB 2.0 fill out the backplane. We do like the clear CMOS button at the back, sandwiched between the left-hand USB 2.0 and coaxial/optical S/PDIF outputting from Realtek's ALC892 CODEC.
The board's main purpose is in highlighting Thunderbolt connectivity, which takes pride of place below the VGA port. Bear in mind that while there are three outputs - Thunderbolt, HDMI, and VGA - only two can be used at any one time.
There are no obvious spatial restrictions or encumbrances here, but nor should there be. MSI's main contribution over and above the features provided by Intel's Z77 chipset is a single Thunderbolt port; there's no additional SATA, USB 3.0, or extravagant cooling. Understand that the non-Thunderbolt-equipped Z77A-G45 costs around £75 and the £120 asking price is pretty steep for an interface that is very much in its infancy.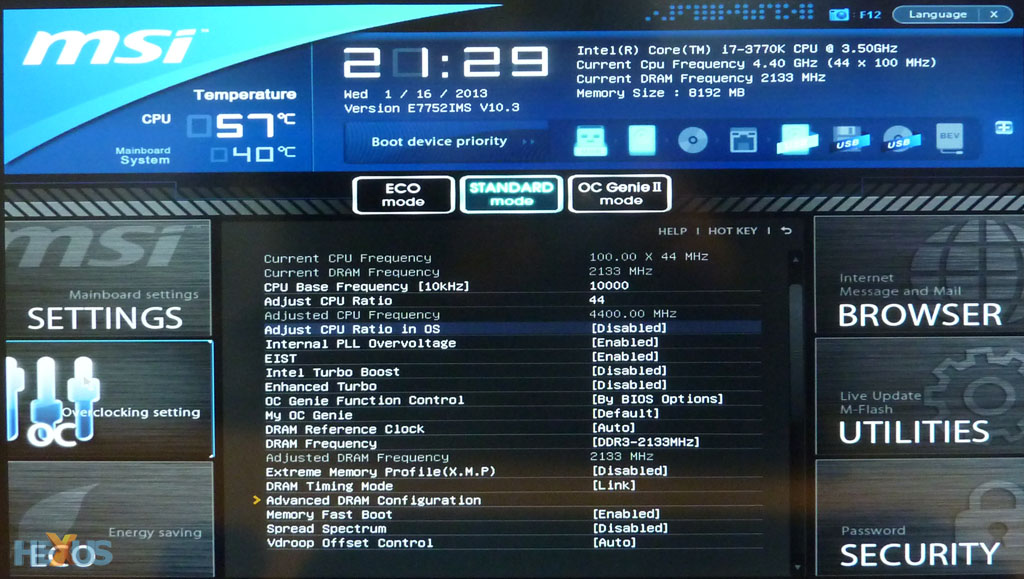 MSI also replicates the BIOS faithfully within Windows. The Click BIOS II, displayed in its pre-OS form, surrounds the central section with six general options. You need to double-click the central box's settings for the changes to be made. While it is possible to input the desired frequency or voltage, there's no way of ascertaining the maximum/minimum levels without scrolling through the entire range of options.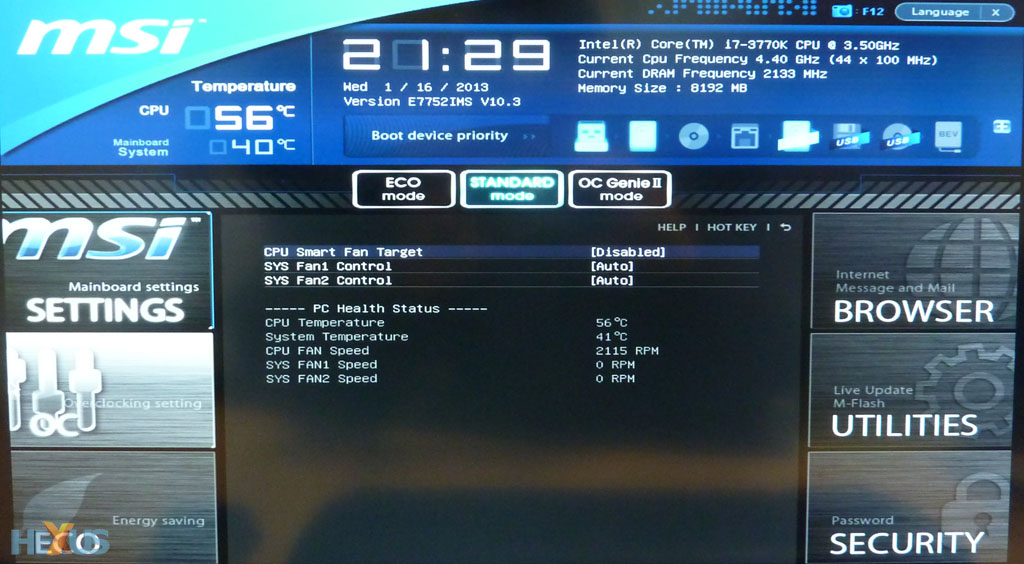 Fan control is an area that separates good BIOSes from average ones. MSI doesn't do too well here, with only the CPU fan's speed regulated by temperature. Two system fans - out of four - can be set to an overall percentage speed, rather than via temperature. We reckon MSI needs to take a leaf out of ASUS' latest BIOS playbook.