Z77 focuses on value
The latest, greatest CPU technology from Intel is now in the wild. Known to most enthusiasts as Ivy Bridge and productised as the 3rd Generation Core processors, costing between £130 and £260, we recommend them to anyone considering a mid-range PC build. Presented in an LGA1155 form factor, thereby compatible with year-old motherboards - Intel's 6-series chipsets, specifically - the optimum combination, availing the most-complete feature-set, is to pair one of these chips with a 7-series chipset, namely the Z77.
Let's assume you've made the Ivy Bridge CPU choice, which is no mean feat considering there are at least nine to choose from. The next step is to choose, preferably, a Z77 chipset-based motherboard, and the choice is even more bewildering this time around. Costing between £80 and £350, depending wholly on features, our advice is to look towards the budget end of the market; Intel integrates USB 3.0 and SATA 6Gbps into the chipset, meaning you'll always receive them on every Z77 board.
MSI has six Z77 offerings in its arsenal. Understanding the price-conscious nature of the PC industry in mid-2012 and therefore focusing on value, the costliest Z77 is 'only' £150 while the cheapest is £80. Sitting near the top is the Z77A-GD55, available for just a few pennies short of £120.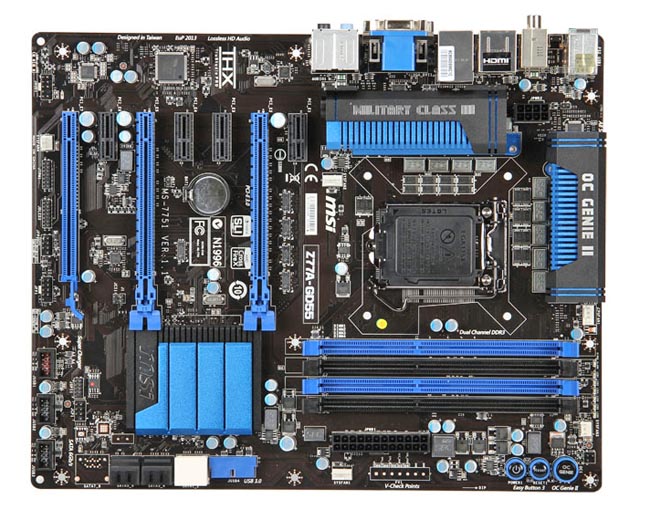 And here it is. Looking rather spiffy in a black-and-blue colour scheme and, as MSI doesn't fail to mention, equipped with 'Military Class III' components, meaning, amongst other things, it passes stringent environment tests. Whatever the case, it looks the part. MSI sensibly screws in the VRM-cooling heatsinks that surround the CPU socket. They don't feature a connecting heatpipe, per GD-65, but we can live with that concession. The upper heatsink sits closest to the socket, but we had no problems in installing a reference heatsink or bequiet! Dark Pro 2 cooler during testing.
The board feels more expensive than its asking price; onboard power/reset and OC Genie buttons are helpful for open-air tweaking, there are plenty of fans around the CPU socket and, depending upon territory, voltage-check points are present.
Look down the board and the GD55 misses out on some of the GD65's high-end goodies. SATA provision is through the six Intel ports - four SATA 3Gbps and two SATA 6Gbps - the additional ASMedia controller is missing. Both boards feature four USB 3.0 boards native to the Intel chipset but miss out on additional connectivity.
When paired with an Ivy Bridge processor the upper two x16 PCIe slots, nicely spaced out, can be split into x8/x8 for multi-GPU usage. The board supports AMD's CrossFire and NVIDIA's SLI, yet doesn't have LucidLogix's auto-output-switching technology, usually made possible by the company's Virtu software. Call it penny-pinching or something else, we really would like to see this standard on all Z77 boards that have video outputs on the rear. This means that users who plug a discrete video card cannot use the Intel IGP's speedy Quick Sync trickery without first having to manually change the outputs and reboot the system.
By the way, the third PCIe x16 slot, right at the bottom, runs at just x2 speeds if the upper two are in use. Being certified to PCIe 2.0 spec and with such limited bandwidth, it's practically useless for graphics. Going all modern on us and getting rid of archaic PCIe, which is a good move, the GD55 features an additional four PCIe x1 expansion slots.

The four Intel-provided USB 3.0 ports are divided up between the backplane and a specific header on the board itself, designed to connect to a chassis' ports. HDMI, DVI and VGA provide the video outputs and the GD55 is kitted out with both S/PDIF and coaxial audio outputs run off the Realtek ALC892 CODEC. Enthusiasts will appreciate the handy clear CMOS button the back; it sure beats fidgeting around inside the chassis to reset overclocking that's gone a step too far.
MSI's Z77A-GD55 looks very busy and feature-rich on first inspection. Get down to the nitty-gritty and the firm doesn't add any additional features on top of Intel's chipset; there's no eSATA, FireWire, or additional SATA, for example. The focus is centred on MSI-specific add-ons such as onboard buttons and enhanced cooling. Let's now head over to the BIOS.