£75 for a Z68
Taiwan's motherboard giants are busy prepping a range of boards designed for Intel's upcoming Ivy Bridge CPUs. These Z77 chipset-based mainboards are expected to be made available to the public sooner than the release of the chips themselves. This is possible because they use the same LGA1155 form factor as present 6-series chipsets, making them backward-compatible with today's Sandy Bridge processors.
On the flipside, many of today's 6-series motherboards are also going to be compatible with Ivy Bridge chips through a BIOS and driver update, renewing focus on the popular H67, P67 and Z68 chipsets.
You can read all about the Z68 core logic here, but in a nutshell, it provides the best home to Intel's Core i3, i5 and i7 (LGA1155) processors. Able to overclock K-class processors while still providing video outputs and some nifty transcoding through QuickSync, Intel further adds SSD-and-HDD coupling in the form of SRT technology. In short, Z68 is a good chipset whose only real compromise has been a historically high price.
Gigabyte has invested heavily in Z68 and, with value firmly in mind, sent us its Z68AP-D3 motherboard in for review. Priced at under £75, including VAT, this Ivy Bridge-compatible board is an intriguing proposition.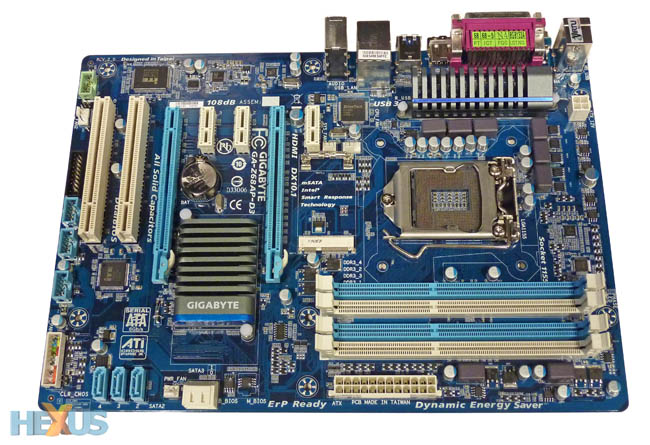 The slimline board, which is 3cm narrower than a standard ATX, ticks many of the features we expect to see in a £100-plus Z68 offering. The processor's video can be driven through an HDMI port on the back, USB 3.0 is catered for by a third-party controller, two AMD graphics cards can be run in CrossFireX, and the discrete GPU(s) and onboard video can be seamlessly switched around - in order to save power and add functionality - by LucidLogix's Virtu virtualisation software. Perhaps the only oversight, most likely eschewed because of additional cost, is the lack of NVIDIA SLI support.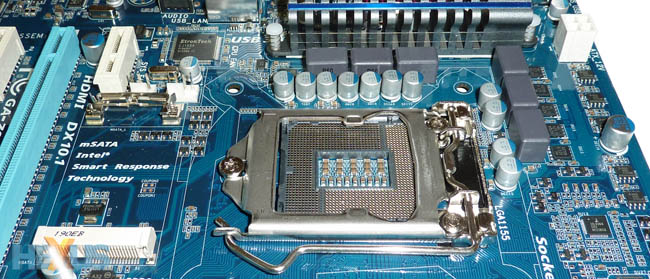 Layout is clean and there's lots of room around the CPU socket. The decision to use only two PCIe x16 slots enables greater space for other features, and Gigabyte crams in an mSATA connector to the left of the socket. Solid-state drives in this form factor are beginning to surface, and the premise here is to slot one in, configure Intel's SRT technology, and use a small-capacity mSATA SSD as a fast cache for everyday programs that are stored on a larger-capacity mechanical drive. Cleverly, Gigabyte's know-how means you don't have to reinstall the OS for SRT to work.
Overclocking is less of a concern on this budget board, evinced by a single heatsink covering some of the hotter-running components near the IO section. However, it's simply held in place by flimsy plastic pushpins - a couple of screws wouldn't hurt. As a purely personal preference, we prefer the fan headers to be near the edge of the board rather than the middle, per the 'D3.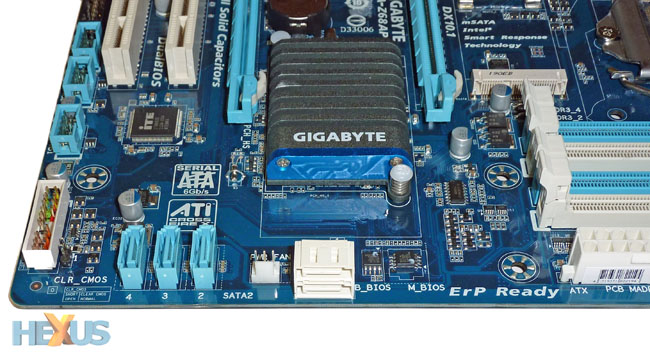 Storage is provided solely by Intel's chipset, that is, a couple of SATA 6Gb/s ports, three SATA 3Gb/s (plus the mSATA). The main ports can be RAIDed in 0, 1, and 10 flavours. Given the £75 price of the board we have no problem with Gigabyte missing out on further SATA ports or FireWire support.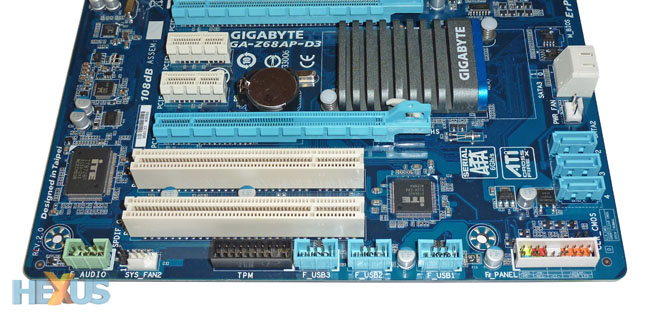 The compatibility with Intel Ivy Bridge CPUs through the FC BIOS also means the board is certified as PCIe 3.0-ready. Throw in one of those chips, once they become available, add a Radeon HD 7000-series card and there'll be more CPU-to-graphics bandwidth floating around the system. It may be needed, too, as two cards are run with the slots configured as x16 and x4, rather than bifurcate down to x8 and x8, according to Gigabyte's literature.
The easy-to-spot front-panel connectors are always appreciated, Gigabyte doesn't skimp by adding the usual second (backup) BIOS, and the overall slot arrangement, which also includes a trio of PCIe x1 and a couple of PCIc, is sensible at this price point. Do bear in mind that if filling either PCIe x1 slots in the middle of the board the second x16 switches from x4 to just x1 - or unsuitable for mid-range graphics in a CrossFire configuration.

We remain unconvinced for the need for serial and parallel ports on the back section for consumers, and the Trusted Platform Module (TPM) on the PCB also seems like additional expense that need not be incurred, though we're sure that small-business users may find both useful. Gigabit Ethernet comes by way of Realtek, as does the 8-channel ALC889 sound CODEC.
The six USB ports provide a little extra amperage, ostensibly to reduce the time it takes for USB-connected devices to charge, and each port provides the ability to charge such devices while the motherboard is in a standby state.
First-page summary
Understandably lacking some of the nicer features on more-expensive offerings, Gigabyte's budget Z68's main sales weapon is an attractive street price.