A BIOS to match
| Setting | Specifications (F2a BIOS) |
| --- | --- |
| CPU clock (BCLK) | 100 - 600MHz in 1MHz increments |
| CPU multiplier | 12x - 25x on Core i7 970 |
| Memory bus multiplier | 6x (DDR3 800MHz) - 18x (DDR3-2,400MHz) |
| CPU voltage | 0.5V - 1.9V in 0.00625V increments |
| Memory voltage | 1.3V - 2.6V in 0.02V increments |
| IOH core voltage | 1.1V - 2.0V in 0.02V increments |
| ICH I/O voltage | 1.05V - 2.30V in 0.02V increments |
| ICH core voltage | 0.92V - 2.38V in 0.02V increments |

Gigabyte provides reasonable levels of end-user manipulation when overclocking the board. The CPU and memory-voltage settings are shown in pink for high levels and blink red when the board reckons you're pushing the envelope a little too far. Don't cry that you weren't warned when sticking 1.8V up a Core i7's pins.

Memory speeds, in particular, are hugely variable, topping out at an impressive 2,400MHz when tied to a 133MHz base clock. In short, only the crazy overclocker will feel short-changed by the X58 USB3's BIOS.

Gallery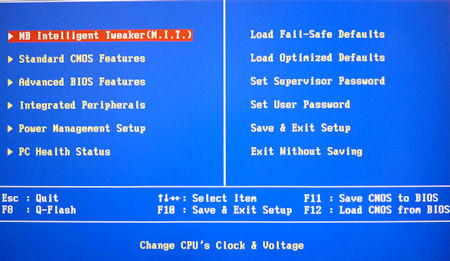 The BIOS's layout is simple enough to follow. Head for the MB Intelligent Tweaker if toggling with frequencies gets you hot.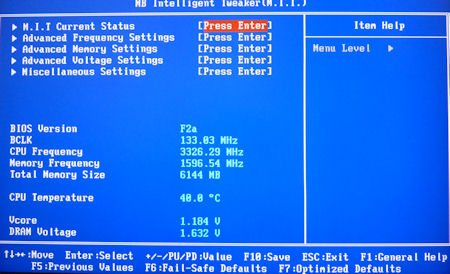 The MIT section is sub-divided into four categories. It also provides a real-time indication of the most important speeds and feeds. We especially like the at-a-glance Current Status setting, showing you all you need to know in one screen.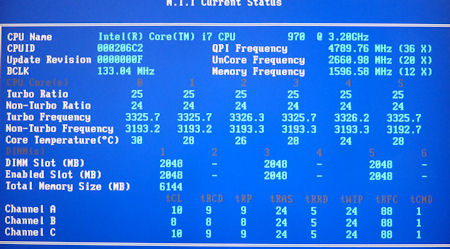 See, more numbers than you can poke a stick at.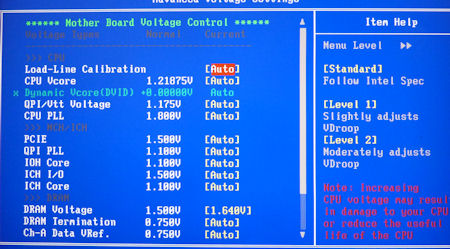 And voltage control isn't too shabby.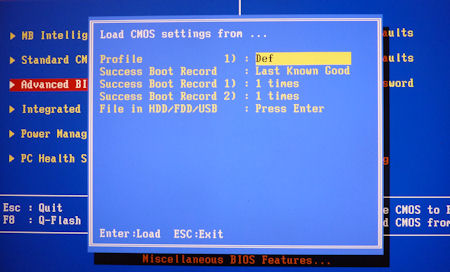 Like any self-respecting enthusiast board, you can save and load a number of BIOS options at the touch of a few buttons.

The Gigabyte X58 USB3's BIOS is much like the board itself; no nonsense and unencumbered with what some may see as pointless features on super-high-end boards.