Layout and features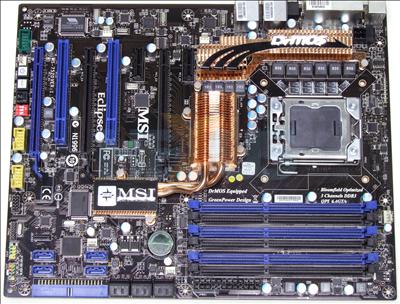 The Eclipse SLI has, for the most part, a decent layout with only the FireWire header placed awkwardly.

We'd go so far as to say that the only other motherboards that have passed through the HEXUS.labs with such a promising layout are NVIDIA 790i-based solutions.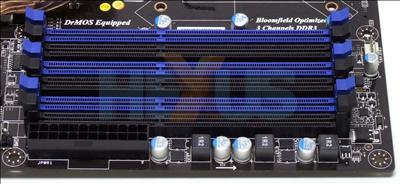 Unlike Intel's reference X58 SmackOver board, which is curiously equipped with only four DIMM sockets, MSI has sensibly equipped the Eclipse with six, thus allowing you to fully exploit your chosen i7 processor's memory expansion capabilities - in two sets of three DIMMs.
The Eclipse, however, doesn't utilise a typical colour scheme for its DIMM sockets, as each channel isn't allocated its own colour. Instead, each triplet of DIMMs is allocated its own colour, thus you populate all the black sockets first to ensure optimal tri-channel performance.
It's good to see that on an enthusiast-class board such as this, MSI has located the DIMM slots thoughtfully so as not to interfere with a graphics card installed in the first PCIe x16 slot.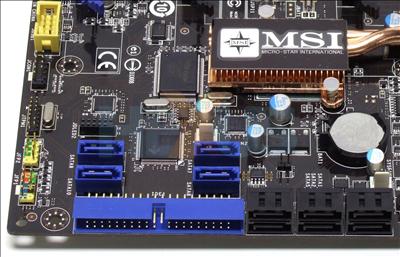 The six front-facing SATA ports are connected to Intel's ICH10R southbridge, and as such, in addition to supporting standalone disks in either IDE or AHCI modes, RAID levels 0, 1, 1+0, and 5 are supported.
The remaining four ports are connected to the onboard JMicron JMB363 controller which, like the chipset-integrated Intel, allows for both IDE and AHCI modes when used with standalone disks, or in RAID mode, supporting levels 0 or 1.
If two disks are connected to either the left or right pairs of ports then a RAID 0 or 1 can be simply configured in the BIOS by using MSI's Drive Booster feature.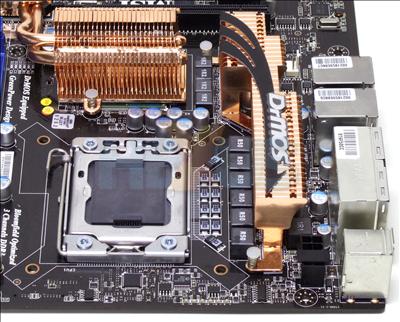 Fitting some larger coolers to the CPU might be an issue with the northbridge and VRM cooling in such close proximity to the LGA1366 socket. However the Akasa Nero cooler used during our testing fitted fine.
The eagle-eyed amongst you will have noticed the substitution of the typical solid capacitors, by industrial-grade highly-conductive polymerised models next to the shielded chokes on the board. MSI claims to be the only company presently using this type of capacitor on consumer-focused motherboards, and that they offer increased stability and longevity over the older-style solid jobbies.
The board also features MSI's DrMOS technology, which, MSI reckons, decreases the temperature of the hot-running MOSFETs.
A pretty good slot configuration has been chosen by MSI for this board, we reckon, because even with three dual-slot graphics cards installed, one PCI and one PCIe x1 expansion slots remain free to use.
Look at the edge of the board and you'll notice the three onboard switches - power, reset and D-LED 2 - in addition to a bank of dipswitches that allows for easy automatic overclocking to one of two higher speeds.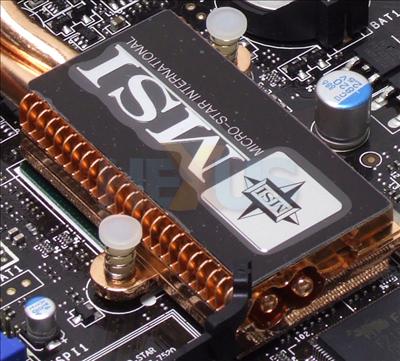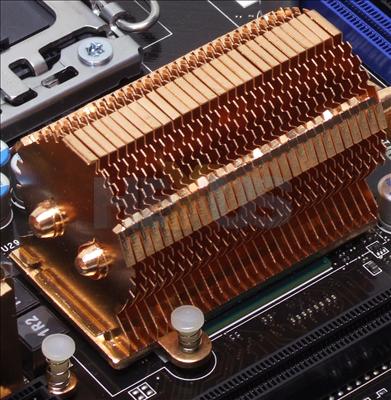 Utilising a more conventional style than their Circu-pipe-equipped boards, we'd argue that this is a change for the worse as both the temperature of the X58 itself, in addition to the heatsink adorning it, were very high whilst running - reported by the board as some 75-80°C when under load.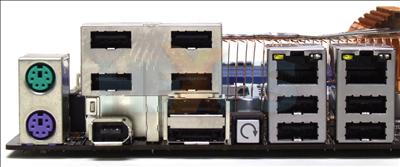 The generous eight USB2.0 ports as well as the two eSATA ports on the I/O backplane are a nice touch, as is the clear-CMOS button. It's not all good news however, as the supplied Creative X-Fi-powered PCIe card only has an optical digital-out and no coaxial type. In addition to this, the digital-out doesn't support any form of encoded 3D audio such as Dolby Digital Live or DTS Connect. However, the sound quality is better than on-board solutions' so we can't be all that critical.