nForce4 410 and 430 MCPs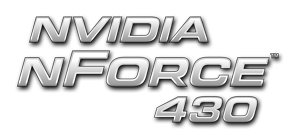 nForce4 410 and 430 are part of the nForce4 MCP family of chips. NVIDIA's PCI Express-based MCPs, in this case for Athlon 64, are the system provider for all of the basic I/O that you'd expect. Using the HyperTransport interconnect for system integration, nForce4 MCPs connect to the host processor and provide things like networking controllers, PCI and PCI Express expansion, audio and flexible disk controllers and lots of USB2.0.

The workhorse of the system, the 410 and 430 variants differ in a few crucial areas. It's table time.


| | | |
| --- | --- | --- |
| Feature | nForce4 410 | nForce4 430 |
| RAID | 0, 1 | 0, 1, 0+1, 3?, 5 |
| SATA Ports | 2 x SATA300 | 4 x SATA300 |
| ActiveArmour Firewall | Nope | Yep |
| Network Controller | Fast Ethernet (10/100) | Gigabit Ethernet (10/100/1000) |

We covered the rest of nForce4's basic specification, including the disk controller and firewall and all that good stuff, back in October last year. Refer to that article for the inside scoop on the basic features an nForce4 mainboard will guarantee you, returning to this page to see what defines the 410 and 430 versions of the main MCP.

If you don't have the time spare for that, here's a very brief recap.


nForce4 Basic Features
nForce4 has a robust disk controller that supports SATA300 (300MB/sec transfers) across 4 ports, each one support Native Command Queueing (NCQ) and RAID across all ports (various levels depending on port count and the MCP you have in your system). The ports support SATA hotplug for hot drive swapping and the RAID engine supports on the fly rebuilds of data on disk failure without shutting down the operating system.

It also contains a unique firewall product attached to the network controller that protect inbound and outbound data on the fly, using hardware assist depending on MCP or your CPU to process packets. The firewall software allows comprehensive configuration of the firewall's features, including port forwarding and block, on the fly as the firewall is being actively used. Performance with the firewall on remains high, offering good throughput whilst inspecting all traffic. It can be used in conjunction with other software firewalls if needed.

In terms of audio support, nForce4 410 and 430, in addition to supporting the simple AC'97 interface that can be paired with any number of supporting 5.1 or 7.1 audio CODECs, just like nForce3, gets HD Audio support allowing the latest audio CODECs found primarily on Intel-based hardware to be used with NVIDIA GPU Motherboard Solutions.

Finally, the MCP is home to 20 lanes of PCI Express, the chip able to use them in a number of configurations.