Introduction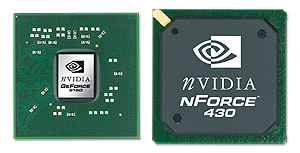 Ever since NVIDIA stuck a GeForce4 MX on their nForce northbridge and created the nForce IGP (integrated graphics processor), people have been wondering when the same thing would happen with Athlon 64 and their latest graphics architecture. The successful launch of Athlon 64 by AMD and the continuing maturity of core logic for those processors has seen a large migration of users to the Athlon 64 platform. In more recent times the advent of PCI Express has not only broken the hold that PCI Conventional had over the PC; it's also given IHVs the chance to do some smart things with graphics technology, especially in the realm of adding more graphics boards and display outputs to your PC with minimal fuss and full performance. And that's before things like SLI or Crossfire.

With the technology base there for all PC users, from the most basic PC purchasers right up to the high-end enthusiast who implements as much technology as possible in a bit for performance and ultimate functionality, to be interested in Athlon 64, the mainstream needs catering for.

Having graphics technology integrated into a PC mainboard is key to satisfying that market. And it's a market that doesn't just demand passable 2D. It's a market that wants usable, feature-rich 3D that'll drive the PC and allow the consumer to have a go at really using the PC for something useful that they also enjoy.

That market is taking off and in no small part thanks to Microsoft. Its Media Center Edition of Windows has raised awareness across the board, using not just their software, of media centric PCs that do everything from run your TV tuner to catalogue, order and serve up all your AV media, often to multiple devices around your house.

So, for the user looking for a box that'll support Media Center Edition (or others), increasingly in terms of high definition multimedia playback, something integrated into the mainboard in terms of graphics that can run MCE really appeals. And NVIDIA think today is the right time to announce their product for that market category. They're not the first to do integrated with Athlon 64, VIA and ATI getting there well ahead of today's announcement, but they believe their part is the best.

HEXUS recently attended a product briefing for "NVIDIA GPU Motherboard Solutions" which outlined their products and plans. While you'll have to wait a couple of weeks or so for a performance and feature-led review of one of the mainboard configurations I'll outline today, courtesy of the mighty Tarinder, I'll get the ball rolling and let you know what you can expect.

So what's being launched, I hear you ask? Four different ASICs that vendors can pair into three mandated configurations, that's what. Let me tell you all about nForce 410 and 430 MCPs, and their GeForce 6100 and 6150 graphics partners.