Introduction
AMD introduced the performance X470 chipset alongside the new-and-improved Ryzen 2000-series family of processors in April 2018. At the same time, however, AMD also mentioned the B450 chipset, designed for mainstream systems where price is more of a concern.
Much like the X370-X470 transition, not a lot has changed from B350 to B450, and the following graphic spells out the minor improvements.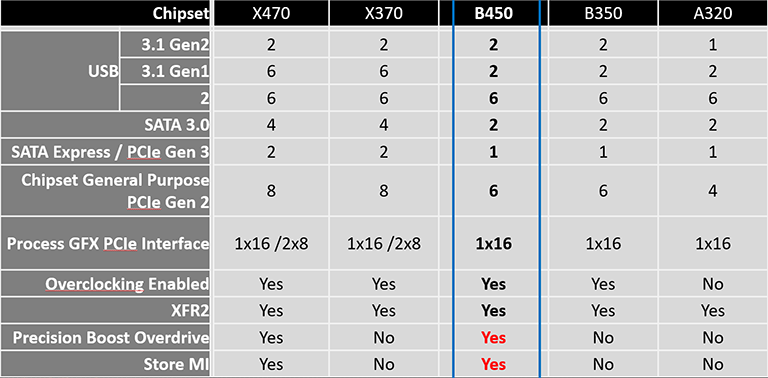 B450 boards are imbued with the same general feature-set as B350, so a couple of USB 3.1 Gen 2, a couple of SATA ports, and support for a single graphics card via the PCIe x16 interface. The key differences are highlighted in red. Precision Boost Overdrive is a feature reserved for future Ryzen processors. Think of it as a more aggressive implementation of current Precision Boost, where you will be able to shift the base and boost speeds up a notch or two without having to manually tinker with per-core speeds. It essentially allows for enhanced multi-core speeds without sacrificing the potential for single- and dual-core performance.
Store MI is more of a known quantity. Its purpose is to use all of your storage subsystem as one drive, moving the most commonly-used data to the fastest drive. The process is invisible to the user, handled by software, so if you upgrade a PC featuring a 1TB spinning drive by adding an SSD, the software will automatically begin using the SSD for loading. No OS reinstall is required, you can add multiple drives, and, in theory, it seems like a good idea.
What's not shown is the purportedly reduced power consumption on this chipset. Following in the footsteps of X470, AMD says it has worked with partner ASMedia to reduce both idle and load power.
Having a new chipset is good enough reason for the major board manufacturers to bring in a slew of new offerings. Aorus does just that with the B450 Pro. It's one of three new boards, actually, and the other two are the Pro WiFi and micro-ATX-sized M.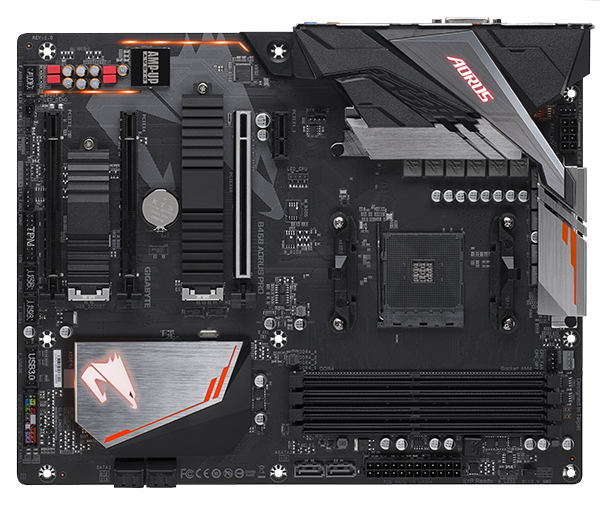 What we're really looking for with the B450 Pro, priced at around £100, is a collection of board-improving technologies. The first of these is the integrated I/O shield - always a reviewer's favourite - and though it's plastic and sits directly on top of the dual VRM-cooling heatsinks, it's still a nice touch.
B450 isn't primed for massive overclocking potential, you would think, but Aorus still apes a decent motherboard by having an seven-phase supply. Seems somewhat generous on this chipset, and we'll find out later just how good it is.
The inevitable compromises needed to hit a more attractive price point manifest in a few ways. The four DIMM slots aren't strengthened, the RGB implementation is more restrained - just three zones - and there's no extra USB other than what the chipset provides.
That isn't to say that Aorus hasn't been busy adding to the spec sheet in other ways. Both the M.2 slots - 22110 and 2280 - have a proper heatsink on top, audio is very decent (ALC1220-VB codec), and the firm has included its own SATA to provide a total of six ports. Two of them are rotated vertically, sensibly so, and we'd use these for a clean build.
We're not entirely sure why Aorus needs to add a second and third full-length PCIe x16 slot. They work at a maximum x4 and x1 speeds, respectively, and even then there are potential compromises if populating all slots in one go.
Point is, if you have a single graphics card and a fast boot M.2 drive, plus a secondary SSD for storage, you will be just fine with this B450. In fact, one can make the argument that B450 doesn't need a full-ATX motherboard like this at all - some slots are verging on pointless.
Fans are also well catered for, with five headers - CPU fan, watercooling CPU, two system, and one pump - and giving in to the bling, there are two LED strip headers as well as one for RGBW. From a visual and features perspective this could pass for an X470 board quite easily.

It's important to cover all bases with a mainstream chipset-bearing board. HDMI and DVI outputs serve the G-series chips first and foremost. USB Type-C, four USB 3.0 Type-A, and an Intel LAN round off a nice-looking rear section. It's easy to see where the WiFi antenna would go on the pricier model, too.
Features are decent enough, we suppose, though layout and implementation could do with a small tweak. We don't like the primary M.2 right underneath the graphics card. On the CPU side, appreciating the beefed-up phase supply, the VRM heatsinks are push-pinned in, rather than screwed, and it would be handy to have a heatsink connecting the two.
Firmware hasn't changed in any significant way since 2016. There are decent options for overclocking the CPU, fan control is handled by Smart Fan 5, which handily includes a fan-stop function, and whilst not the best, is easily serviceable by the mainstream enthusiast.