Introduction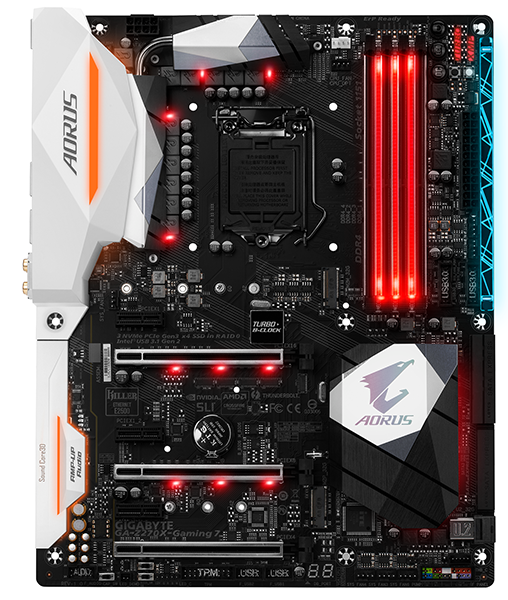 Hot on the heels of the Intel Z270 launch are a number of motherboards from the usual industry names. Asus and MSI have already had their mainstream boards dissected, so now it is the turn of Gigabyte, who chose to seed a higher-spec board - the Z270X-Gaming 7 being the particular flavour of choice.
Hold on a second, you might say, as this is no Gigabyte board. You'd be mostly wrong but just a little right. Sweep back over the image and notice the lack of Gigabyte branding. Instead, what you see is Aorus emblazoned over the huge heatsink to the left of the CPU socket and on the meaty bridge heatsink. What gives?
For those in the know, Aorus, predominantly a purveyor of slim gaming notebooks, is a wholly owned subsidiary of Gigabyte. Think of it as the Lexus in relation to Toyota, or, better still, how ROG is the enthusiast brand of Asus. Moving forwards, Gigabyte's premier boards will all feature Aorus branding, thus handily differentiating them from the standard, mass-produced boards for Joe Average.
Style cues are taken from the extant Z170X-Gaming 7 though, in our estimation, the new board is a better looker. LEDs are practically everywhere, including the DIMM slots and a separate, new add-on section on the right on the bottom that offers a colour contrast.The effect is quite overpowering but thankfully can be tweaked from within the operating system. As you would expect, the RGB LEDs offer a near-infinite amount of choice.
What you do get is a 12-phase power supply, a lot of room around the socket - plugging in a big fan is easy - and a handy set of power, reset and clear CMOS buttons by the fancy DIMM slots. There are also voltage-monitoring points nearby, if you fancy getting busy with a multimeter.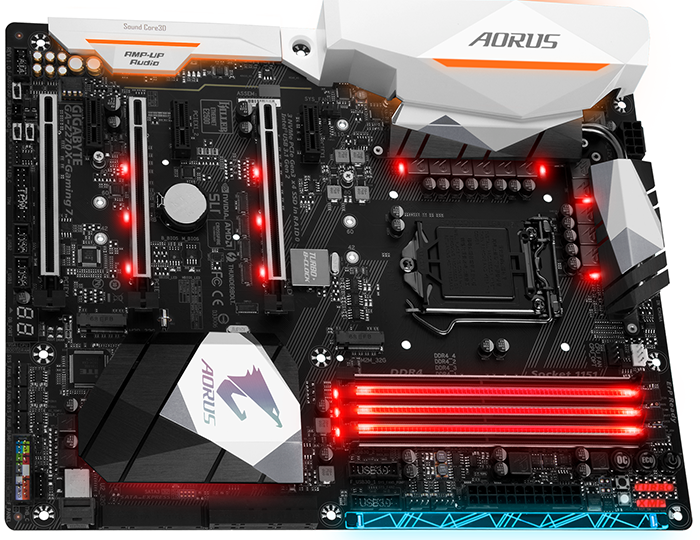 Being a Gaming 7 board means going above and beyond the chipset at every available opportunity - this model is likely to be north of £200. There's an Intel Thunderbolt 3 controller that offers both USB 3.1 Gen 2 Type-A and Type-C on the back and a Realtek USB 3.1 chip offering four Gen 1 ports via internal headers. Want high-speed USB? The Gigabyte/Aorus Z270X-Gaming 7 is pretty hot in this regard.
A couple of PCIe x4-riding M.2 connectors is the norm, but the company has provision for three such slots this time around. Gigabyte also adds in a trio of SATA Express (these use double SATA bandwidth, mind) and a U.2 connector, stuffing the board with ports. Ideally, you will want to put any M.2 drive in the left-hand slot because you can still grab four PCIe lanes without compromising any SATA ports. As an aside, we'd prefer Gigabyte to remove a lot of the markings on the board for a cleaner aesthetic.
Six fan headers, including two primed for watercooling, are standard fare. There's also an RGB strip extension header and Gigabyte dutifully bundles one in the box. The board has a trio of switches which is unusual. One controls audio gain while the other two toggle the BIOSes. Between them a thermistor header - the cable is bundled - is handy if you want to keep tabs of temps in a particular area.
Any enthusiast-class board needs excellent graphics support. A trio of x16 strengthened mechanical slots run at x16 in single-card mode, x8, x8 in two-card mode and x8,x8, x4 if all three are populated by AMD cards. Note that only two-way (though quad-GPU) SLI is supported, though this is a restriction from Nvidia than any missing support here. Of course, you could keep the third slot reserved for PCIe storage where a x4 speed is more than sufficient.
There's an inevitable amount of lane juggling going on a Z270X board if you decide to go full-on and populate everything. We mentioned that it is ideal to install an M.2 SSD into the left-hand slot. Doing so means a third graphics card would run at x2. Similarly, use one of the three PCIe x1 means that SATA 3 is given the chop. This also means the X99 platform remains the best choice if you want to throw the kitchen sink of components into a build.
What else? Cheaper boards run with the revised ALC 1220 Codec. Not here. Gigabyte carries over the Creative Sound Core 3D chip and a removable, changeable Burr Brown OP2134 operation-amplifier. The audio subsystem, on paper, is excellent.

Gigabyte opts for two NICs - one from Intel and the other the latest Killer E2500 from Rivet Networks. The only reason we can see for having both is to team their bandwidth for gaming, though that is not supported here. We'd have been happy to see either one here alone, reducing the cost a touch. Otherwise, it's a standard-enough backplane.
Gigabyte has simplified the BIOS from just a couple of years ago and now provides easy-to-understand, at-a-glance, live information on the system. Of particular note is the improved fan-control system - so many BIOSes expend too little effort here - and now you can simply drag various lines that strike a compromise between noise and cooling. Be careful not to have the points too close together, though.
Of course, all of this functionality is replicated in the operating system through various utilities, but we're happy to see Gigabyte take a cleaner, more efficient approach for the firmware.