Introduction
The arrival of Nvidia's mobile GTX 10-series GPUs has given laptop vendors some much-needed impetus in producing new and improved systems aimed primarily at gamers. We've already seen the likes of Asus and MSI showcase their wares in the ROG G752VS and GT83VR Titan SLI, and though both machines packed a punch, we're now turning our attention to a more portable 15.6in solution in the form of the revamped Aorus X5 v6.

As the name suggests, this is the sixth-generation revision of the original Aorus X5, meaning upgraded innards and a familiar-looking chassis. A £2,100 price tag suggests that only genuine enthusiasts need apply, yet if you're looking for mobile performance in a 15.6in form factor, the X5 v6 appears to have it in abundance.
And the good news for anyone who tends to shy away from typically gaudy gaming laptops is that the Aorus design continues to appear sleeker than many of its competitors. Overall dimensions of 390mm x 272mm x 22.9mm are surprisingly svelte for a system carrying a Core i7 processor and GTX 1070 graphics, and though it isn't the lightest at 2.5kg, the X5 v6 can easily be transported between locations.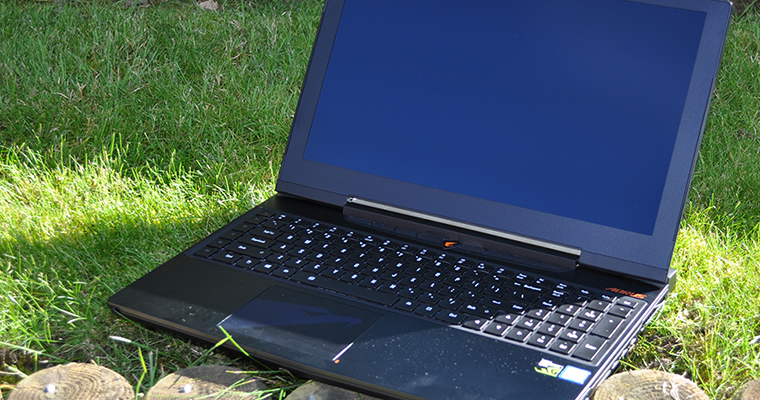 Build quality remains decent throughout, with Aorus employing a combination of aluminium and plastics, however the shell is a magnet for fingerprints and the keyboard has undergone a few upgrades that result in both plus points and negatives. In the positive column, the layout still includes a numpad on the right and dedicated macro keys on the left, and the whole board is now backed with per-key RGB illumination. Pre-loaded Aorus Fusion software lets you customise the colours and effects to your heart's content, but the keyboard does have two weak spots.
Our sample exhibited more flex than we'd expected in and around the Enter key, and it is noticeable as the entire panel can vibrate when typing quickly. The other potential distraction is the new keycap font, which in our estimation is a backward step. For me, personally, the letters appear too tall, and it's a little like watching a movie with an incorrect aspect ratio. On balance, and irrespective of the new RGB backlight, I preferred the original X5 keyboard.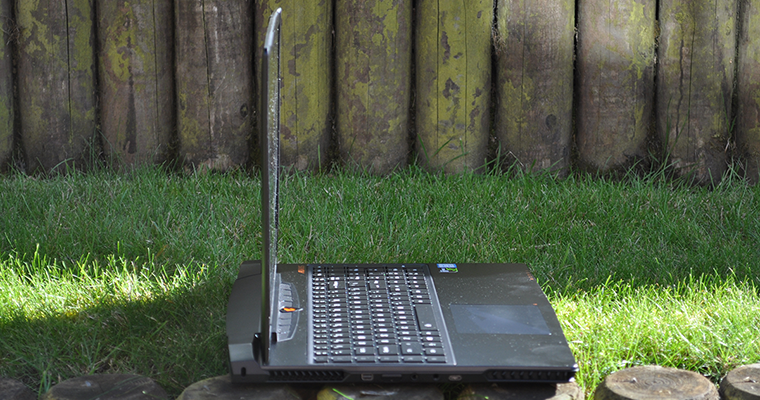 The X5 has always managed to impress by squeezing a good number of connectivity options into its sub-23mm frame, and the v6 is no exception. The laptop's left edge is home to Mini DisplayPort, HDMI, a pair of audio jacks and USB 3.1 Type-C. Over on the right there's an SD card reader, two USB 3.0 ports and HDMI, while the back is lined with Killer Gigabit Ethernet, another USB 3.0 port and a connector for the external, 200W power supply. Built-in WiFi is provided by a Killer AC 1535, and both the wired and wireless connections can be used in tandem in what's called DoubleShot Pro.
On the display front Aorus continues to use the 15.6in Panasonic MEI96A2 IPS panel that featured in the original X5. It's a solid choice with a lush 2,880x,1,620 resolution, 60Hz refresh rate, excellent viewing angles and support for Nvidia's framerate-smoothing G-Sync technology. We're hearing that a 1080p, 120Hz G-Sync panel will also be an option for those favouring faster action, yet the WQHD+ model has the benefit of making everyday content appear sharper.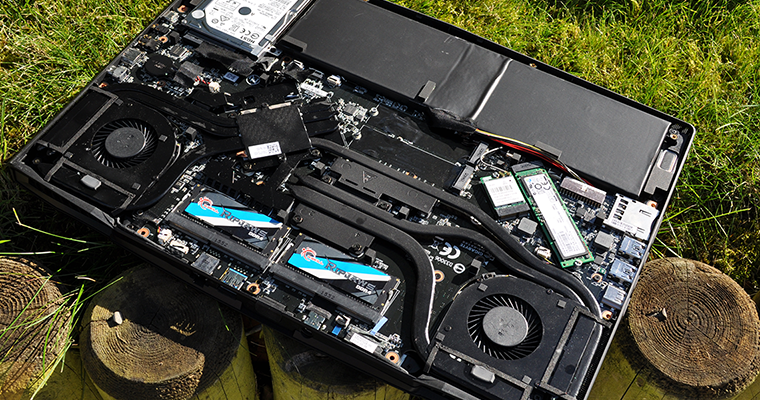 And it does seem as though we've turned a corner in gaming laptop visuals. For too long we've received high-powered systems outfitted with basic displays, or high-resolution machines with GPUs unable to drive games at the native resolution. That should now change as the Aorus X5 v6 has the pixel count and a potent graphics chip to match.
Underneath the hood you'll find a quad-core Intel Core i7-6820HK processor, Nvidia GeForce GTX 1070 graphics, 16GB (2x8GB) of DDR4-2400 memory and storage courtesy of a 256GB Samsung M.2 NVMe SSD and a 1TB Hitachi hard disk. An awesome mix for a 15.6in gaming machine, and Aorus's decision to move away from SLI means that performance should be consistent between games.
Factory overclocks are becoming a common theme on GTX 10-series laptops, and Aorus follows suit by raising out-the-box frequencies in every place that matters. The Core i7's maximum speed is bumped from 3.6GHz to 4.0GHz, the GPU's base and boost clocks are notched-up to 1,493MHz and 1,695MHz, respectively, while graphics memory is increased to an effective 8,108MHz. We're eager to get the benchmarks flowing and what we really want to know is whether or not the X5 v6 has the oomph to drive modern games at the native 2,880x,1,620 resolution.