Introduction
We'd argue that 2016 hasn't (thus far) been a vintage year for computer games, yet while system-selling titles have been few and far between, there's been no shortage of cutting-edge hardware to tempt our wallets. Nvidia has taken charge of the high-end space with GTX 10-series GPUs, AMD has brought some much-needed competition to the mid-range with the Radeon RX 4-series, and both the Xbox One and PlayStation 4 have been revamped in the form of slimmer models.
There has been significant development in the laptop space, too, with Nvidia bringing its 10-series parts to the mobile arena. We've already seen the GeForce GTX 1070 featured inside an impressive Asus laptop, and today we turn our attention to something bigger, more powerful and far pricier, the £4,399 MSI GT83VR 6RF Titan SLI.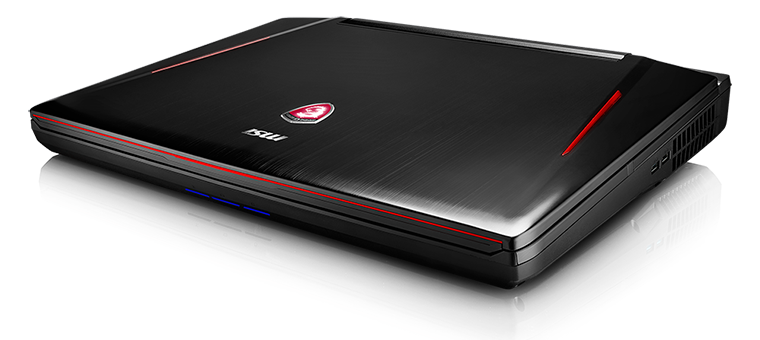 The name's a mouthful, and so too is the machine. Measuring a rucksack-ripping 456mm x 330mm x 49mm in size and weighing a hefty 5.5kg, this latest incarnation of MSI's Titan SLI formula is one of the biggest and heaviest laptops that money can buy. You could argue that it's only a laptop by name and the system makes more sense when considered as a fully fledged desktop replacement. There's enough horsepower here to outgun most traditional towers, and if you do need to cart it around, there's no need to worry about packing up a monitor and peripherals.
Usability considerations shouldn't come as a surprise to regular readers, mind, as this isn't the first time a Titan SLI machine has passed through our radar, and from the outside it doesn't look as though a great deal has changed. Build quality is adequate but not spectacular, with MSI favouring large pieces of plastic interspersed with metal, and the sheer size of the system is such that the chassis is unlikely to ever be considered pretty. Still, being roomy means ample space for hardware while connectivity options are plentiful.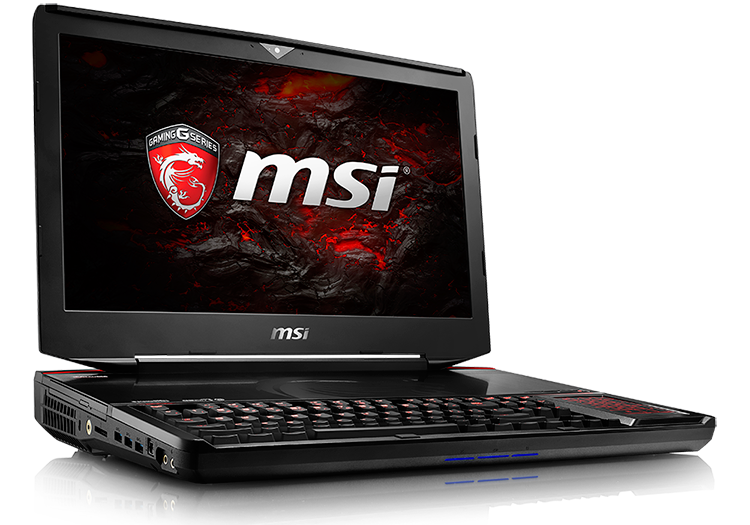 Starting on the left edge we have a Blu-ray writer, audio-out powered by an ESS Sabre HiFi DAC, three USB 3.0 ports, SPDIF-out and headset and microphone jacks. Over on the right you'll find a further two USB 3.0 ports, while around back there's Killer Gigabit Ethernet, a connector for the external power supplies (yes, plural), as well as HDMI, mini DisplayPort and a so-called SuperPort that permits a Thunderbolt 3 or USB 3.1 connection. Should you decide to take this beastie on your travels, there's WiFi courtesy of a high-end Killer Wireless-AC 1535 adapter.
Open the lid and the sense of familiarity continues. The impressive 4.1 audio system remains intact, as does the backlit mechanical keyboard, while the somewhat awkward trackpad is still unusually narrow and doubles as a numpad. The biggest disappointment is that the display hasn't been upgraded. MSI will argue that 18.4in options are in limited supply, but nevertheless, there's something not quite right about a £4,399 laptop shipping with a 1,920x1,080 panel. A shame, really, as the underlying GTX 1080 GPUs deserve better.
Nvidia GeForce GTX 10-Series: Desktop vs. Mobile

Usage

Desktop

Mobile

Desktop

Mobile

Desktop

Mobile

Model

GTX 1080

GTX 1080

GTX 1070

GTX 1070

GTX 1060

GTX 1060

Launch date

May 2016

Aug 2016

May 2016

Aug 2016

Aug 2016

Aug 2016

Codename

GP104

GP104

GP104

GP104

GP106

GP106

Architecture

Pascal

Pascal

Pascal

Pascal

Pascal

Pascal

Process (nm)

16

16

16

16

16

16

Transistors (bn)

7.2

7.2

7.2

7.2

4.4

4.4

Die Size (mm²)

314

314

314

314

200

200

Full Implementation

Yes

Yes

No

No

Yes

Yes

SM Units

20

20

15

16

10

10

Shaders

2,560

2,560

1,920

2,048

1,280

1,280

Texture Units

160

160

120

128

80

80

ROPs

64

64

64

64

48

48

Core Clock (MHz)

1,607

1,556

1,506

1,443

1,506

1,404

Boost Clock (MHz)

1,733

1,733

1,683

1,645

1,708

1,670

Peak GFLOPS

8,873

8,873

6,463

6,738

4,372

4,275

Memory Size

8GB

8GB

8GB

8GB

6GB

6GB

Memory Bus

256-bit

256-bit

256-bit

256-bit

192-bit

192-bit

Memory Type

GDDR5X

GDDR5X

GDDR5

GDDR5

GDDR5

GDDR5

Memory Clock

10Gbps

10Gbps

8Gbps

8Gbps

8Gbps

8Gbps

Memory Bandwidth

320

320

256

256

192

192

TDP (watts)

180

TBC

150

TBC

120

TBC
MSI's Titan branding could lead to a bit of confusion over which graphics chip is powering this particular machine. Nvidia's Titan X is strictly a desktop solution, yet the GT83VR 6RF has even greater potential by employing not one but two GeForce GTX 1080s in an SLI configuration.
As illustrated by the above table, Nvidia has blurred the lines between its desktop and mobile parts, meaning that the latter is no longer a hamstrung alternative. GTX 1080 for laptops features a full complement of 2,560 shaders, 160 texture units and 64 ROPs, allied to 8GB of GDDR5X memory via a 256-bit bus. All that's changed, in fact, is the core clock, which falls slightly, from 1,607MHz to 1,556MHz. Boost clock remains intact, however, at 1,733MHz, and the performance gap between desktop and mobile variants should be practically nonexistent.
Dual GTX 1080s in an 18.4in form factor is a remarkable feat, yet having never seen this level of performance in a laptop, we can't help but approach the 2016 Titan SLI with a raised eyebrow. Will the chassis be able to cope with the thermal demands of the two GPUs? Will the CPU - in this case a Core i7-6920HQ overclocked to 4.1GHz - prove to be a bottleneck? Will modern DX12 games perform favourably on an SLI configuration? And, seeing as last year's model would at times suffer from battery drain even when plugged in, how will MSI deal with the power requirements this time around?
The upcoming benchmarks will answer most of the questions, but we can get the power-requirement hurdle out of the way by confirming that the GT83VR 6RF Titan SLI makes use of two large, 330W supplies. The duo attach to a Y-adapter that then connects to the laptop, and though it's hardly an elegant solution, this setup ensures ample power at all times - just remember you'll need two mains power sockets to keep the juices flowing. Now, let's smash some benchmarks, shall we?