Under the hood
How about the all-important innards? Running through the checklist, EVGA's one-and-so-far-only configuration includes an Intel Core i7-6820HK processor, 32GB (2x16GB) of G.Skill DDR4-2666 memory and Nvidia GeForce GTX 980M graphics. These are joined by a 256GB Samsung M.2 NVMe SSD for system-disk duties, a 1TB Seagate hard disk for excess storage, and an Intel AC-8260 adapter for WiFi and Bluetooth.
Memory and storage is easily accessed - simply undo a series of Torx T5 screws to remove the bottom cover - though upgrade options are limited. There are only the two SO-DIMM slots, and both the CPU and GPU are soldered, meaning no love for an MXM update.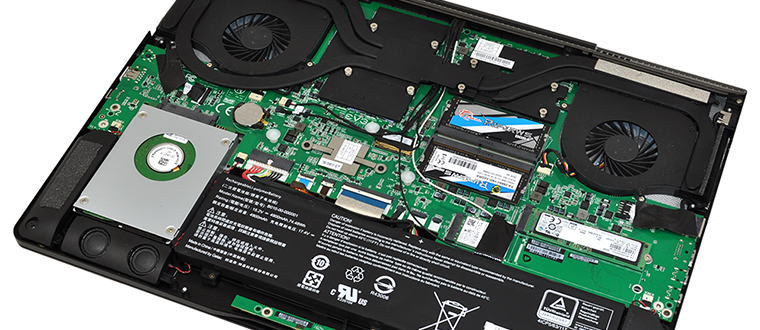 EVGA's default specification is nonetheless potent, yet considering the entry fee, we were almost expecting the full-fat laptop GTX 980, rather than the less powerful GTX 980M. There's also a question mark surrounding the timing of the SC17's release as the default GPU now dates back to late 2014, and next-generation Nvidia hardware can't be far away. As we approach mid-2016, GTX 980M is starting to feel old-hat.
Laying the foundation for forthcoming mobile GPUs may be the order of the day, and EVGA does have a few niceties on offer. The 240W external PSU has been designed to deliver ample power without looking like a typical brick, and if you're inclined to squeeze every last drop out of your components, there are a couple of healthy additions for overclocking.
UEFI Overclocking
Aiming to bridge the gap between performance desktops and laptops, EVGA imbues the SC17 with a proper UEFI firmware that offers mouse navigation and a dedicated overclocking tab. Granted, the array of options and settings pales in comparison to a premium desktop motherboard, yet it's a step-up from most gaming laptops and there's no faulting presentation.
The interface is easy to get around and EVGA takes it a step further by providing a Windows utility that offers streamlined overclocking options from within the OS. Dubbed PrecisionX Mobile, it offers three pre-configured profiles - DownClock, Normal and SuperClock. The former shaves 135MHz off the GPU core clock and limits the CPU multiplier to 8x in an effort to prolong battery life.
Switching to SuperClock raises the multiplier to 40x (38x on all cores) and increases GPU frequency by 76MHz on core and 202MHz on frame buffer. Nothing extraordinary, but what's handy is that switching between profiles can be achieved by a simple keyboard shortcut - hit Fn+Up Arrow to apply the SuperClock (without needing to reboot) or Fn+Down Arrow to switch to DownClock.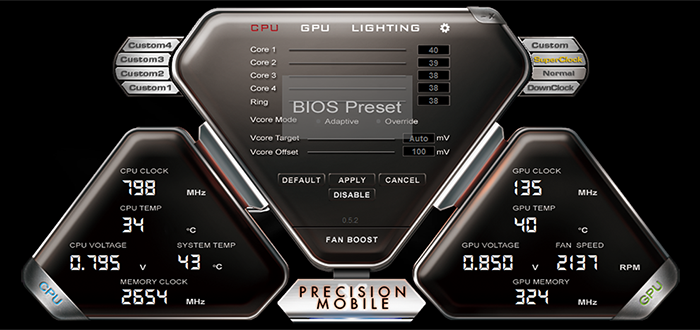 EVGA's software configuration certainly makes light work of frequency tweaking, and aside from obligatory drivers, PrecisionX Mobile is the only utility loaded on an otherwise clean install of Windows 10. It's refreshing to see a gaming laptop free of unwanted bloatware, and if your tinkering does get you into a pickle, there's even a tiny clear CMOS button above the power switch.
SC17 is shaping up to be a solid first outing, but gaming laptops live or die based on the numbers, so let's get onto the benchmarks.