Introduction
We've been itching to get our hands on EVGA's first laptop ever since the 17.3in machine was unveiled back at CES in January. With EVGA's roots firmly entrenched in the enthusiast scene, we're intrigued to see whether or not the Californian firm can strike the right chords with the gaming elite.

First, the pertinent details. It's dubbed the SC17 Gaming Laptop and is available for pre-order right now with the first shipments expected around the middle of this month. The price? A staggering £2,400. The target audience? According to EVGA, the SC17 "was meticulously created from the ground up for the hardcore gamer, performance enthusiast, and even over clocker".
Design
Out-the-box impressions are favourable. It's always nice to see a high-end gaming laptop that isn't just a re-purposed Clevo, and EVGA's custom-made chassis certainly looks the part. The aluminium components come together to give the frame a near-seamless feel, and a thickness of just under 27mm makes most other gaming laptops appear bulbous in comparison.
EVGA's all-black styling provides an elegant look, as does the backlit logo on the lid, however the SC17 isn't quite as portable as the thin profile would suggest. The laptop is in fact quite large, measuring 408mm wide and 296mm in length, and though the robust aluminium frame has its benefits, it results in a hefty weight of just over 4kg.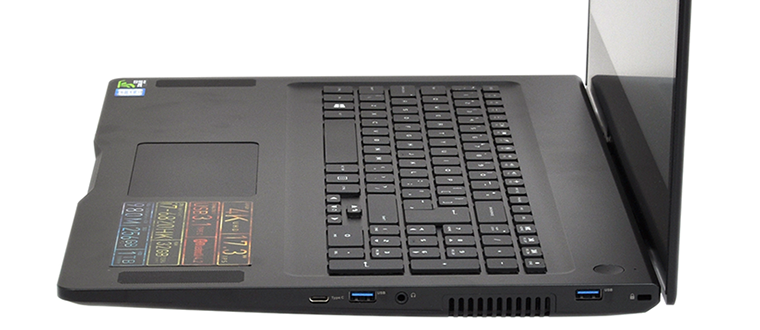 On a laptop of this scale it's a balancing act between low weight and high build quality. EVGA leans heavily toward the latter, and though we'd like the SC17 to be lighter for transport, it's hard not to appreciate the overall level of sturdiness during actual use.
There's no sign of flex in the keyboard tray, the base doesn't bend at all, and even the large display lid is reassuringly rigid. One caveat, however, is that the near-matte paintwork is a magnet for fingerprints, particularly around the palm-rest area.
Display and Sound
As a newcomer to the laptop scene, EVGA needs an eye-catching feature to stand out from the crowd and it has one in the form of a 4K display. The increased pixel density is a welcome addition to the 17.3in form factor, and EVGA is one of the first to use Sharp's IPS panel, identified as model SHP145E.
Viewing angles are good in all directions, a matte coating helps minimise reflections, and though it lacks the vibrancy of glossier displays, brightness is ample and colours are vibrant enough. We did notice slight backlight bleed near the edges, but the pixel-count combined with Windows 10's ability to scale well at high resolution is ultimately great for productivity.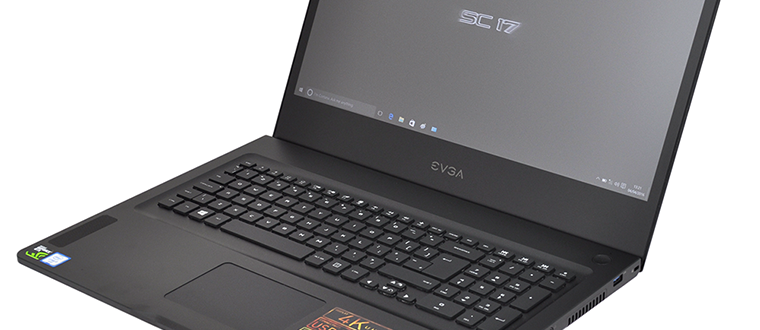 The display is without doubt one of the SC17's strong points, yet it isn't perfect. The accompanying GPU hardware doesn't have the grunt to enable smooth gameplay at the native resolution, though upscaled visuals are hardly a bad thing, and given EVGA's close relationship to Nvidia, we're surprised G-Sync adaptive framerate technology hasn't been implemented from the get-go. And if we're being picky, the bezel beneath the display is unusually large.
Laptops of all shapes and sizes have developed a knack of delivering great visuals and lacklustre sound, so we were pleasantly surprised to find that the SC17's audio output is better than most. The upward-firing speakers don't look pretty in the palm rest, however they do provide decent clarity and ample volume that's backed by a small amount of depth from a downward-firing subwoofer.
Keyboard and Ports
Shoehorning high-end hardware into a laptop is no small feat, and rather than opt for doorstop dimensions, EVGA has chosen to keep it thin while winning certain battles and losing others. In the win column is the keyboard, which incorporates a numpad, white LED backlighting and a good amount of key travel.
We hadn't expected the SC17 to be satisfying as a work machine, but it is, and for a first attempt, this is already shaping up to be one of the better gaming laptop keyboards. The only real snag is the spacebar, which on our review sample isn't as responsive as the other keys and occasionally fails to register following a light press.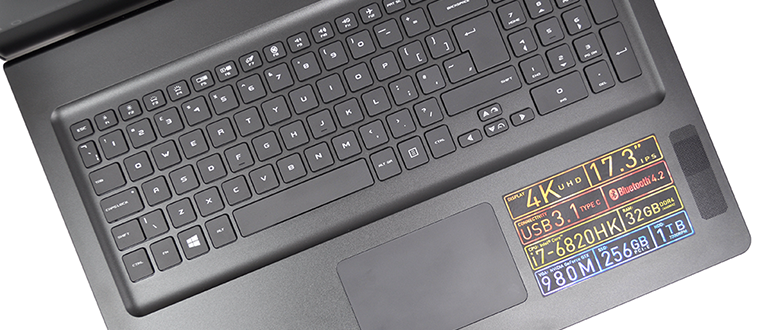 The large touchpad is perfectly serviceable, too, and in a nod toward the target audience, EVGA is bundling a wired Torq X10 gaming mouse for a limited time. We'd like to see that promotion extended indefinitely, and given how stylish the laptop can look, we do hope the manufacturer refrains from slapping such a large sticker on the palm rest of future models.
On the whole, it's a comfortable place to work, though the SC17 doesn't lend itself to on-your-lap usage. The machine's underside is lined with a large rubber standoff that provides good grip on a desk but digs-in when you're brave enough to try a 17.3in gaming system on your lap.
Plenty to like, however the thin frame does introduce limitations in terms of I/O ports. SC17's left edge is home to a power connector, Gigabit Ethernet, HDMI and two mini-DisplayPorts, while over on the right there's a headphone jack, two USB 3.0 ports and USB 3.1 Type-C. That's your lot, and EVGA recognises the lack of ports by including a USB Type-C-to-USB 3.0 adaptor in the box. Even so, a couple more USB ports plus an SD card reader wouldn't go amiss, and we see no obvious reason for the USB Type-C jack not to double as a Thunderbolt connector.