Economical Hardware
A quad-core Intel processor sounds mighty useful, and in some ways it is, but the 'Cherry Trail' Atom x5-Z8500 chip won't win many races. The ultra-low-power 2W processor is clocked-in at a conservative 1.44GHz, though it will boost to 2.24GHz in the right scenario.
Intel HD Graphics with a top speed of 600MHz are built-in to the 64-bit CPU as standard and you'll find 2GB of accompanying DDR3 memory. This is low-end stuff by laptop standards, and there isn't a great deal of storage, either. A 32GB eMMC drive is included in the base £229 configuration, however our review sample is a slightly roomier 64GB variant priced at £279. The OS and default apps will eat up a good chunk of that - our test machine had less than 40GB remaining after the last Windows update - though it's worth pointing out that storage is expandable via MicroSD.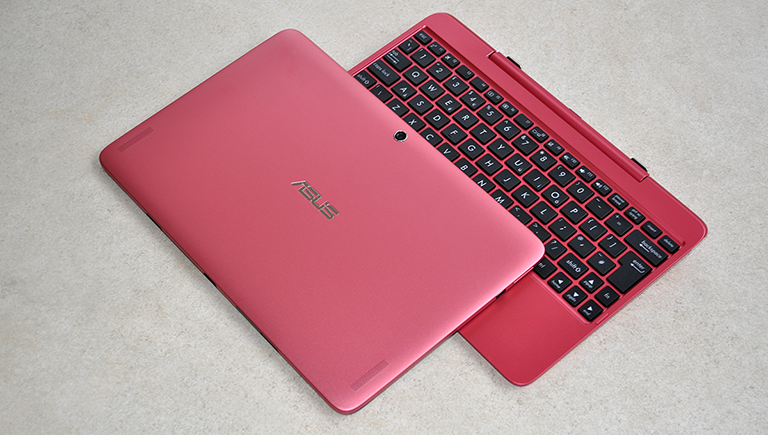 An Atom processor, a small amount of memory and limited storage capacity are perhaps to be expected, however neither of the aforementioned are deal breakers. For some that honour will belong to the 10.1in touchscreen display, whose 1,280x800 resolution is lower than some of today's smartphones. The IPS panel presents good viewing angles and reasonable brightness, yet the low resolution coupled with lacklustre black levels and noticeable glow around the edges are tell-tale signs of the Transformer Book's economical positioning.
The core components lack any sort of thrill, however the T100HA does offer a good array of connectivity options. In addition to Wireless N and Bluetooth 4.0, the tablet portion houses a top-mounted power button, microSD, micro-USB, micro-HDMI and a headphone jack on the right, while on the left there's a volume rocker and forward-looking USB Type-C.
Attach the keyboard and you gain an extra USB 2.0 slot, but note that the small charging adapter is of the micro-USB variety and must be connected to the tablet. This results in an inelegant cable trailing from the display when you're charging and if you're curious it takes roughly four hours to shift the battery from empty to full.
Usability
Actually using the Transformer Book T100HA is a learning curve inasmuch as you begin with an optimism instigated by the system's ultra-low cost and then slowly but surely discover a number of inescapable caveats.
Productivity types will appreciate the fact that a full, 64-bit install of Windows 10 is in place (with little bloatware, we should add), however making use of office-type programs isn't the easiest. The low-res display can make the desktop feel cramped, and the T100HA is, we feel, at its best in tablet mode, where Windows 10's touchscreen controls serve as a convenient alternative to the keyboard and trackpad.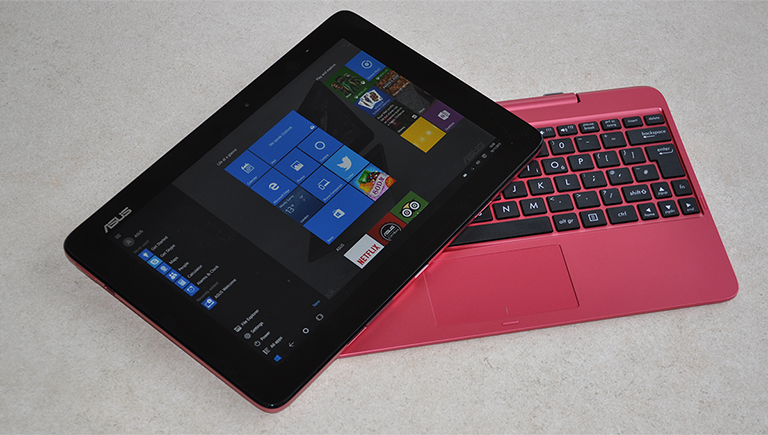 The keyboard, though ultimately useful for quickly sending out emails and putting together short documents, isn't the most enjoyable to use. The layout is too constrained for it to be deemed comfortable and the keys are mushy during use. Continuing the trend, the accompanying trackpad is responsive enough but the surface feels cramped and our review sample didn't allow for multi-touch gestures, though we suspect the latter may be a software configuration issue.
Elsewhere, the front 2MP and rear 5MP cameras deliver distinctly average results, and the built-in stereo speakers produce a tinny sound that's adequate for Skype calls but not a lot else. On the plus side, the underlying hardware is efficient enough to be passively cooled, meaning no system fan and no unwanted noise.
How about performance? We'll have some actual benchmarks on the next page, but for a real-world perspective it's worth stating that the T100HA doesn't have any major issues completing everyday tasks. Web browsing is quick enough and high-quality YouTube videos play without a hiccup, however things do slow down once multiple apps are running in tandem.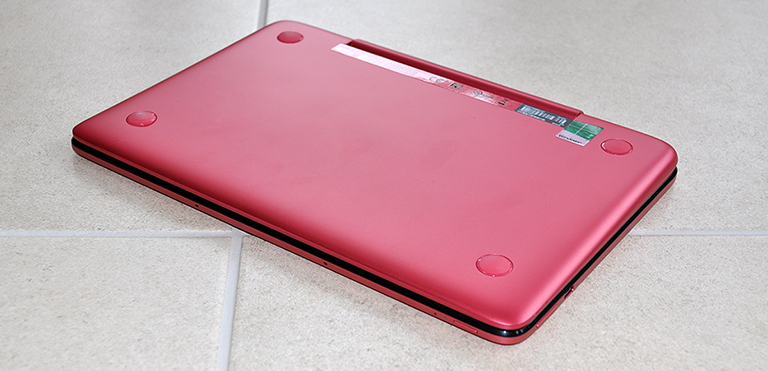 Attempt to do too much and the system can slow to a crawl, and there are instances in which you begin to bemoan the lack of available power - we attempted to install the Windows 10 November update on our review sample and after waiting a while decided that our best bet was to leave it overnight. It's been a while since we've had to do that for a Windows update.
Get to the realisation that this isn't quite a proper laptop replacement and you'll find that you can get some work done. Sure, the screen is cramped and multi-tasking performance is limited, however the fact that you can run a full Office suite and have a basic keyboard at your disposal gives you an advantage over most tablets. As a secondary device, or a mobile companion, the Transformer Book T100HA ticks some of the right boxes and battery life, as we're about to find out, is a strong point.