The Best X1 Carbon To Date
Ultrabooks and thin laptops in general can fall foul of flat keyboards that feel lifeless and laborious to use, but the ThinkPad is an exception to that rule with a surprising amount of travel and keys that feel excellent during use. The entire panel is also backlit for good measure, and having tried unsuccessfully to integrate an adaptive, touch-sensitive row of function keys in last year's second-gen model, we're pleased to see that Lenovo has reverted back to proper keys. Hurrah!
Elsewhere, the central trackpoint remains as useful as ever and the trackpad is impressive, too. The Synaptics-powered surface is one of the better PC implementations and has a good overall size, although it is just a tad smaller than the 2012 version. The repositioned fingerprint sensor also seems to work really well, which makes for a nice change as the older scanner on my laptop proved too flaky to be taken seriously.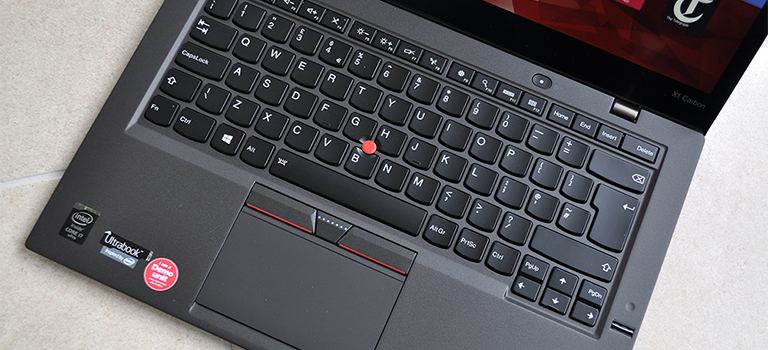 The change most keenly felt during everyday use is arguably the display. My X1 Carbon's 1,600x900 TN panel isn't a patch on the 2,560x1,440 IPS display available to the latest models. The resolution brings a noticeable level of crispness to on-screen text, and scaling works well enough on Windows 10 for high-res panels to garner an out-and-out recommendation.
Black levels and viewing angles are both excellent, however the IPS display covers just 85 per cent of the sRGB colour space and 65 per cent of the Adobe RGB, likely leaving creative professionals wanting more in terms of accuracy. There's also a question mark over brightness, as we don't believe the laptop gets close to the advertised 300 nits.
Inputs and Outputs
These are small niggles, mind, and the matte finish makes the display thoroughly enjoyable in most scenarios. Though, to my own surprise, it's actually the touchscreen and not the heightened pixel-count that makes the new panel so attractive. I'm using it far more than I thought I would and when I go back to my own laptop I actually miss being able to tap the screen.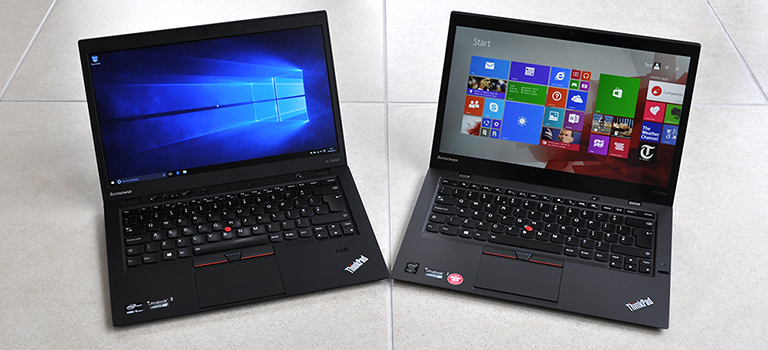 Lenovo's choice of I/O ports hasn't changed much over the years. X1 Carbon still offers two USB 3.0 ports (one either side), full-size HDMI, mini DisplayPort, an audio jack, and a connector for the small 65W power supply. There's no sign of USB Type-C as yet, but one advantage to the 2015 model is a mini RJ-45 Gigabit Ethernet port and bundled adapter, which is ideal for users who travel as many hotel rooms still favour wired over wireless. That's a nice addition, but on the flip side there's no longer an SD card reader.
Elsewhere, the downward-firing stereo speakers are positioned near the sides of the laptop so as not to be easily obscured, and the duo deliver satisfying results. Volume output belies their size, and though there's no bass to speak of, sound quality is decent for a system as thin as this.
Software
How about bloatware? Well, it's hard to mention Lenovo without thinking Superfish, however it's worth noting that the well-publicised adware never appeared on a ThinkPad.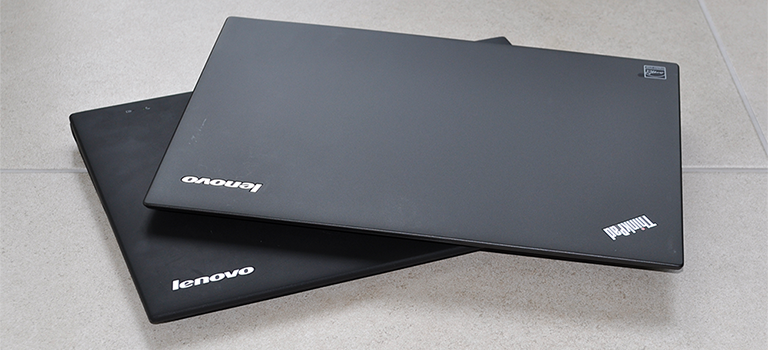 Nonetheless, you would hope that Lenovo has learnt a valuable lesson, yet there's still too much pre-loaded software for our liking. Over 50 programs are installed as standard and though most are potentially useful Lenovo utilities, others detract from the laptop's premium nature. Time-bombed Norton Internet Security is the one most likely to nag - it's still asking me to upgrade even after I've uninstalled it - but the likes of Nitro Pro 9 and Maxthon Cloud Browser can also be added to the list of unwanted.
But here's the thing, as intriguing as the hardware alterations are, are there many compelling reasons to consider upgrading from the first-gen model, which to this day continues to offer more than enough performance for most usage scenarios? Let's turn to the benchmarks to see exactly how a third-gen Ultrabook has progressed.