Introduction
Which is the best Ultrabook that money can buy? That's as good a question as any in today's tech world, as all the big-name players have ironed out the initial kinks and found their feet with super-sleek systems that meet Intel's mandate and are truly a joy to behold.
The Ultrabook brand, coined and trademarked by Intel, arrived as something of a mystery in 2011 as consumers tried to figure out what an Ultrabook actually was. Intel's cringe-worthy explanations didn't really help, but fast forward a couple of years and things have become clearer: Ultrabooks are essentially thinner, faster and sexier alternatives to bog-standard laptops.
Prime examples include the Dell XPS 13, Asus Zenbook UX305 and HP Spectre X360 - all of which are exquisite in their own right - but if I had to pick just one, I'd be inclined to opt for Lenovo's ThinkPad X1 Carbon. Though I should confess to an element of bias: I'm an owner of the original 2012 model and to this day I've yet to use a laptop I prefer, so naturally I'm intrigued to see what the 2015 update has to offer.

Priced from £1,270 and now in its third iteration, the X1 Carbon is basically the premium Ultrabook for businesses. Retaining the aesthetic appeal of the original, this is a ThinkPad that's thin, well built and sexy in a professional sort of way. Sticking to a tried-and-trusted formula, the X1 Carbon conforms to the ThinkPad's mantra of rock-solid build quality through a lid that combines carbon and glass-fibre reinforcement, and a chassis built from magnesium-aluminium alloy.
Beautiful ThinkPad Design
There's hardly any flex to speak of, and the matte coating adds to the overall elegant look and feel. The lid has a nice grippy texture to it, making the laptop particularly nice to carry, and the 14in form factor is in my estimation about as close to perfection as you can get. It shouldn't in theory be that different to 13.3in alternatives, but you'd be surprised at how the extra 0.7in can make the X1 Carbon feel considerably more spacious.
Lenovo's 14in screen doesn't come at the detriment of size or heft, either, with dimensions of 331mm x 227mm x 17.7mm dimensions and a 1.3kg weight making the X1 Carbon a truly thin-and-light machine. If you're counting, that's just over a millimetre thinner than the 2012 original, but there isn't a lot in it and whichever way you look at it, the X1 Carbon remains ludicrously svelte.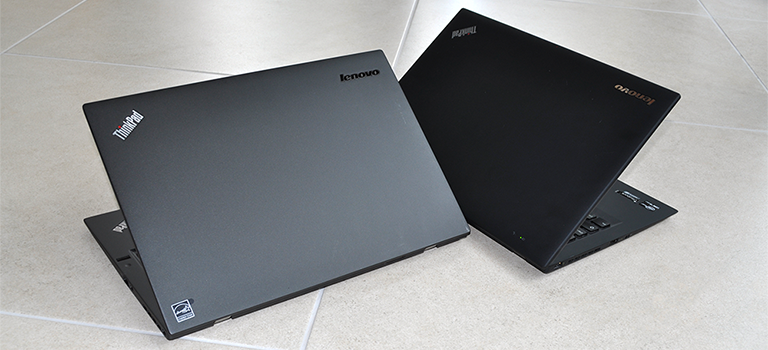 From the outside, it's difficult to tell the first- and third-generation models apart. The new laptop is pictured above, left, in case you were wondering, and the most obvious change at first glance is that this year's version is a lighter shade of black. That's a surprise change for a product line that has traditionally remained as dark as possible, but the subtle shift in tone is well done and helps gives the classic ThinkPad aesthetic a more modern twist.
Upgraded Innards
The biggest changes come in terms of specification. The new X1 Carbon is available with a choice of fifth-generation 'Broadwell' Core i5 or Core i7 processors, ultra-fast PCIe SSDs and, budget permitting, a touchscreen IPS display with a QHD (2,560x1,440) resolution. Very nice, but very expensive, too, as the base system starts at £1,270 and for that amount you're limited to a Core i5-5200U, just 4GB of soldered-on memory, a small 128GB SATA SSD and a basic, full-HD TN display.

Our review sample ups the ante with a Core i7-5600U, 8GB of memory, a 256GB SATA SSD and the top-of-the-range QHD IPS touchscreen, but such components raise the entry fee to a staggering £1,955, and you could easily go higher. Want a 512GB PCIe SSD? That'll be an extra £306. Want LTE connectivity? Add another £90. This isn't an Ultrabook for the masses and it's a shame the entry-level specification is so severely gimped. A system as beautiful as this should be experienced with an IPS display and at least 8GB of memory, however doing so will cost you well over one-and-a-half grand. Ouch.
But it is true what they say, you get what you pay for, and with the X1 Carbon you seem to get a compelling mix of everything. It's subtle enough not to appear too showy, stylish enough to make it feel that extra bit special, and equipped with all the tools needed for a good day's work. Chief among these is a killer keyboard.