Introduction
The Asus N550JK laptop didn't get off to an awe-inspiring start, and there were obvious reasons why: last year's UK model carried a mediocre 1,366x768 display that single-handedly spoilt what was an otherwise stylish design.
There's good news, though, as Asus's 2015 revision is back in contention courtesy of an upgraded 1080p display that's far more appealing for a 15.6in machine.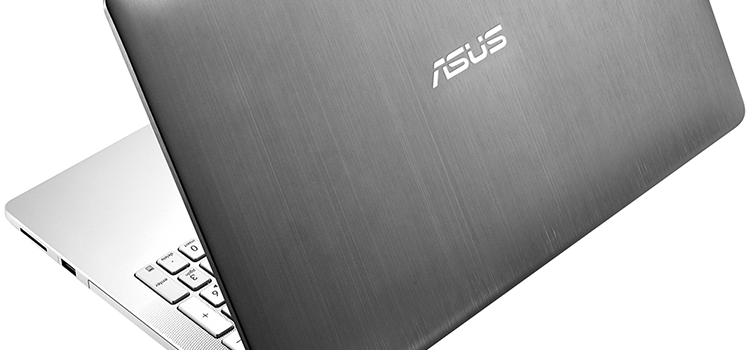 Priced identically at £800 and now carrying model number N550JK-CM509H, Asus's new-and-improved laptop sports the same stylish silver chassis and promises "unparalleled quad-speaker sound" as well as a "striking HD display."
Design and Build Quality
First impressions are favourable due to Asus's clean and clutter-free aesthetic; however the N550JK's 383mm x 255mm x 27.7mm dimensions and 2.6kg are bordering on bulky for a 15.6in laptop. Such numbers are far from the thinnest or lightest, yet Asus does offer good build quality courtesy of a metallic body that exhibits hardly any flex, and the brushed finish on the lid looks very tidy.
An aluminium keyboard surround helps enhance the laptop's premium look and feel, and we quite like the concentric dotted pattern surrounding the power and Asus Console buttons. The latter brings up a simple app for toggling essential system settings, but as far as we can tell, this button can't be reprogrammed to something else.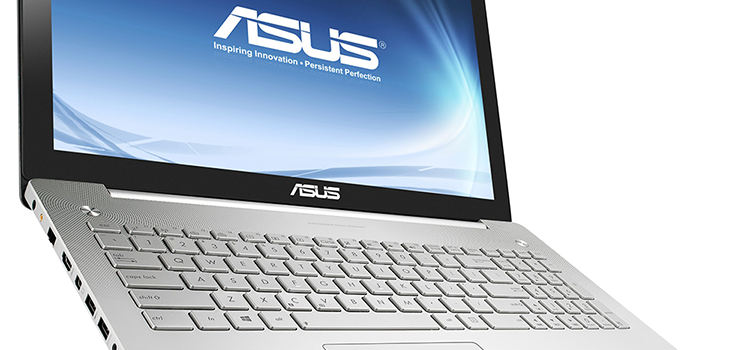 Making good use of the available space, the N550JK keyboard includes a numpad and reasonably well-spaced chiclet keys that are decent to type on. Nitpicking somewhat, we'd argue the keys are a little light and floaty compared to a Thinkpad, but it remains comfortable during extended use and the only major caveat is the lack of a backlight. Though, given the absence of dedicated multimedia keys, we'd also liked to have seen an option in BIOS to make the FN keys default to their secondary functions. This is marketed as an "entertainment laptop," so volume controls should be just one button away.
Highs and Lows
Joining the keyboard are two other input devices that each work well. The first is a good-sized touchpad that's plenty sensitive and capable of handling various gestures. It's one of the better laptop touchpads we've used, and falls just shy of perfection due to stiff integrated buttons that require a bit of a jab in order to activate.
The other method of input is the touchscreen display, which also falls into the oh-so-close category. Offering plenty to like, the Samsung-made, 15.6in IPS display offers ultra-wide viewing angles in all directions, good colour reproduction and a 1,920x1,080 resolution that's suited to a screen of this size. Touchscreen support is a bonus - we found ourselves using it far more than we thought we would - and Asus's implementation is both accurate and responsive. The catch, in our estimation, is the panel's glossy and highly reflective finish. The fact that you're often looking at your own reflection detracts from the on-screen visuals and hampers outdoor readability.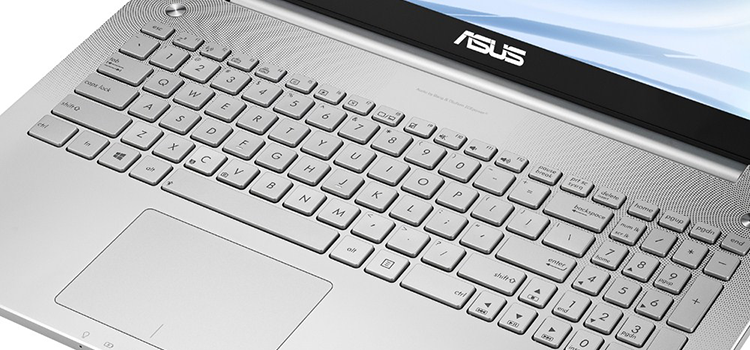 In a weird sort of way, almost everything that's good about the N550JK seems to come with a little proviso. Another example being the Bang & Olufsen-branded sound system. Asus is using a quad-speaker array in order to deliver what it calls "cinematic-quality surround," but don't let the concentric pattern above the keyboard tray fool you into thinking there are upward-firing speakers.
To our surprise, all four speakers line the laptop's bottom-front edge, and that means audio quality varies depending on laptop positioning. On a desk highs become overpowering, on your lap everything can turn muffled, and finding a sweet spot isn't easy. In our experience, the laptop's sound system is at its best when the front overhangs any surface and, for added bass, you can attach a bundled external subwoofer that introduces a good amount of depth.
Specification and Connectivity
Under the hood, Asus backs up the N550JK's entertainment credentials with a quad-core Intel Core i7-4700HQ processor, 8GB of DDR3 memory and dedicated Nvidia GeForce GTX 850M graphics that automatically take over from the Intel HD 4600 IGP as and when required.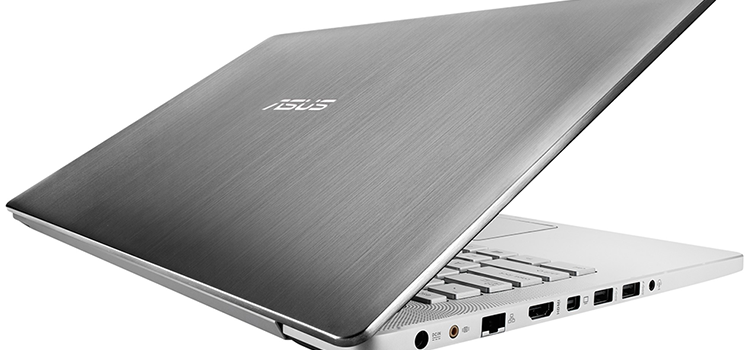 CPU performance should be stellar and the GPU should cope well with some light gaming, but remember when we said that the N550JK's highs are typically accompanied by a low? Well, there's another one here as the laptop's potent processors are partnered to a 1TB Seagate Momentus hard disk that will act as the most obvious bottleneck during everyday use. The mechanical drive spins at up to 5,400rpm and given the falling cost of solid-state drives, it's a shame Asus didn't include flash-based storage as standard.
Elsewhere, fan noise is audible but not bothersome, a 64-bit install of Windows 8.1 is topped with a handful of unnecessary apps - McAfee Internet Security being the one to nag most frequently - and there's a good range of connectivity options. These include a trio of USB 3.0 ports, HDMI and mini-DisplayPort, an SD card reader, Ethernet, Wireless AC and Bluetooth 4.0, as well as an integrated DVD writer.
An optical drive has become something of a rarity on today's laptops, and in truth we're not sure the DVD writer adds a lot to the N550JK's credentials - we'd have preferred a Blu-ray drive, or better still, the optical bay could have been ejected entirely to allow for a larger battery. As it stands, the integrated four-cell supply isn't designed to be user removable and, before we get to the benchmarks, we suspect it'll struggle to last a full working day.