Gaming Components
Delivering high performance is the Vortex GT's primary purpose and perusing the specification sheet suggests that users won't be disappointed. The base £999 configuration makes use of a quad-core, hyper-threaded Intel Core i7-4710MQ processor that Turbo Boosts up to 3.5GHz. Said chip comes equipped with HD 4600 integrated graphics and PC Specialist bolsters the laptop's gaming performance by adding a dedicated GeForce GTX 870M GPU with a 6GB DDR5 frame buffer.
The GTX 870M is one of the latest additions to Nvidia's mobile stable, yet it isn't based on the firm's current-generation Maxwell architecture. Digging deeper into the chip's specification reveals 1,344 shaders clocked at 941MHz+, which suggests that the GTX 870M is for all intents and purposes a faster-clocked version of the older Kepler-generation GTX 775M.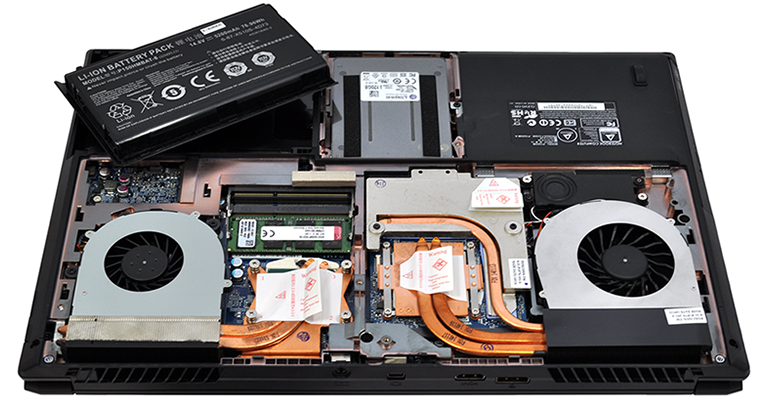 Gaming performance at the Vortex GT's native 1080p resolution should be excellent and the supporting components aren't bad, either. PC Specialist includes a single 8GB stick of Kingston HyperX DDR3-1600 memory, a 120GB Kingston HyperX 3K SSD as the system drive and, somewhat unusually, a 1TB Seagate Hybrid SSHD for secondary storage.
Upgrade opportunities are plentiful and easily accessible - there's a spare DIMM slot for more memory and an mSATA slot hidden neatly beneath the 2.5in drive bay - though do be aware DVD/Blu-ray capabilities aren't included as standard, as the optical bay is used to house the SSHD.
A myriad of copper heatpipes and two dedicated fans provide independent cooling to the CPU and GPU components, and there's room for a removable 76.96Wh battery. As you'd expect on a chassis of this size, connectivity is well catered for, with the Vortex GT offering FireWire, Gigabit Ethernet, two USB 3.0 ports, eSATA and an SD card reader on its left side, a USB 2.0 port and audio jacks on its right side, as well as a power connector and three video outputs on the rear. These include DisplayPort, HDMI and Mini-DisplayPort.
Readers should also note that while a good choice of configuration options are available on the PC Specialist website, the £999 default specification is a promotional price - start making changes and the total sum rises dramatically. The same laptop with a GTX 880M, for example, would cost £1,374.
Display and Sound
The 15.6in screen used by the Vortex GT is identified as a Chi Mei CMN15B1. This is a TN panel offering a full-HD resolution and a standard 60Hz refresh rate.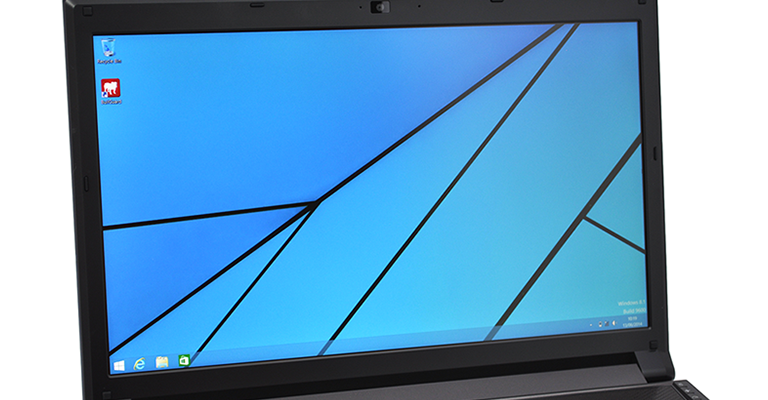 Best described as a decent-but-not-spectacular panel, the CMN15B1 offers reasonable contrast, ample brightness and a matte finish that takes unwanted reflections out of the equation. Horizontal viewing angles are surprisingly good for a TN panel - though it's less forgiving on the vertical plane - and the 1,920x1,080 resolution can now be considered a minimum requirement on a display of this size.
The standard panel gets most of the basics right, though we'd like to see PC Specialist offer a premium IPS option for gamers wanting something more. Speaking of wanting more - the integrated Onkyo speakers and dedicated subwoofer sound like a handy combination, but they leave a lot to be desired. Audio output is basic and tinny at best, so you'll want to keep your headphones nearby.
Keyboard and Trackpad
The Vortex GT's keyboard isn't quite as good as it perhaps might have been. The full-size board includes a dedicated numpad and a multi-coloured backlight system, however the key action feels shallow and spongy, making it fatiguing during use.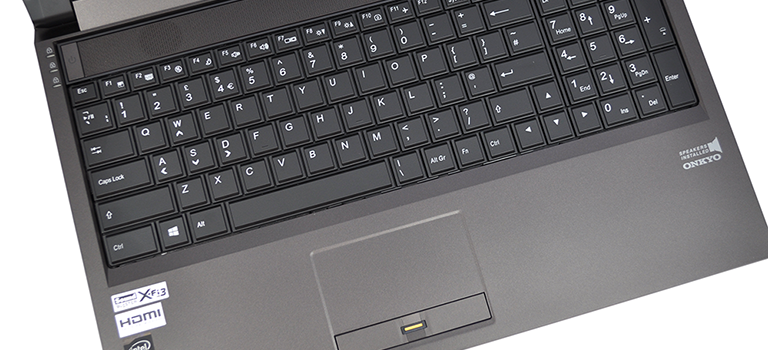 It's a surprise to see the Windows key moved back to the left of the space bar - the same key was moved to the right to suit gamers on Clevo's older P150EM - and there's no way to lock the key when gaming.
We like the fact that the backlight is bright and even, but that aside, this is a fairly basic keyboard and it isn't able to match what's on offer from the competition. We much prefer gaming on the SteelSeries keyboards used on MSI laptops, for example.
Laptop trackpads, meanwhile, can be hit or miss at the best of times, and the Vortex GT's Synaptics-powered solutions falls short for an unexpected reason. The pad itself is a good size, it's serviced by well-defined buttons that flank an integrated fingerprint reader, and it responds well to various gestures. The problem is that it's finished in the same rubbery coating as the palm rest, making it feel sticky and slow during use.
Software and Warranty
A 64-bit install of Windows 8.1 is PC Specialist's operating system of choice. Our review sample arrived with all the latest drivers and Windows Updates applied, and the only bloatware visible is a 90-day trial of Bullguard Internet Security.
Beating the standard two-year warranty available from most off-the-shelf laptops, PC Specialist backs the Vortex GT with a three-year plan that includes collect-and-return cover for the first month, parts cover for the first year and labour costs for the duration of the warranty.