Component Choices
Portable gaming laptops continue to face thermal challenges when attempting to run with powerful CPU and GPU components. We've already experienced throttling in PC Specialist's SkyFire III X14, so Gigabyte will need to pick its processors with caution if it's to avoid any unwanted slowdowns.
Gigabyte P34G Specification

Processor
Intel Core i7-4700HQ
Memory
Up to 16GB DDR3 1600
Integrated Graphics
Intel HD 4600
Discrete Graphics
NVIDIA GeForce GTX 760M 2GB
Display
14.0in full-HD AHVA
Battery
47.73Wh Lithium Ion
Weight
1.76kg
Wireless
Intel Wireless-N 7260
Primary Storage
128GB LiteOn mSATA SSD
Secondary Storage
750GB Toshiba 5,400RPM HDD
Operating System
Microsoft Windows 8 64-bit
Well, perhaps not too much caution. At its core, the P34G is powered by a quad-core Intel Core i7-4700HQ that's hyper-threaded and able to ramp up to 3.4GHz. The 47W chip carries a 6MB cache as well as integrated Intel HD 4600 graphics, and is really pushing the boundaries for a slim 14in chassis. Gigabyte's obviously aiming for performance, yet we may have preferred to see the manufacturer use the marginally slower Core i7-4702HQ - said chip only ramps up to 3.2GHz, but has a less-thirsty 37W TDP that's easier to manage.
Still, performance is the name of the game, so on top of the quad-core Intel Haswell chip, Gigabyte throws in up to 16GB of DDR3 memory and dedicated Nvidia GeForce GTX 760M graphics. Working in unison with the Intel IGP, Nvidia's discrete GPU only kicks in when needed so as not to eat-up valuable battery life.
A small panel underneath the laptop gives users access to the dual memory slots. Gigabyte's specification suggests that the P34G will ship with 8GB of memory - that's what UK retailers are currently advertising - but our review sample arrived with a full 16GB on board. We're not complaining.
Undoing a total of 15 screws allows the entire back panel to be removed, providing a good look at what's going on inside. There's no room for an optical drive, obviously, and though the integrated 47.73Wh Lithium-Ion battery is ultimately serviceable, you won't be able to change it quickly when you're out and about.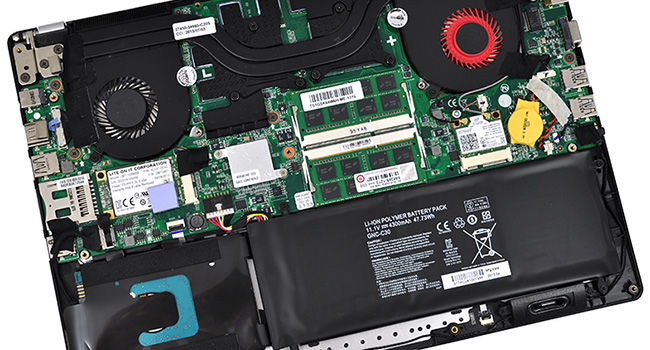 Making the most of what little room is available, Gigabyte has the laptop's storage split two-ways: an mSATA port and a 2.5in drive slot. This is a handy way of combining solid-state speed with mechanical capacity, and Gigabyte ticks both boxes by including a 128GB LiteOn LMT-128M6M mSATA SSD and a 750GB Toshiba MQ01ABD075 hard disk.
Wireless connectivity, meanwhile, is provided by an Intel Wireless-N 7260 adapter with integrated Bluetooth 4.0 - we're not seeing an industry-wide transition to Wireless-AC just yet - but the P34G demonstrated good range and reliability during use.
There's a good selection of components on offer, and it's nice to see Gigabyte finding room for two dedicated fans. Whereas some competing laptops have attempted to cool both CPU and GPU components with a single blower, Gigabyte uses dual heatpipes, fans and exhausts. Throttling shouldn't be an issue, but we did experience CPU slowdowns when running on battery - more on that later.
Display and Sound
Gigabyte has shoehorned a healthy set of high-performance components into the P34G chassis, but as is so often the case, these gaming laptops are typically let down by a basic TN panel. Not this time.
With tablets and Apple MacBooks raising the bar for display technology, PC manufacturers are having to up their game and Gigabyte has done exactly that by opting for a 14in AHVA panel from AU Optronics (model AUO113D).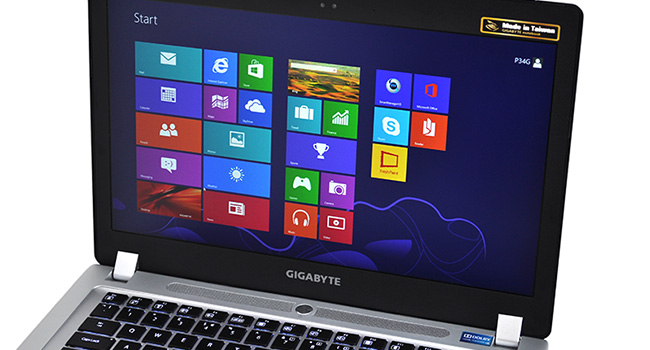 This is the same panel featured in Dell's Alienware 14 and it's really rather good. Offering a full-HD, 1,920x1,080 resolution, the display provides plenty of desktop real estate that's great for productivity.
A TN panel might have lowered the overall cost of the laptop, but the AHVA display has obvious advantages. Viewing angles, for example, are excellent in both directions, with Gigabyte touting visual enjoyment from as much as 170º. Colour reproduction is also good, black levels are impressive, and the panel is matte, meaning unwanted reflections are taken out of the equation.
What's the catch? Well, we can think of two, though they may or may not matter to you. Firstly, display brightness could have been higher - there's no issue indoors, but the view is hampered in direct sunlight. Secondly, this isn't a touchscreen display. Stop that - we heard your collective groans - but we've made up our minds and we're putting our foot down; any premium laptop shipped with Windows 8 really needs to include a touchscreen as standard (or, at the very least, provide a touch-enabled option).
On the audio front, the P34G's Dolby Home Theatre Audio Technology is, well... not bad. We were fully expecting to write-off the upward-facing speaker system, as we do with so many laptops, but the audio experience here is well above average. There's plenty of volume, sound remains clear, and though you won't be retiring your headphones just yet, you won't feel the need to have them with you at all times.