Specification
High-end gaming and 11.6in laptops don't tend to go hand-in-hand, but Scan's Graphite LG5 should offer a good amount of gaming potential by pairing a third-generation Intel Core processor with NVIDIA GeForce GT 650M graphics.
Pricing starts at £590 for a base model equipped with a Core i3 processor and a mechanical hard disk, but Scan's review sample is a more exotic £660 configuration that includes a Core i5-3210M processor with integrated Intel HD 4000 graphics, and flash storage in the form of a 120GB Corsair Force Series 3 SSD.
Scan 3XS Graphite LG5 Specification

Processor
Intel Core i5-3210M (up to 3.10GHz, 3MB cache, dual-core, 35W)
Memory
8GB DDR3
Integrated Graphics
Intel HD 4000
Discrete Graphics
NVIDIA GeForce GT 650M
Display
11.6in - 1,366x768
Battery
Lithium Ion, 62 Whr
Weight
1,679g
Wireless
Intel Centrino Advanced-N 6235 (802.11bgn)
Storage
120GB Corsair Force Series 3 SSD
Operating System
Microsoft Windows 7 Home Premium, 64-bit
Warranty
2 Years Collect and Return
From our experience with Scan's desktop PCs we were expecting a wealth of configuration options, but as it turns out, there isn't a great deal of flexibility. The matte 11.6in display offers a 1,366x768 resolution and can't be upgraded, system memory is locked at 8GB (you can't downgrade to save a few bob), and the graphics processor is fixed to a 2GB GeForce GT 650M.
What can be changed is the CPU, with Scan providing four choices; a Core i3-3110M, a Core i5-3210M (add £33), a Core i5-3360M (add £103) or a top-of-the-range Core i7-3612QM (add £99). The Core i7 option is particularly interesting, as it makes the Graphite LG5 one of few 11.6in laptops that can be configured with a quad-core, hyper-threaded chip.
NVIDIA Optimus technology is used to flick between the laptop's two graphics processors - the integrated Intel HD 4000 and the discrete NVIDIA GeForce GT 650M - allowing battery life to be preserved during tasks that aren't GPU-intensive. Speaking of GPUs, this is the first laptop we've tested with the mid-range GeForce solution, so we're looking forward to seeing how well it handles today's games at a native 1,366x768.
Elsewhere, the Graphite LG5 - and indeed any other laptop based around Clevo's W110ER chassis - offers many of the usual additions. These include a 1.3-megapixel webcam, integrated Wireless-N and Bluetooth, onboard HD audio and a 64-bit install of Microsoft's Windows 7 Home Premium operating system.
There's no room for an optical drive - though Scan's online configurator does provide the option for an external drive if need be - and that leaves plenty of room around the edges for inputs and outputs. By default, the Graphite LG5 provides Ethernet, VGA, HDMI, audio and dual USB 3.0 ports on the left edge, along with a Kensington lock, USB 2.0 and a power jack on the right. An SD card reader is also tucked neatly into the laptop's front edge, where you'll also find status LEDs for power and battery.
Display and Sound
Compact 11.6in laptops tend to follow a common theme in regards to display and sound; it's generally adequate, but nothing more. Scan's Graphite LG5 continues that trend with a matte 11.6in, 1,366x768 panel from Infovision Optoelectronics.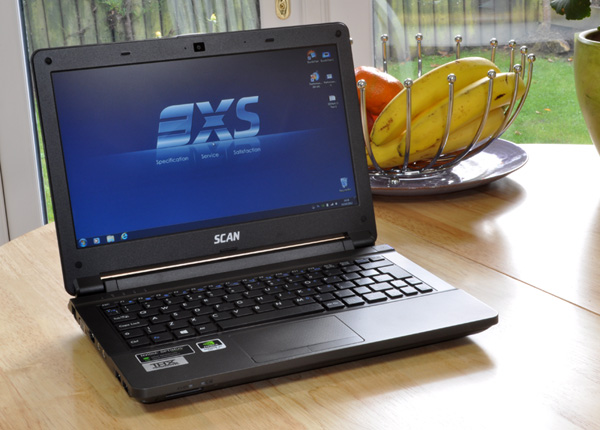 An 11.6in display is always going to feel somewhat cramped, but in this case it isn't helped by below-average vertical viewing angles and a lack of maximum brightness. As a result, the display comes across as dull if you're sat off-straight or in direct sunlight. Horizontal viewing angles aren't bad, however, and the matte finish helps rule out reflections, but we'd like to see Scan offer a superior panel as an option.
On the sound front, the Graphite LG5's downward-facing stereo speakers provide a pleasant surprise with ample volume. The audio experience isn't as tinny or flat as most laptops of this size, and though you'll want to revert to headphones for in-game detail, the stereo sound is sufficient for everyday use.