Introduction
Ultrabooks may have started life as expensive showpieces for Intel's much-vaunted form factor, but it was only a matter of time until the PC industry did what it does best; mix it up a bit.
Today, Ultrabooks come in various shapes and sizes, they can be equipped with or without features such as discrete graphics cards or optical drives, and, if you look hard enough, they can be found without the 'Ultra' price tags. Take, for example, Lenovo's IdeaPad U310. Priced at £650 for a Core i5 configuration or £600 for the entry-level Core i3 model, it's an Ultrabook for the more modest consumer.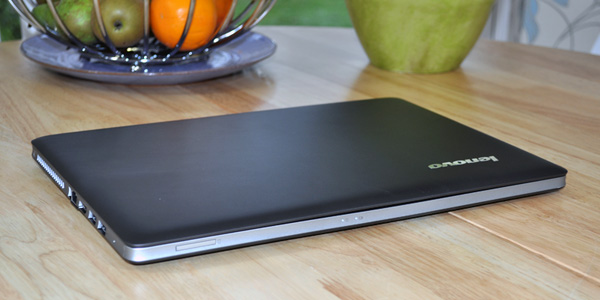 And that doesn't necessarily mean compromise. Like all good Ultrabooks, the U310 carries a common set of values; it's ultra-stylish and ultra-thin in appearance, it promises ultra-fast performance from a third-generation Intel Core processor, and it should be ultra-responsive thanks to solid-state storage technology.
Design
The Ultrabook promise remains largely intact, but Lenovo has had to cut a few corners to meet the more-agreeable price tag. To begin with, and unlike so many of the Ultrabooks we've seen thus far, the U310 isn't carved from a single piece of aluminium. Instead, Lenovo has taken a metal lid and a metal base, and used it to sandwich a mostly-plastic middle.
The formula doesn't sound particularly enticing, but credit to Lenovo's design team; this amalgamation of plastic and metal looks splendid. So much so that the U310 looks more expensive than it is. We've only laid eyes on the standard gunmetal-grey version, but we suspect the blue and pink variants will be just as aesthetically pleasing - if not more so. The sandwiched design is undoubtedly attractive and it also makes for a relatively thin-and-light package, with the U310 measuring around 18mm thick and weighing 1.7kg. The dimensions are admittedly chubby compared to some of the premium options, but the U310 is a nice 13.3in system to carry and the above-average weight makes it feel reassuring.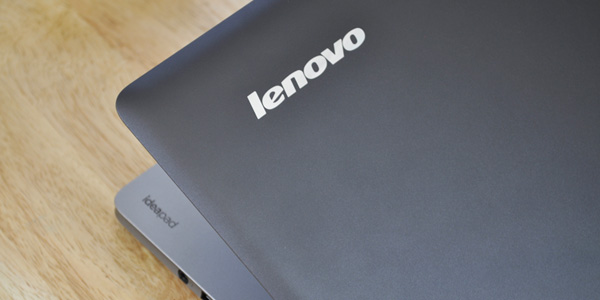 Going thin-and-light tends to introduce pros and cons, and Lenovo's machine plays both sides of the fence. The U310 is great for portability, and we like the way the metal top protrudes beyond the plastic bezel ever so slightly, making it easier to open the lid with one hand. On the flip side, Lenovo's svelte form factor doesn't leave room for an optical drive and the 46 Whr Lithium Polymer battery isn't removable.
These are Ultrabook trade-offs we've begrudgingly become accustomed to, and Lenovo has eased the concession by providing a reasonable array of ports and connectors. By default the U310 provides an audio jack, three USB ports (two 3.0 and one 2.0), HDMI output, full-size Ethernet, power port (for the compact charger bundled in the box) and an SD card reader. There's not a lot missing here, and we appreciate the fact that Lenovo has made room for Ethernet connectivity - the chassis is wider at that particular point just to allow the standard RJ45 jack.
Build quality isn't quite as exquisite as the higher-priced Ultrabooks - or indeed Apple's MacBook Air - but Lenovo has landed at a safe middle ground; the U310 manages to bring down the price while retaining a classy look and feel.
Display and Sound
13.3in laptops with a basic 1,366x768 resolution have become the norm, and stamping our feet in a cry for more pixels isn't going to change that. But it will make us feel better. We're fast approaching 2013, and it's time to make sub-standard laptop resolutions a thing of the past. In our estimation any 13.3in system fetching more than £500 at retail should carry a display capable of pushing at least 1,440x900, preferably 1,600x900; anything lower leaves the knowledgeable consumer feeling short changed.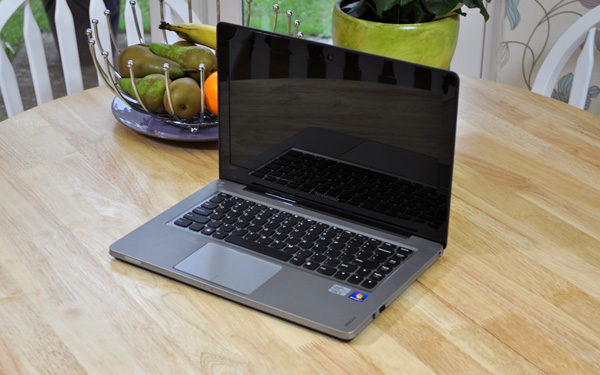 That's precisely how we feel with the U310. The system's lovely design is smooth and inviting, but those grand first impressions are soon lost when you begin to use the cramped 1,366x768 display. Viewing angles are decent enough - despite the glossy and reflective finish - but colours appear washed out and there just isn't enough desktop real estate to boost productivity.
What's more forgivable is the U310's audio experience. As expected from a thin laptop, the stereo speaker - positioned at the rear of the system by the display hinge - provides good volume but little depth. Despite Dolby Digital software enhancement, the sound is lacking in bass or definition and won't entertain a crowd, though there is just enough volume to fill a small room.