User experience
Keyboard and trackpad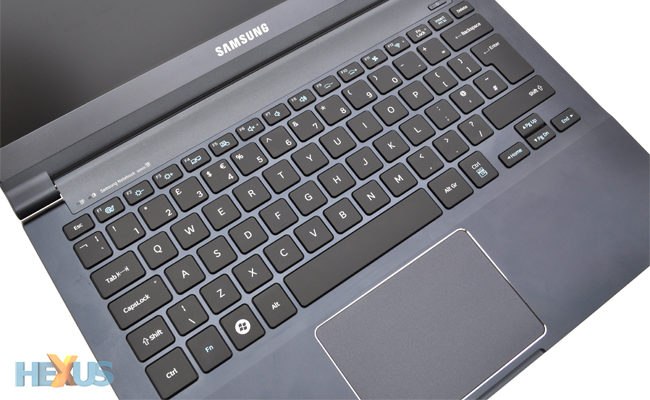 Samsung's neat chiclet keys sit in a lovely sea of misty blue, but this is one of those instances where the keyboard looks better than it is. The keys are well-spaced and well-sized, but they're also noticeably shallow. A lack of spring shouldn't come as a surprise in a laptop as thin as this, but nonetheless, the typing experience on the Series 9 feels awkward, and it a strange sort of way.
We actually had no trouble typing at pace on the keyboard, but the lack of tactile response felt unusual, leaving us feeling as though we were sliding over the panel as opposed to getting stuck in. We weren't missing keys, but the miniscule amount of travel prevented us from getting a real spring in our step, if you get our meaning.
The keyboard doesn't feel quite as comfortable as we'd like, but it does have the advantage of being backlit. Though, the backlit is partly controlled by an ambient sensor that prevents you from showing off your wares in broad daylight. Ho hum.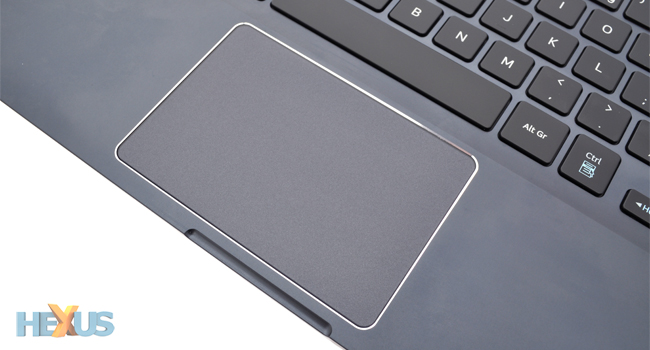 We'd recommend trying before you buy - the shallow keys may actually be your cup of tea - and the same caution could be applied to the trackpad. It looks fantastic, it's roomy, supports multi-touch gestures and it feels even silkier than the rest of the chassis, but it takes some getting used to. Samsung's made use of an ELAN pad in which the entire surface can be depressed to register a click, while the bottom left and right areas act as integrated buttons. We heavy-handed users tend to struggle to get to grips with a pad that lacks dedicated buttons, but Samsung's implementation is actually rather good - two-finger scrolling worked well, button presses registered easily, and aside from sluggish pinch-to-zoom performance, the pad performed admirably.
Display and sound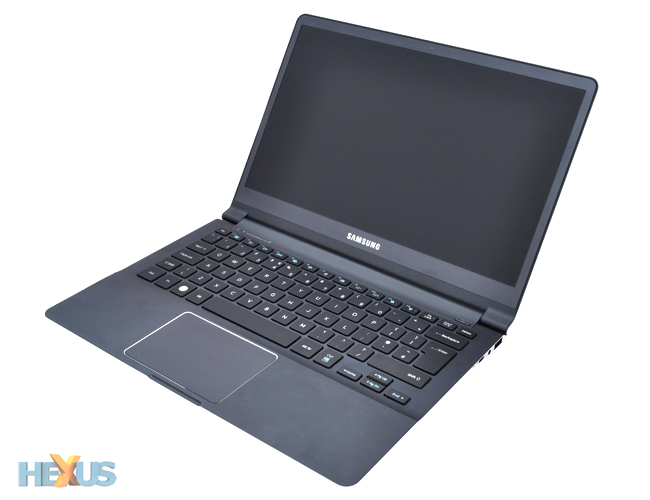 We never quite felt at home on the Series 9 keyboard, but we could happily sit for hours on end staring at the lush 13.3in SuperBright Plus display. The 1,600x900 resolution is better than most 13.3in laptops and makes for a roomy desktop experience, but it's the brightness and matte finish that allow Samsung's panel to stand out.
If you're inside the display appears vividly bright, and if you're outside the anti-reflective surface keeps your content clearly visible even in direct sunlight. We've become accustomed to the glossy displays that are widely available, but Samsung's matte panel is a welcome change of pace. That isn't to say the SuperBright Plus panel is perfect - viewing angles could be improved a touch - but as far as the single-user experience is concerned, the Series 9 display is really rather good.
Unfortunately, Samsung hasn't provided an audio experience to match. The downward-facing speakers are plenty loud, but they lack any real depth and deliver a harsh tinny sound that makes music playback quite unpleasant. It's a challenge getting a thin PC to sound good, but considering the £1,200 price tag, the Series 9's audio capabilities are dire.
Software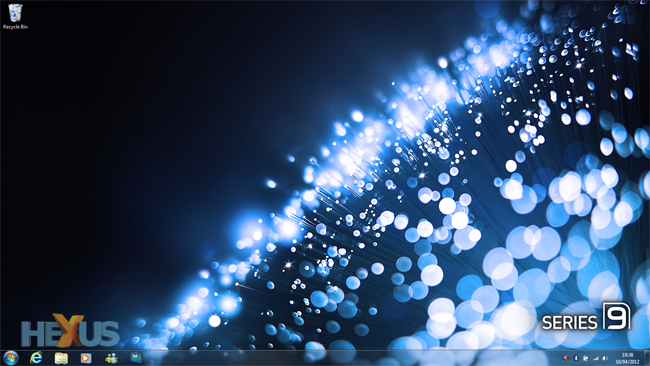 We had hoped to see premium ultra-thin Windows PCs ship with little-to-no bloatware, but that may be wishful thinking. By default, Samsung's 64-bit install of Windows 7 Home Premium is pre-loaded with a fair few apps. None are particularly obtrusive, but among the list you'll find Bing Bar, CyberLink YouCam, a trial of Microsoft Office 2010, Norton Internet Security, Skype, WildTangent Games, Windows Live Essentials and a bunch of Samsung's own utilities.
Installing Bing Bar and Norton Internet Security on a machine as beautiful as this ought to be a criminal offense, but hey, the app selection isn't as vast as it might have been and Samsung's own applications are quite useful - particularly the pre-configured Recovery Solution that allows you to restore the laptop to its factory state at the click of a few buttons. Sadly, there doesn't appear to be a built-in option for a clean install.