Introduction
Can a laptop get much sexier than ASUS's Zenbook? We weren't too sure, but then Samsung sent us the second-generation Series 9, and boy, let me tell you, this is the PC equivalent of Natalie Portman.
Like Natalie, the Series 9 isn't obviously flashy, but it's svelte, finished with figure-hugging curves and undeniably gorgeous. You'll have to excuse us for waxing lyrical, but our labs see as many laptops as the local PC World (alright, maybe not that many) and rarely does a system get the lads purring quite like Samsung's latest.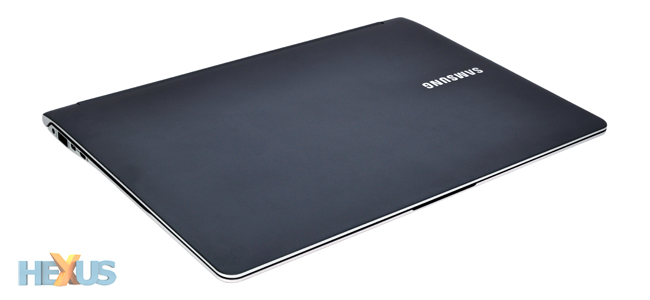 Launched as an evolutionary replacement for last year's CES showstopper, this second-generation model forgoes the brushed aluminium look for a more subtle, more sophisticated sand-blasted unibody shell that's forged from a single piece of aluminium. The end result gives the system an irresistible hue that's best described as a mystic shade of blue with a thin silver rim.
And when we say thin, we mean really, really thin. Or 16.3mm to be precise - and that's at the thickest point. The 2012 Series 9 is thinner than Apple's MacBook Air (17.3mm) and it's lighter, too, tipping the scales at a remarkable 1,17kg. Only a cynic would describe Apple's 1.35kg MacBook Air as heavy, but let's put it this way, Samsung's Series 9 is a further 13 per cent feathery.
It's thin, it's light, and it offers solid-state storage as standard, yet Samsung opts not to describe the Series 9 as an Ultrabook. Despite meeting Intel's criteria, Samsung has chosen to class this particular machine as a notebook - nothing more, nothing less. Naming conventions aside, one thing's for certain; this is one of the most attractive portable PCs currently on the market.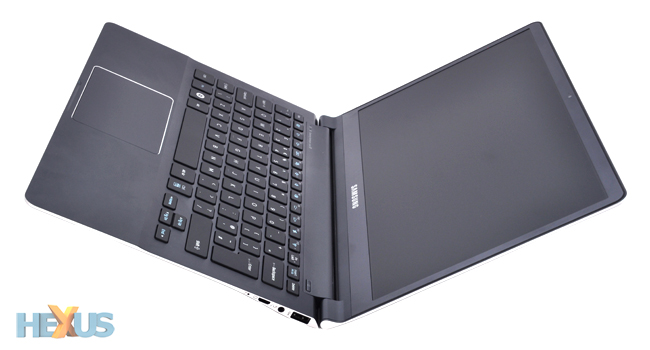 The beauty of the Series 9 is extended throughout the machine, with Samsung paying careful attention to each curve and every smooth line. The entire chassis feels strong and ultra-stiff, so there's no sign of flex, and the curved display hinges aren't just pretty, they're suitably rigid and allow the screen to rotate roughly 150 degrees.
It's exquisite and the little details don't go amiss. The sunken chiclet keyboard looks inviting, as does the large multi-touch trackpad, Samsung's thin-bezel 13.3in matte display makes full use of the compact chassis, and there's very little to disrupt the flow. Aside from a small power button and two tiny LED indicators, there's nothing to disrupt the flow of Samsung's smooth design.
Alright, we've established that the 2012 Series 9 is sexy. Now for the bad news: it costs £1,200, or £1,000 if you partake in Samsung's VAT-back offer (ends 07/05/2012). Getting 20 per cent back is an attractive lure, but even so, a grand's a lot of money to be putting down on a laptop. Particularly one that's quite small and absent an optical drive and dedicated graphics. So what exactly are you getting for your money?
Specification
Samsung intends to launch a 15.6in variant of the 2012 Series 9 later in the year, but right now, UK consumers have one available option; the 13.3in model labelled as NP900X3B-A01UK.
This is the system strutting its stuff at all the major retailers and it packs a strong set of components that should eradicate the shortcomings of last year's model. Despite being thinner and lighter than ever before, the 2012 machine has been upgraded to include a dual-core 1.6GHz Intel Core i5-2467M processor that Turbos up to 2.3GHz, integrated Intel HD 3000 graphics, 4GB of memory and a 128GB SanDisk U100 SSD.
It's a mix of components that's familiar among Ultrabooks, but Samsung puts itself in the premium category by including a matte 13.3in display that offers a generous 1,600x900 resolution and 400 nits of brightness.


The guts of the machine should make for a rewarding experience, but Samsung doesn't have a lot of room for I/O ports. Making the most of what limited space there is, the Series 9 offers two USB ports (one 2.0, one 3.0), a combined audio/mic jack, micro HDMI, micro VGA, power and a miniature LAN port that used a bundled adaptor to provide Ethernet connectivity. Samsung's done well to cover most bases, and unlike the 2011 model, there's also an SD card reader tucked neatly into the laptop's right side.